The Glass Supper
Martin Hesford
Moya and Tackroom Theatre
Hampstead Theatre Downstairs
–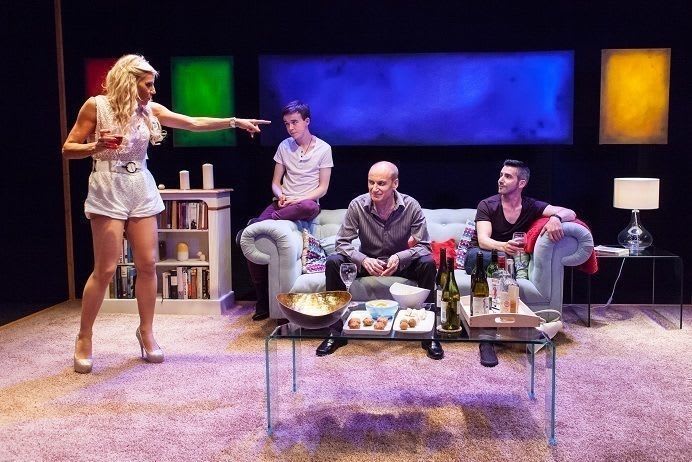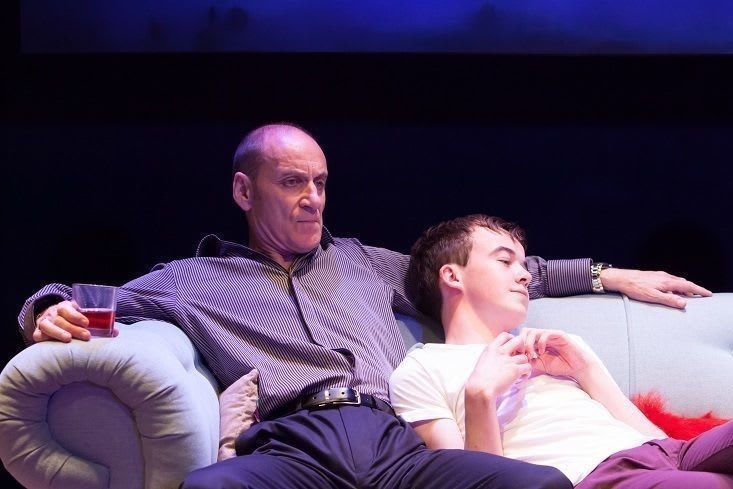 Having started life as a rehearsal space, Hampstead Downstairs is becoming something more, offering small-scale theatrical productions, frequently of high quality.
Recently, Nicholas Wright's A Human Being Died That Night benefited from an almost claustrophobic intensity that only a small space could create, while Simon Gray's In the Vale of Health moved up to the main stage.
The Glass Supper by Martin Hesford, who received a BAFTA award for Fantabulosa! has been lucky enough to feature TV favourite Michelle Collins in a piece about a newly-married, gay couple whose attempt to escape the rat race goes a little awry when friends from the smoke visit.
It should be emphasised that the production under review was the final preview two days before opening night.
From the opening where all five actors go so far over the top in their characterisations that they appear to have walked into from a parodic sitcom, this play is riddled with inconsistencies and breaks in continuity that are frequently bewildering.
Occupying a cramped living room in a country cottage with illuminated post-Rothko artwork, the home team consists of Owen Sharpe's Irish Colin a social worker and his camp partner of 20 years Marcus.
Michael Begley in that role spent the evening avoiding eye contact in the room to the extent that he appeared to be eager to escape through the fourth wall into the audience.
He might have had good reason, since what looks like a Cockney family turned out to be anything but.
The trio have arrived en route to a cruise on the Queen Mary, but quite why they are travelling via an isolated country cottage is unclear.
Michael Feast plays Steven, a sex-sauna entrepreneur making enough money to own a Rolls-Royce and take time out for cruising (think about it).
It transpires that the 18-year-old with him is not a son but a gay toy boy, portrayed with some relish by Alex Lawther, who made such a good impression in South Downs at Chichester and then in the West End.
The joker in the pack, in most senses, is Wendy (the potential Peter Pan reference may or may not be intentional). Michelle Collins has great fun in a role that encompasses the dumbest of dumb blondes but also a feminist who make some pretty trenchant speeches. Her presence at the party is also something of a mystery, even when apparently explained.
By the end, though, she and Steven get into a fearsome fight that brings a spark of life into the evening.
The Glass Supper feels more like a sketchbook with numerous ideas for a play than the finished product. As a result, each of the individuals changes character frequently during a running time of just under two hours, during which viewers may find themselves adding up all of the loose ends that Martin Hesford makes little effort to tie together.
Reviewer: Philip Fisher