The Glorious Ones
Based on the novel by Francine Prose, book and lyrics by Lynn Ahrens, music by Stephen Flaherty
The Landor Theatre, Robert McWhir, Andrew Tottle, Andrew Keates
Landor Theatre
–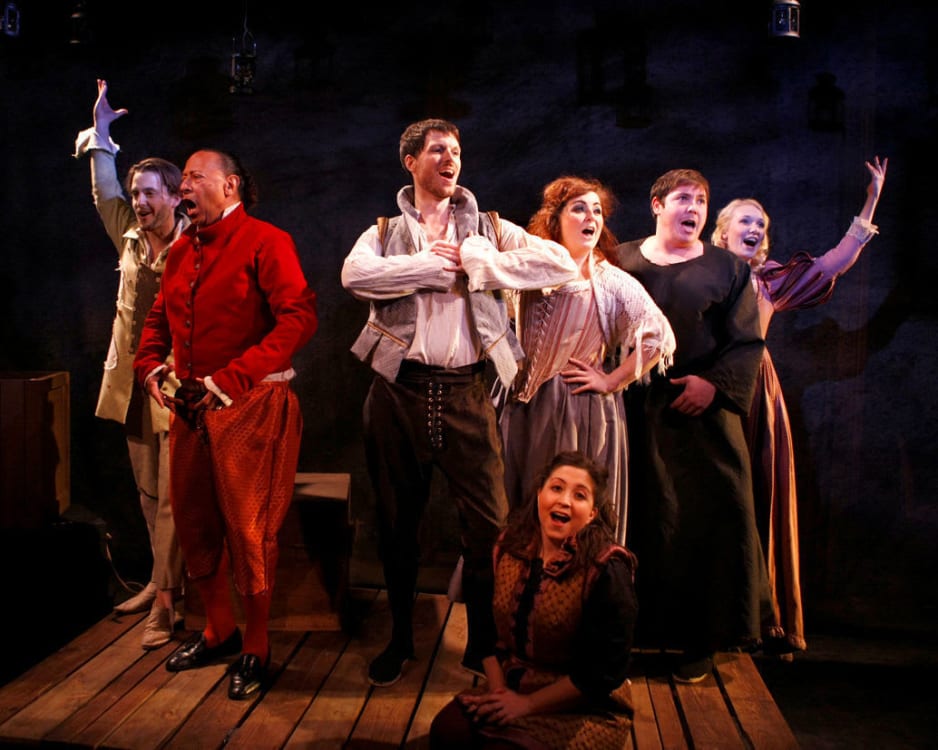 Hot on the heels of their well-deserved success with Ahrens and Flaherty's Ragtime (winner of three OffWestEnd Theatre Awards), the Landor Theatre has turned to another of their works and now presents the European premiere of the multi-Drama Desk-nominated musical The Glorious Ones.
An intimate ensemble piece, The Glorious Ones is set in late 16th century Italy where Commedia dell'Arte troupes entertained everyone from town squares to royal courts with their improvised low-brow comedic scenarios. That same sketch-based structure is employed to tell the story of Flaminio Scala's band of players, illustrating how each member was chosen for the personal traits suited to the stock characters that they were to play. "We know the characters. We are the characters." Scala tells us, pointing up the muddied line between mask on and mask off, fiction and reality, as the show does itself mixing imagined and historic figures.
One such of these is the leader and lead player, Scala. Self-important and utterly committed to the tradition of improvised comedy based around story outlines of his own creation, he sees the success of the troupe as an opportunity for current fame and future immortality. They work long and suffer hardships to practise their craft but their efforts are not always fruitful and their performance at the French Court is met with disapproval, their bawdy, vulgar work offending aristocratic sensibilities and they are unceremoniously thrown out.
Scala is unwilling to accept that tastes are changing; he is scornful of the new movement of scripted performance enjoying increasing popularity, and fearful of the power of the writer and the loss of truth that improvisation brings. When his protégé, Francesco, introduces the troupe to a written piece penned by his wife Isabella (both also real people), Scala is the only one to wholly reject it and has to face the possibility that his art has become démodé.
Director Robert McWhir maintains a zippy pace to overcome this lightweight narrative but knows when to put the brakes on for effect, so the on-stage antics of the itinerant players are as funny and mad-cap as their off-stage stories can be poignant and revealing. Choreography from Robbie O'Reilly is comic and suggestive but never at the expense of the warmth of this quirky show.
Kate Brennan is Columbina, courtesan turned leading lady and wife; Ms Brennan is equally successful at being brash and curvily sexy as she is being intensely moving with her rendition of "And My Body Wasn't Why". Jodie Beth Meyer is bubbly and comic especially in the naughty "Armanda's Tarrantella", and utterly endearing when overlooked in love.
Anouska Eaton is a lovely voiced Isabella and her love duet with Christopher Berry's winning Francesco is a beautiful second act opener though the most notable song has to be Flaminio's "I Was Here". This 11 o'clock number is an anthem to the pain inherent in the creative process and the artist's need to create "… something that time cannot make disappear".
The Glorious Ones is an affectionate homage to actors and the theatre and although isn't as instantly enveloping as Ragtime or A Man of No Importance it is witty and melodic with a handful of standout songs and the Landor's production balances its simplicity with the import of its theme about the value of artistic endeavour.
Reviewer: Sandra Giorgetti