The Great Gatsby
Adapted by Alexander Wright from the novel by F Scott Fitzgerald
The Guild of Misrule
41 Monkgate, York
–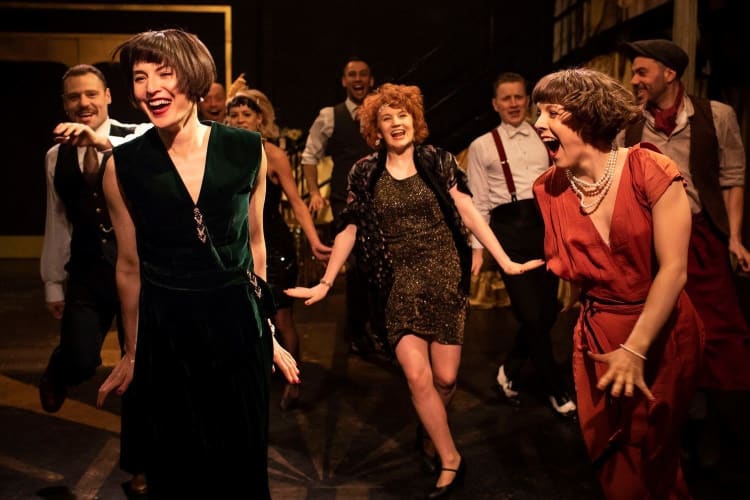 Jay Gatsby has returned to his hometown. No, not West Egg, nor somewhere in North Dakota, but York in the wintry north of England. This immersive adaptation of F Scott Fitzgerald's enduringly popular book first debuted in a disused pub here, before going on to massively successful runs in Dublin, Mold and London, where it is, apparently, the longest running immersive production.
As when I first saw the show, the audience is invited to participate, to follow cast members down back staircases and into side rooms for snippets of storyline, to enter into conversations, wagers, business deals. We are cast from the beginning as attendees at one of Gatsby's famous parties, and unlike with some more gimmicky versions of immersive theatre, this form seems perfectly fitting to the content: we are the partygoers who "came and went like moths among the whisperings and the champagne and the stars."
The nature of the show means that all around these echoing corridors there's uncertainty, duplicity, playfulness and gin. At first, it's not even clear who is in the cast and who's simply a particularly well-dressed fellow audience member. But it is all handled superbly well by the confident actors and masterful direction and writing.
The central narrative thrust is provided by a number of set-pieces in which the whole party is gathered in 41 Monkgate's large main performance space. This is home to some beautiful moments of music and choreography, and some stunningly emotive performances.
None is more moving than that of Amie Burns Walker as Daisy Buchanan. One of the originating cast members of the piece, she is a superbly versatile performer who can turn on a sixpence, from sparkling audience interaction to intense, heartfelt yearning, to a wrenching distress in later moments. She is so powerful here, I find myself completely unable to imagine Daisy Buchanan as anyone other than her.
All of the cast segue effortlessly between bantering small-talk with audience members to delivery of the Fitzgerald-derived dialogue. The seamlessness of these shifts is massively impressive, the tone set from the beginning when new cast member Hugh Stubbins steps out of nowhere to narrate the richly poetic opening monologue as Nick Carraway. Stubbins provides a wide-eyed, wiry energy for the role, and fixes your gaze intensely as he relates the tale of Gatsby's legendary parties.
Tom Figgins is another performer I hadn't seen in the original run. He plays George Wilson, the car dealer / barkeep who also contributes wonderfully expressive piano playing across a range of styles. As Myrtle Wilson, Casey Jay-Andrews provides another powerful singing voice and strong presence, though the routes I was led through the show offered me less of the Wilsons than of some others.
Holly Beasley-Garrigan returns to the role of Jordan Baker and, if anything, her gaze has become yet more impeccably imperious, her demeanour more sardonically amused. Like the other cast members, she is impressively adept at the transitions required of the format. She quips and improvises her way through the evening with a reserved charm which again works so well with the character.
Jay Gatsby himself, played here by Oliver Towse, is—fittingly to the book—later to arrive and swathed in mystery and rumour. Towse is perhaps softer than Ollie Tilney's originating role, but he has a similarly commanding and magnetic presence and orchestrates the party with just the right mixture of debonair veneer and dodgy dealing.
Another performer who stayed in the shadows (in my viewing of the production) for much of the first hour was Toby Gordon, who has stepped into the role of Tom Buchanan having performed other parts in the London show.
Gordon clearly has an absolute blast as Buchanan, a character which enables him to showcase his wicked wit and his ability to charm while being somehow constantly on the edge of threat. In such a finely-honed balancing act, it's to his enormous credit that he somehow remains deeply likeable even when Buchanan's charisma drops and things turn ugly. As he urged me down a back corridor towards the end of the show, frantically concocting a story to cover up the grim turn of events, I found myself willingly offering to vouch for him.
The ways the show invites you in, makes offers to you to interact if you wish, but never pushes you to step beyond your comfort zone or to embarrass yourself makes this an exuberant piece of theatre, full of care, in which you feel at home for its bewildering and exhilarating couple of hours.
The script wittily acknowledges the peculiar but unobtrusive games this adaptation plays between the audience and its imagined world, while quoting directly from the original: Jordan Baker confides in us, "I love large parties; they're so intimate. At small parties there isn't any privacy." Just so: go, whether on your own or in a group. You'll enjoy the most thrillingly intimate, public, playful celebration of excess and of performance it's possible to imagine.
Reviewer: Mark Love-Smith