The Great Gatsby
Adapted by Peter Joucla from the novel by F Scott Fitzgerald
Queen's Theatre, Hornchurch
–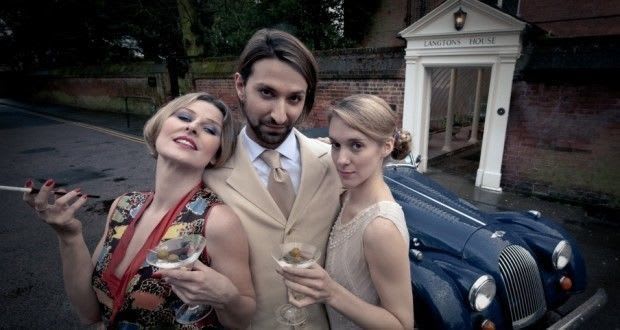 F Scott Fitzgerald's 1925 ground-breaking novel is given new life at the Queen's Theatre Hornchurch in this not-so-ground-breaking production.
Set in the summer of 1922, Fitzgerald uses the story of millionaire Jay Gatsby as a social critique of the grandeur and excess of the 'Roaring 20s'. Told through the eyes of Nick Carraway (Callum Hughes), a young Yale Graduate and World War I veteran who starts a salesman job in New York, he finds himself living next to the mysterious Jay Gatsby (Sam Kordbacheh), who throws lavish parties fuelled with jazz and liquor but rarely attends them.

Gatsby has had a previous relationship with Carraway's cousin Daisy (Ellie Rose Boswell) and longs to reignite their love. However, Daisy is married to an adulterous bully, Tom Buchanan (Sean Needham), who refuses to let her go.
After two misfires (Our Man in Havana and Two and Two Make Sex), the Queen's has commendably attempted to push some boundaries, particularly in the realms of nudity. The issue with staging Gatsby, though, is it's all been done before and, with Baz Luhrmann's recent film, creating something new presents major difficulties.
Here, the Queen's may be onto something. Peter Joucla's adaptation begins as a mock 'read-through', with each actor entering as themselves and settling down to begin rehearsals. As they recite their lines, they 'step' into the action and the 'real' play begins. Sadly, this 'read-through' idea is never revisited, leading me to question its purpose.
This idea could have littered the action, with the actors questioning their respective motivations—a sort of dissection of Fitzgerald's novel. It could be heightened further with the actors remaining on stage throughout.
This is a common problem in director Simon Jessop's production. Whilst the use of actor-musicians undeniably works a treat, creating the sensual and melancholic atmosphere needed, many other choices made me think, why?

Why choose to open the second act with All Saints's "Never Ever"? Why use Justin Timberlake's "Señorita" and Yolanda Be Cool and DCUP's "We No Speak Americano"? They bring a sense of fun and jollity, but, other than being a gimmick, they offer little artistically.
These anachronisms are plentiful, from the band in the lobby playing 1940s music (instead of 20s) to the use of electric guitars (not invented until 1931). Were these conscious decisions?
There also seems to be an issue with accents, with Hughes being the only actor able to sustain throughout. Kordbacheh's Gatsby lacks the necessary charm or mystery and there is little chemistry between him and Boswell's Daisy.
The chemistry that existed between the characters in the opening scene is not maintained throughout and characters on the whole feel rather forced and uncomfortable.
Ben Jessop's projections are effectively used, drawing influence from the novel's original book cover. However, a rather awkward short film feels out of place and unecesssary.
The potential here is huge, but the continual switching between abstract symbolism and realism suggests The Great Gatsby doesn't quite know what it wants to achieve. It soon becomes rather frustrating that these inventive ideas appear superficial—but then, does that not define Gatsby and the 'Roaring 20s'?
Reviewer: Sean Brooks