The Herd
Rory Kinnear
Bush Theatre
–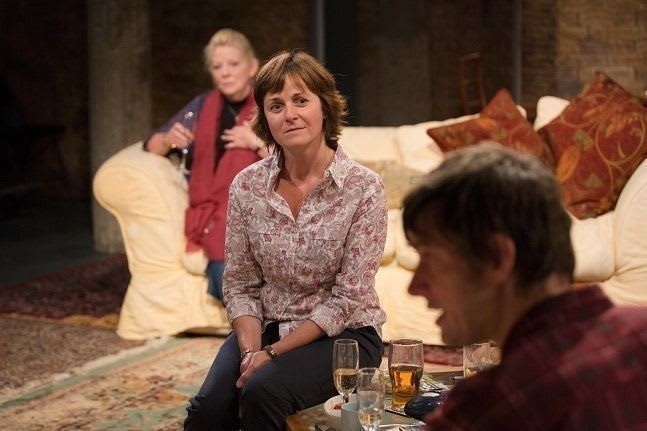 It is always fascinating to watch somebody at the top of their game in one discipline switching to another, even temporarily. Whether it is a footballer taking to golf, a celebrity showing off their skills in the kitchen or an actor trying out playwriting, there is always the risk that they will fall flat on their metaphorical faces.
In recent years, especially at the National where he's still starring opposite Adrian Lester in Othello, Rory Kinnear has established himself as one of the very best actors of his generation.
Now, with the good fortune to be able to pair up with top director Howard Davies first time out, the actor is attempting to establish himself as a writer of note too.
If family dramas can be measured on a scale that runs from soap opera to Chekhov, the first half of The Herd veers at times painfully close to the soap end but patience is ultimately rewarded.
The only question marks occur because while Rory Kinnear creates a series of strong characters, he feels the tyro playwright's need to put them in a series of unusual situations and raise multiple issues, without the ability to make them hang together.
That makes for one seriously unhappy family. Granddad can barely stand and only survives thanks to the support of his loved ones and a great sense of humour, relished by Kenneth Cranham.
Butter wouldn't melt in his wife's mouth, giving Anna Calder Marshall scope to deliver a classic character performance, insulting with nose high in the air thereby generating many laughs.
Amanda Root is splendid in the role of the family's neurotic martyr, the older couple's daughter Carol, who is fraught when calm and explosive when anything goes wrong, which is the normal state of affairs in this household.
Down a further generation comes Louise Brealey's Claire, who has inherited Mum's neurosis. At 33, she might finally have struck lucky in finding performance poet Mark, Adrian Bower portraying a nice calm lad from the north enjoying his first literally shocking visit to the putative in-laws.
The herd has gathered to celebrate the 21st birthday of Carol's unseen son Andy, who is severely handicapped with a mental age of nine months and is the reason for everyone else's unpredictable interactions.
While everyone awaits the birthday boy, more dramas ensue with the arrival, after five years of silence of Carol's ex, remarried Ian played admirably by Adrian Rawlings. He at least unifies the others into concerted and excessively voluble hatred.
This might sound like far too many fireworks for a play lasting under two hours but the full scale of this writer's imagination is masked by a critic's delicacy in avoiding revealing the really serious stuff.
The only way to make the mini dramas cohere is to allow massive mood swings and behavioural inconsistencies but that is a fault that has been shared by many setting out on what are ultimately successful careers.
The Herd eventually develops into something far more worthwhile than had seemed likely in the early scenes, as Kinnear's actorly talents, aided by the work of Howard Davies and a hard-working, close-knit cast, begin to shine through.
Every actor gets several opportunities to shine, while the play's central themes and characters eventually get deeper analysis.
This debut may never quite get to the Chekhov end of the scale but it suggests that if the day job ever palls, Rory Kinnear might have the skills required to develop into a talented writer for the stage.
Reviewer: Philip Fisher