The Intervention
Mike Bartlett
The Old Fire Station
The Old Fire Station, Oxford
–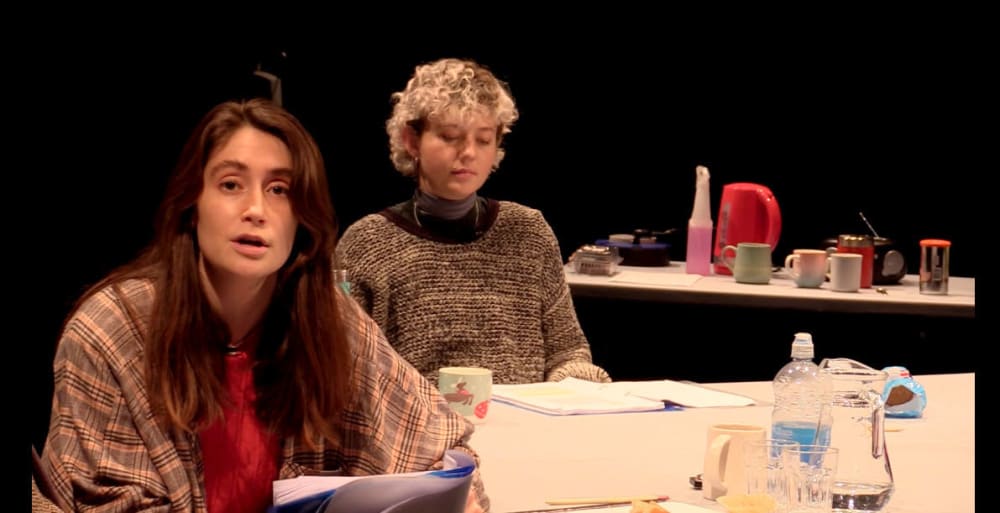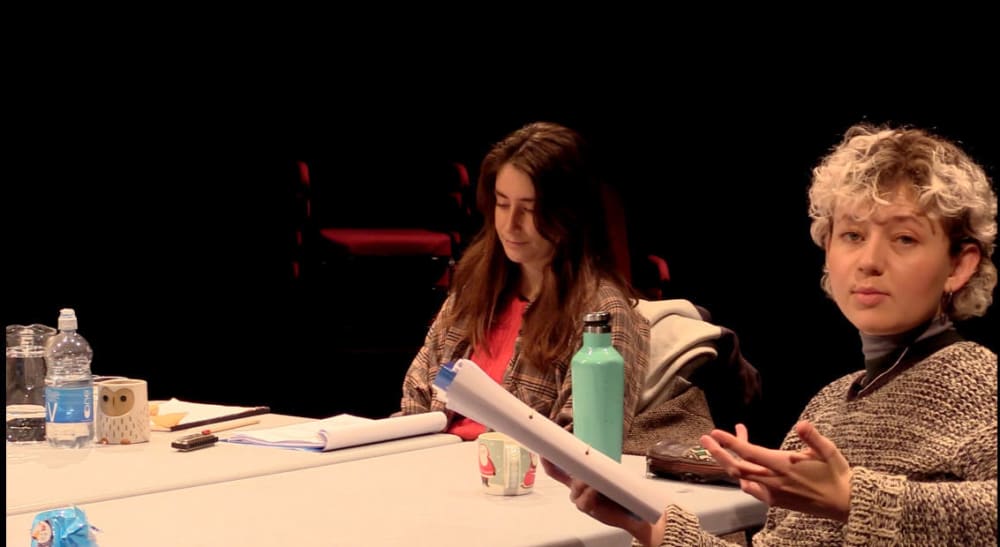 This hour-long rehearsed reading of a play, first produced on stage in 2014, is directed by Clare Lizzimore and explores the relationship between a clever, driven but frequently drunk schoolteacher and her more laid-back best friend. As well as interacting, the pair both act as narrators, carrying the story along by delivering speeches directly to camera.
At surface level, the two women (in the première production at Watford Palace, one of the characters was male which would change the dynamic considerably) get on well, but the relatively glib views of one begin to antagonise her more earnest fellow. Such differences could strain a relationship at the best of times, but appear far more confrontational when we discover that the 'neocon' has no strong feelings about the United Kingdom's support for the invasion of Iraq, while her passionate friend takes it personally.
The seeds for their rift are initially sown after the supposedly compassionate 'neocon' fails to show up for a protest march in Central London, much to the harshly expressed disappointment of her committed but seriously drunken companion. What might have been no more than a fascinating social and political debate exploring whether differences over government policy can wreck a friendship (think Brexit) is then exacerbated by external factors.
Gradually, we learn that the only person named in the play, the invasion agnostic's girlfriend Hannah, disapproves strongly of her ongoing friendship with the left-leaning teacher and even attempts to prevent further meetings. While this is ostensibly due to the latter's alcohol-fuelled instability, there is something more personal behind the antagonism, which may come down to simple dislike.
The central conversation between the two women is also illuminated and illustrated by grim morality tales about alcoholism and its consequences. The piece takes on greater depth as we get under the skins of both characters, particularly the surprisingly vulnerable alcoholic, whose life is falling to pieces and who desperately needs the support and friendship that her erstwhile close companion can bring.
The high-profile Mike Bartlett ensures that the conversation between characters expertly played by Charly Clive and Ellen Robertson is naturalistic, sentences often tailing off as they would in real life. He also has no qualms about leaving gaps in the narrative. In doing so, he draws viewers into the conversation and influences their responses in a subtle but often telling fashion.
Those watching the recording might initially wonder how the two performers can sit quite so close together around a rehearsal table, but this is explained in the final titles when we discover that, conveniently they live together, adding to the intimacy of the production.
The Intervention is a small-scale, intelligent play that feels like a very accurate depiction of real-life experience, making it well worth catching.
Reviewer: Philip Fisher