The Cripple of Inishmaan
Martin McDonagh
Michael Grandage Company
Noël Coward Theatre
–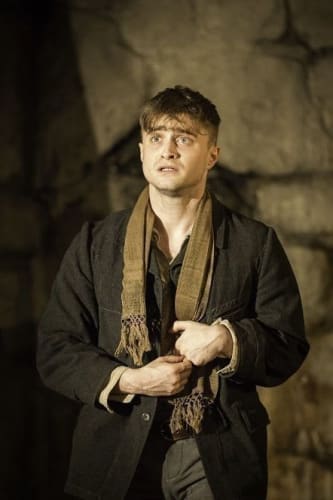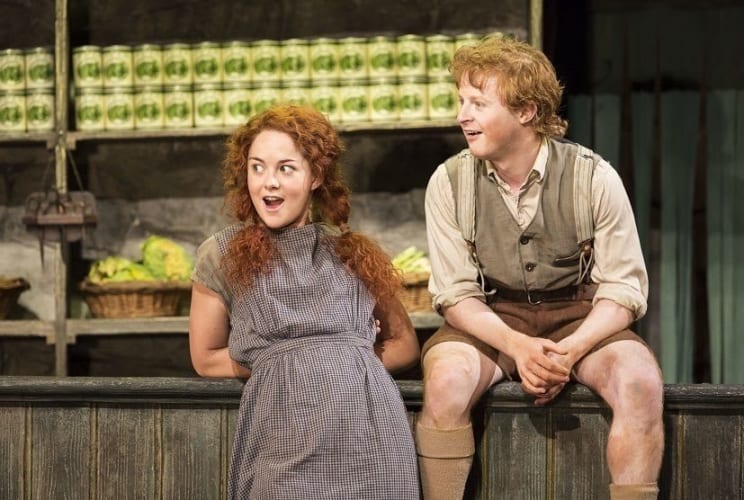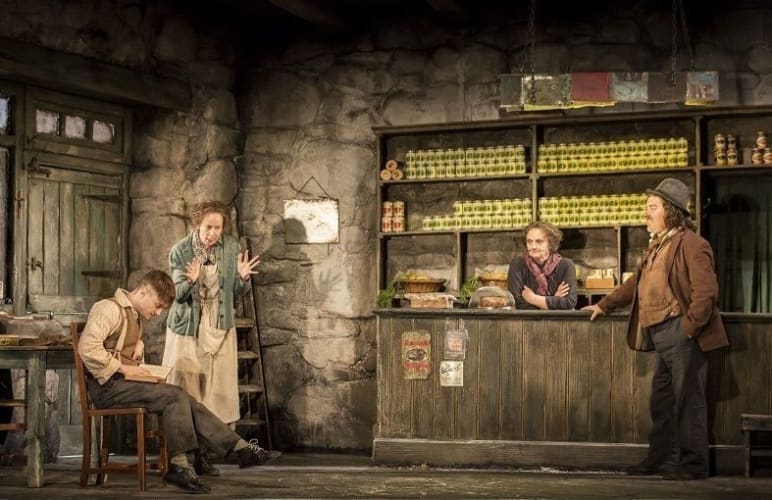 It wouldn't matter what he was playing in, the reappearance of Daniel Radcliffe on a London stage will be a guarantee of long returns queues mingling with groupies. On opening night, a failure of the house lights forced the audience to share St Martin's Lane with this throng, blocking traffic as surely as a protest march.
For his third foray into live performance, the Harry Potter (and Equus) star has chosen a modern classic to grace, playing Cripple Billy in what should have been a tricky second play for Martin McDonagh after the outstanding reception that the admittedly superior The Beauty Queen of Leenane received. McDonagh, is now of course, well-known not only for his adept stage work but also deliberately idiosyncratic movies including In Bruges and Seven Psychopaths.
When The Cripple of Inishmaan appeared under (the future Sir) Nicholas Hytner's direction in 1996, the Anglo-Irish writer was still only in his mid-20s but had already created his own milieu, as surely as O'Casey or Friel.
Strangely, while Billy is clearly the protagonist, it is his putative girl, Slippy Helen, who is more likely to be blessed by posterity. This critic fell in love with the character when Aisling O'Sullivan played her at the National all those years ago and did so again with Sarah Greene in 2013, on this occasion, the actress peaking with an unforgettable history lesson graphically demonstrating England's long patrimony over Ireland.
Helen is a dream of a character. A cussing hit-woman with a wicked (in both meanings) sense of humour and, buried deep down, a heart of, admittedly very tarnished, gold.
Some of McDonagh's plotting and technical construction rely a little too much on his favoured techniques but a modicum of audience manipulation is forgivable when his storytelling and jokes are so good.
The action takes place in 1934 when a Hollywood film crew descends on rural Ireland to create Man of Aran.
This sets Inishmaan aflutter with excitement, primarily generated by the village's equivalent to the Today programme during the silly season when nothing of interest ever happens. This is news-gossip Johnnypateenmike, "the most boring old fecker in Ireland", played with obnoxious glee by Pat Shortt.
He does most of his business in the under-stocked village grocer's, lovingly recreated on a revolve by designer Christopher Oram, and run by Billy's pair of batty but caring adoptive not-quite-aunts.
They do well by the lad and somehow withstand the torments of foul-mouthed, egg-throwing Helen in addition to Conor MacNeill as her mischievous, short-trousered brother Bartley, who between them would be enough to drive a priest to distraction, were the local men of the cloth not too busy touching up Slippy Helen instead.
The question that most readers will be asking is how their young idol acquits himself? It has to be said that even if you hailed from Mars and hadn't heard of Harry P (though his brand may be a favourite among little green men) you would probably guess that this was a promising performer rather than the big draw plastered all over posters and programmes.
Daniel Radcliffe doesn't yet have the kind of stage presence shared by the very best theatre performers nor quite the same Irish accent as his fellows. However, he generates considerable pathos as a horribly-crippled, sensitive boy who is not quite as sympathetic as one first imagines.
A strong, primarily Irish cast is topped off by three ladies who have achieved ages when most would be long retired. Ingrid Craigie and Gillian Hanna make a good doubled act of aunties, while June Watson is hilarious as Johnnnypateenmike's bedbound Mammy, a kind of second cousin to her equivalent in Beauty Queen.
Without Daniel Radcliffe, Michael Grandage's warm, intoxicating vision of The Cripple of Inishmaan would be a must-see revival, though not for devotees of political correctness. With him, this rich comedy is likely to be in competition with One Man Two Guvnors and The Book of Mormon for the title of London's hottest summer ticket.
Reviewer: Philip Fisher