The Light in the Piazza
Book by Craig Lucas, lyrics and music by Adam Guettel
Royal Festival Hall
–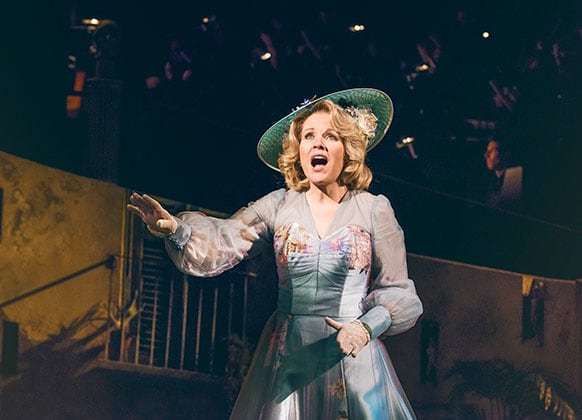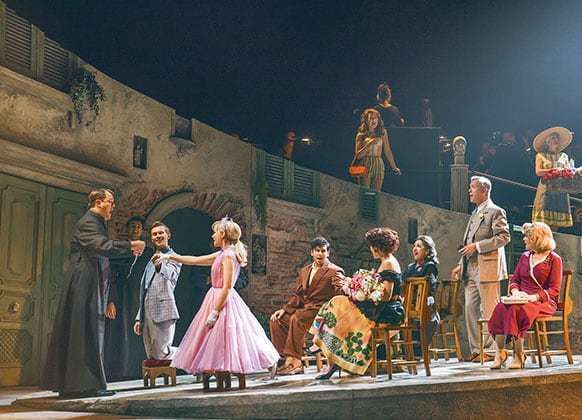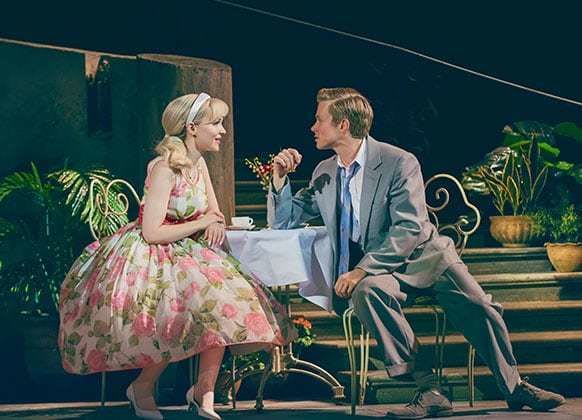 The Light in the Piazza is a good, old-fashioned romantic comedy, although the musical version, which proved a success at Lincoln Center Theater, is only around 15 years old.
The show is based on a 1960 novel by Elizabeth Spencer, which was turned into a film starring Olivia de Havilland, George Hamilton and Yvette Mimieux.
The attractions of this lavish production are manifold. First, the lyrics and music have been composed by Adam Guettel, the grandson of the great Richard Rodgers. These are delivered in a kind of crossover semi-operatic style by a magnificent cast of singers, beautifully supported by the Opera North Orchestra conducted by Kimberly Grigsby, highlighting lush strings and wonderful work from harpist Céline Saout throughout.
The story might feel dated but remains romantic in this simple theatrical staging with a fixed set placed in front of the orchestra. While hubby, played by Malcolm Sinclair, is tied up with business back in the States, operatic diva Renée Fleming as Margaret Johnson brings her daughter Clara, played by Disney favourite Dove Cameron who made such an impression in the stage version of Clueless off-Broadway, for the standard European tour.
While Margaret is happily remembering her own honeymoon in Firenze, Clara finds herself courted by handsome young Italian Lothario, Rob Houchen's Fabrizio wooing the petite blonde with his lovely tenor and Florentine charm.
The path of true love never runs smoothly in stage musicals and, on this occasion, Margaret seems determined to place impediments between the lovestruck youngsters, the reason for her reluctance only slowly becoming apparent.
Although on the surface Clara seems a perfect match for the young man and instantly delights his family, including Alex Jennings as a classically seductive Italian patriarch, there are hidden issues.
Given that this is a romantic comedy, no reader will have any difficulty in guessing where the 2½-hour production eventually lands up.
The singing is almost always magnificent, particular when Renée Fleming takes the stage, although several of the minor characters also get their moments in the limelight and none lets the production down. Dove Cameron sings more than capably as does Alex Jennings in a lovely parental duet, while Rob Houchen is always a delight.
Director Daniel Evans sensibly accepts that the plotting is some way from high art, allowing his actors to present themselves effusively ensuring that all of the laughs hit home.
What might otherwise have been a relatively run-of-the-mill musical revival has been turned into a special occasion by setting, orchestra and casting of a lovely evening that will undoubtedly sell well, particularly given a very limited run of only 20 performances.
Reviewer: Philip Fisher