The Madness of George III
Alan Bennett
Nottingham Playhouse Theatre Company and National Theatre Live
Nottingham Playhouse
–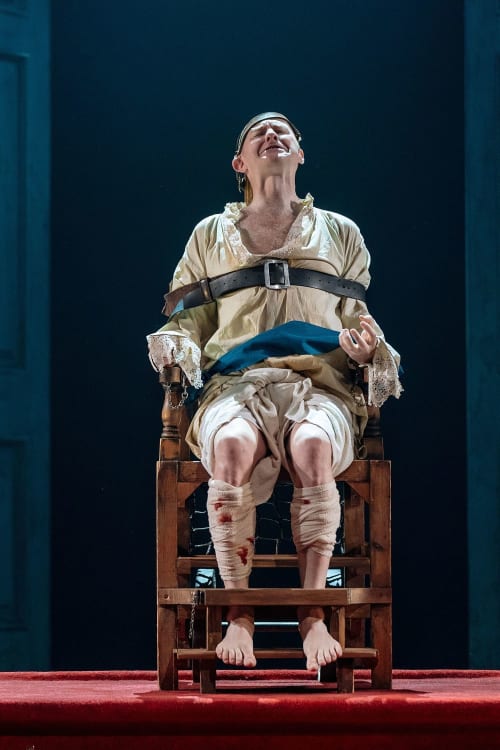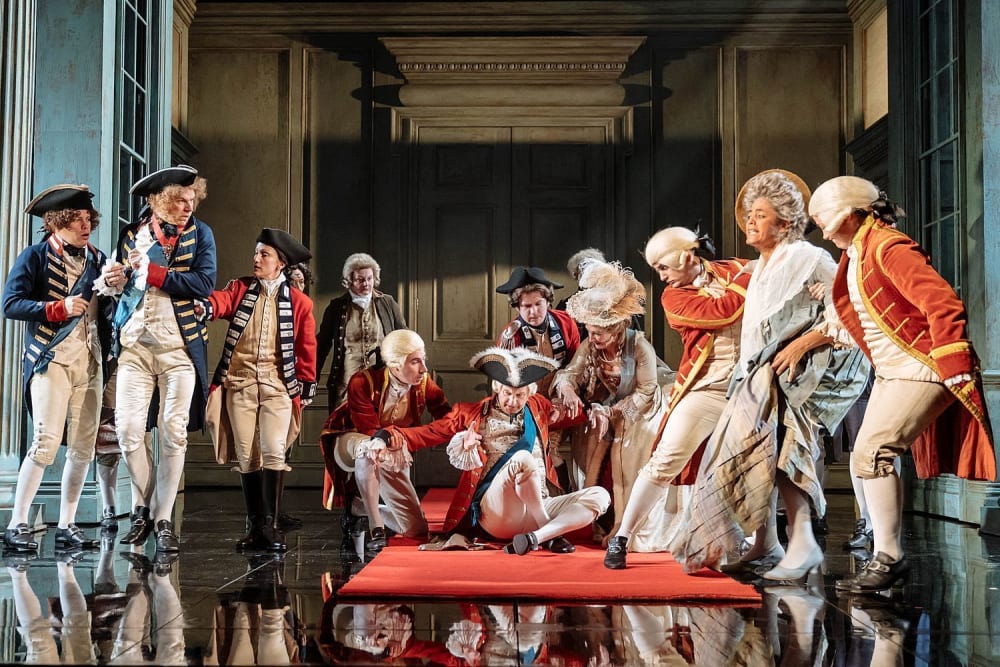 At a time when almost every theatre in the world is under threat of financial extinction, even the National, the showcase that is National Theatre Live is the most wonderful advertisement for the medium and these free offerings do immense credit to Rufus Norris and may ultimately help to secure the venue's future.
Not only that, but Norris has selflessly shared the glory with a number of other theatres, on this occasion Nottingham Playhouse, where this two hour 10 minute revival premièred in November 2018.
It is almost inevitable that the role of this mad George III is irrevocably associated with the late Nigel Hawthorne, who created it on stage and screen almost 30 years ago.
However, the part is the most wonderful star vehicle and allows the best actors to show off a wide range of skills. Mark Gatiss proves a fine choice on the part of director Adam Penfold, drawing both the comedy and pathos from a proud polymath, who totters on the brink of insanity.
Supported by Debra Gillett playing the role of Queen Charlotte (affectionately "Mrs King") sympathetically, even if her German accent is close to painful, the King is a traditionalist. This sits well in association with his Tory Prime Minister Nicholas Bishop's humourless William Pitt the Younger.
Apart from an aversion to any mention of the United States, the monarch's behaviour is exemplary if mildly eccentric with a characteristic verbal tic, until he is afflicted by a nameless disease that sends him in the direction of insanity.
Then, the fireworks begin. Not only does King George become a foul-mouthed incendiarist insulting all and sundry but his lack of grip on regal affairs also provides an inspiration to a scheming opposition.
This is led by Wolf Scolding as the lazy, self-obsessed Prince of Wales and the leader of the Whig opposition, Charles James Fox, a role taken by Amanda Hadingue, one of a series of women playing a large number of breeches parts.
As they scheme to deprive the King of his royal prerogative in an effort to make the Prince Regent, much of the drama takes place behind the scenes.
This is led by a trio of quack doctors, each played by female actors, in a gesture towards feminism that backfires rather badly, since the only doctor who makes any sense and, ultimately cures the king through brisk discipline, is played by the one man, the incomparable Adrian Scarborough.
This immaculately costumed, pacey production, aided by Richard Jones's flexible design utilising two revolves, is the theatrical equivalent to a page turner, leaving viewers wanting to know what happens next throughout, and always caring deeply about the fate of its central character.
Alan Bennett has long been a national treasure and his ability to meld history with a rare feeling for humanity and a trademark sense of humour remains unique.
The Madness of George III is far more than just a history lesson and this worthy production is a welcome reminder of the distinguished playwright's great skill and ability to entertain, while painlessly educating.
Reviewer: Philip Fisher