The Man in the White Suit
Sean Foley, based on the play The Flower within the Bud by Roger Macdougall and screenplay by Roger Macdougall, John Dighton and Alexander Mackendrick
Wyndham's Theatre
–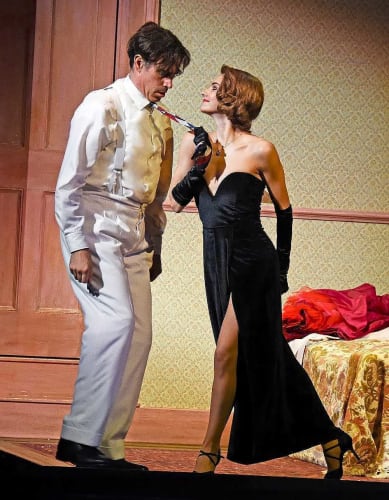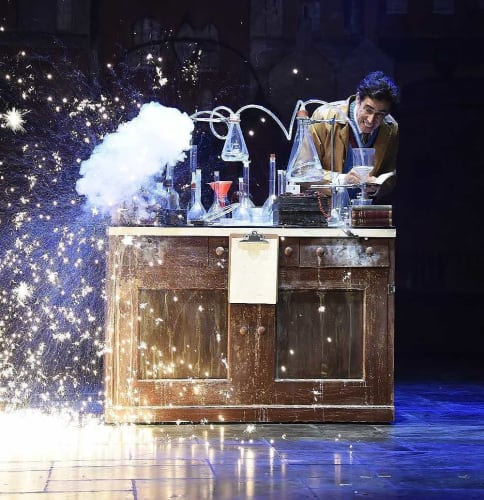 Fans of Ealing Comedies will be delighted that the glorious 1951 film The Man in the White Suit, which was built around an unforgettable performance from Alec Guinness, is being transferred to a new medium.
However, they should be aware that the writer and director is Sean Foley, who is clearly a fan of the genre having already adapted The Ladykillers for the stage, has his own very idiosyncratic style. Rather than faithfully follow the original, this director prefers to use it as a starting point for his own brand of slapstick with a modern sitcom patina.
Advancing the period to 1956 allows one of the more appealing changes, the introduction of a skiffle band led by Matthew Durkan and playing compelling music composed by former Noah and the Whale frontman Charlie Fink. The story takes place in Lowry country, a fact acknowledged on one of the adaptable backdrops by Michael Taylor. The designer has his moments, with a foldaway car and cartoon chase across town particularly memorable.
In fictional Trimley, local lad Sidney Stratton, a Cambridge-educated nutty professor, has a tendency to ignore his duties at a clothing factory in the confident expectation that he is on the brink of inventing the perfect fabric. After a series of explosive disasters, he is simultaneously sacked by his fiancée and adopted by Kara Tointon's beautiful Daphne Birnley. She behaves and sounds like a cross between Margaret Thatcher and Bette Davis but can twist mill-owning daddy played by Richard Cordery around her little finger.
Balancing loyalties to the workers, primarily represented by bolshie Rina Fatania and maternal Sue Johnston, with his need for financial and marketing support from the bosses proves difficult for our unworldly hero. However, having overcome the kind of scientific problems that might have challenged a Galileo or Einstein, Sidney comes good creating the titular white suit, which cannot be stained and will last forever.
The evening then moves further and further away from the original story, even bringing in anachronistic gags about prorogation, to supplement the gentler humour of the mid-20th century. The second half of the two hour-long play delves into both the political and scientific consequences of such an outstanding discovery, before a couple of nice twists leading to the kind of ending that is inevitable in any true comedy.
Stephen Mangan is fun, going further and further over-the-top in his portrayal of a hapless antihero, taking on more of the characteristics of Norman Wisdom in manic mode than Alec Guinness in the original.
Sean Foley has a strong following for his brand of anarchic humour and it is members of this group, along with fans of the acting stars, who are most likely to enjoy The Man in the White Suit.
Reviewer: Philip Fisher