The Merchant of Venice 1936
William Shakespeare, adapted by Brigid Larmour and Tracy-Ann Oberman
Watford Palace Theatre and HOME Manchester
York Theatre Royal
–

Listing details and ticket info...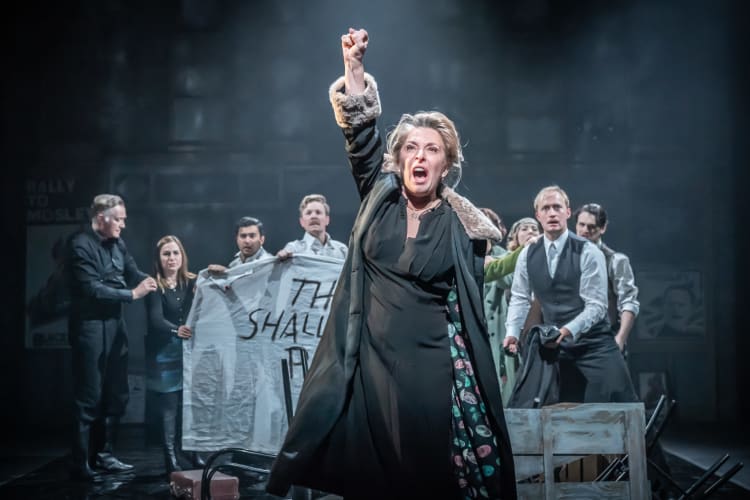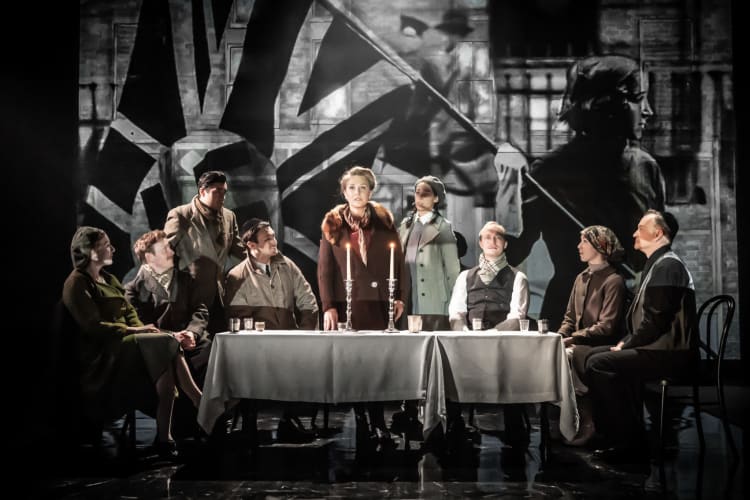 The Merchant of Venice is a difficult play to love.
Even Dame Judi Dench, one of Shakespeare's greatest living advocates—who recently co-wrote a book about her sixty-plus years of acting in his work—has described The Merchant of Venice as a "horrible play" in which "all the characters behave so badly".
Often categorised as one of the Bard's 'problem plays' due to its strange lurches between romantic comedy and harrowing drama, The Merchant of Venice challenges the sensibilities of a modern audience in various ways. Primarily, this is achieved by writing the ostensible heroes as a bunch of unreconstructed anti-Semites and making the supposed villain, the Jewish moneylender Shylock, the victim of relentless racial abuse.
While I can't say I 'loved' Brigid Larmour's reimagining of the play—it's far too unpleasant to inspire that particular feeling—I certainly found it captivating and rewarding, more so in fact than any other version I have seen. This is largely due to the ingenious decision of Larmour (and her co-adaptor Tracy-Ann Oberman) to shift the play's historical context from 16th-century Italy to 1930s London and reimagine Shylock as a Jewish matriarch trying to make a living in a prejudiced society.
While the anti-Semitism of 1930s Britain has not exactly been forgotten, it's fair to say that it has been overshadowed by the horrors perpetrated against European Jews during the 1940s. The Merchant of Venice 1936 is a discomfiting experience because it reminds us of Britain's history of prejudice, as manifested in the British Union of Fascists, led by Oswald Mosley.
Despite the change of setting, the action of the play remains the same, with Bassiano (Gavin Fowler) drawing upon the credit of his friend, the merchant Antonio (Raymond Coulthard), so that he can borrow money from Shylock (Tracy-Ann Oberman) to woo the beautiful heiress Portia (Hannah Morrish).
However, this is a production that underlines at every opportunity the monstrous anti-Semitism of its main characters. Antonio's hatred of Shylock is palpable throughout, making the latter's decision to demand a pound of flesh as forfeit understandable, albeit wicked and blood-curdling. The racism of the play is also felt strongly in the scenes involving Portia, who makes vile comments about the complexion of one of her suitors and treats Shylock's daughter, Jessica (Gráinne Dromgoole), with barely disguised contempt.
According to the programme notes, playing Shylock has been a long-cherished passion project for Oberman. Given the obvious relish with which she plays the part, this is hardly surprising. Whether she is castigating Antonio for his unfeeling abuse or mourning the loss of her runaway daughter, Oberman is totally electrifying.
Hannah Morrish excels as Portia, skilfully capturing the character's wit and intelligence, whilst also conveying her less noble qualities, namely her haughty arrogance and unconcealed xenophobia. Antonio must be one of the least appealing characters in all of Shakespeare, but he is brought to queasy life by an assured Raymond Coulthard.
Gavin Fowler radiates a suitably unctuous charm as Bassiano and Xavier Starr gives a memorable performance as a notably loutish Gratiano. As Nerissa, Jessica Dennis makes a playful foil for Portia, and Gráinne Dromgoole brings a quiet poignancy to the role of Jessica.
Larmour and Oberman have done an excellent job in adapting the play, preserving its narrative arc whilst also trimming down its running time to a purposeful two hours. The slickness of the production is helped by Liz Cooke's simple set design, which evokes 1930s London through the use of a grubby terraced street daubed with anti-Semitic graffiti. While more might have been done to bring Belmont (Portia's luxurious abode) to life, Cooke's elegant costumes do a fine job of evoking glamour and sophistication.
The Israel-Gaza conflict has stirred up a wave of dormant anti-Semitism around the world, sadly giving The Merchant of Venice fresh resonance. Larmour's timely production is unsettling and often difficult to watch, but I'm grateful to have experienced it.
Reviewer: James Ballands