The Mountaintop
Katori Hall
Reading Rep Desara and Nuffield Southampton Theatres
Curve Theatre, Leicester
–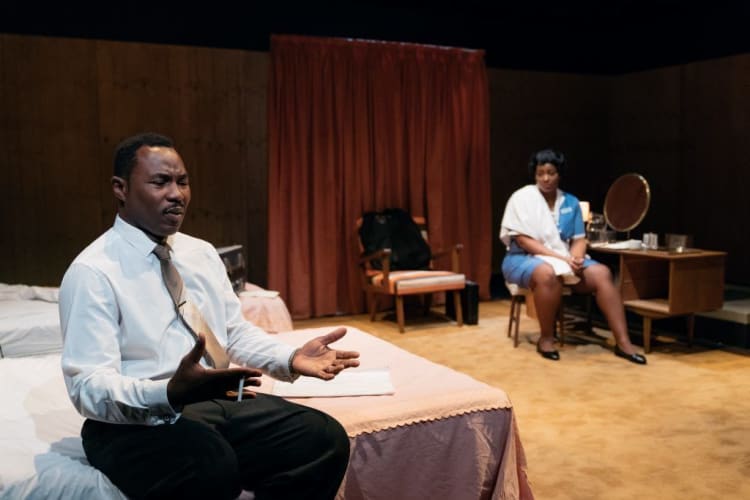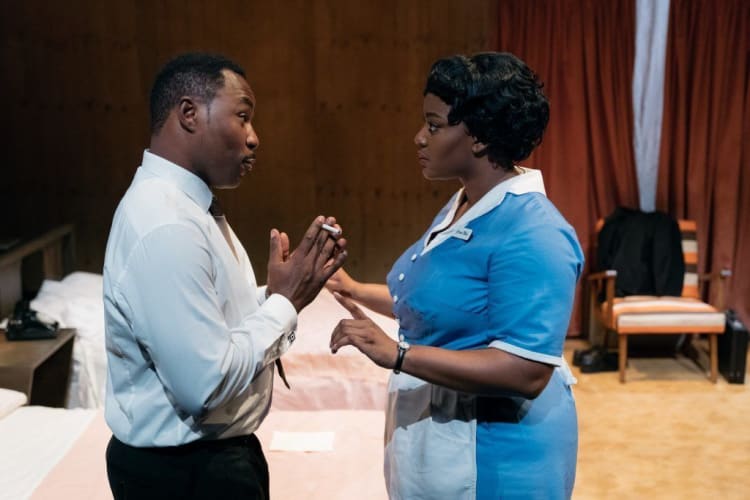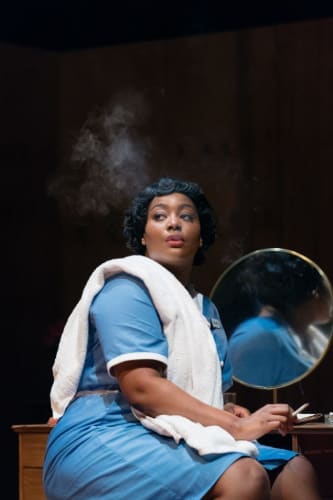 It is 3 April 1968, the night before Dr Martin Luther King Jnr's assassination. Dr King (Gbolahan Obisesan) arrives back at his regular room 306 of the Lorraine Hotel, Memphis having just delivered his famous "I've been to the mountaintop" speech in support of striking sanitation workers. He is tired, lonely, and debilitated by a cold. Room service maid Camae (Rochelle Rose) brings him his holy trinity of coffee, cigarettes and some casual flirtation. As the night develops and their conversations deepen, King is forced to confront his hopes and fears for himself, his family, and the world, always aware of violent threats directed towards him and his community, as well as the weight of his reputation.
Although not quite a warts 'n' all exposé of the iconic Dr King, Katori Hall's play takes his quote of "I am a man, I am just a man" to show that yes, he is rightly revered as a great pioneer of civil rights, but also baggage carrier of the doubts and contradictions of any "normal" human—including smelly feet.
Surprisingly, this play initially struggled to open in America, premièring instead in the UK at Theatre503 in 2009, transferring to the West End in 2010 and receiving the Olivier Award for Best New Play that same year. A success on Broadway in 2011, a revival in 2016 directed by JMK Award winner Roy Alexander Weise, it is now midway through a UK tour, again under Weise's direction.
Weise evokes a dream-like feel with this neat two-hander, as twists and reveals pepper the piece throughout. At around one hour forty minutes and no interval, this play needs to hold our attention. This is achieved, save for a faltering section as the dust settles on a bizarre comic interlude around two-thirds of the way through (I am trying to avoid several spoilers here!). Thoughtful lighting by Lizzie Powell adds to the bewitching feel, and Rajha Shakiry's sparse, period design enhances the mood.
Obisesan shows both the stature and infallibility of Dr King with grace and conviction, missing his wife but enjoying the sass and sparkle Camae brings to his room, along with his coffee. Rose commands the stage, loud and unsuffering of fools, but there's a soothing edge to her spirited behaviour.
Although not normally a fan of a montage, in this case, Rose delivers a dynamic monologue as the play closes. Images of key points in the civil rights movement and US life and politics since King's assassination are her backdrop, with emotional reminders that "the baton passes on".
Each stage in The Mountaintop's performing life seems to punctuate where America is at: a time of new hope, born at the start of Obama's presidency. In 2016, #BlackLivesMatter is a significant movement, and another election looms. And here we are in 2018, difficulties with a very different President, yet a record number of black women elected to Congress. It feels that for every positive step forward with the baton, there are baton drops and divisive steps back.
Whilst The Mountaintop focuses on one man and one event, now over 50 years ago, this play will and should always serve as a mirror reflecting how America moves on with its troubled relationship with racism and civil rights. A great vehicle for ongoing discussion post-performance, not only about the production itself but the wider political context.
Reviewer: Sally Jack