The Narcissist in the Mirror
Rosie Fleeshman
Nothing to Declare Productions
York Theatre Royal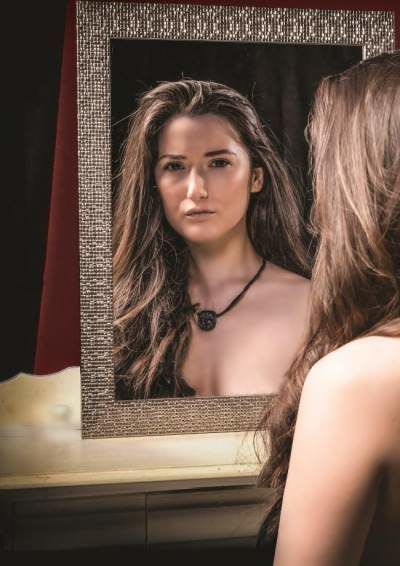 In her first one-woman show, writer and performer Rosie Fleeshman examines millennial anxiety through the prism of a needy, insecure and emotionally volatile young woman. The millennial generation (people born after 1981) has been described as the most anxious in history. One possible explanation for this phenomenon is the pervading presence of social media which allows us to compare our lives with others in ways that foster jealousy, resentment and unhealthy competition.
The protagonist of The Narcissist in the Mirror is in a torturous position. She feels entitled to the accoutrements of a perfect life—a glamorous career, a loving relationship, material comfort—but, for various reasons, these objects of desire remain tantalisingly out of reach. At the tender age of 24, she already feels the clock ticking.
The Narcissist in the Mirror is not an autobiographical show per se, but Rosie Fleeshman has put a lot of herself into her protagonist. Both are aspiring actors in their mid-twenties, and both have experienced some difficulty in adjusting to life after drama school. The life of an aspiring actor is not for the faint-hearted—rejection is a regular occurrence for most budding thespians.
One part of the show that definitely invites an autobiographical reading is the protagonist's discussion of her family, where she confesses feeling overshadowed by her elder brother in her parents' affections. In real life, Fleeshman is the youngest member of an acting family: her brother, Richard Fleeshman, is currently dazzling critics in Marianne Elliott's Company and her mother, Sue Jenkins, is famous for her years spent on TV soaps. When Fleeshman puts on a Scouse accent to impersonate the protagonist's mother, I couldn't help but think of Jenkins's turn as the long-suffering Jackie Corkhill in Brookside. I'm sure that Fleeshman is just as beloved as her older siblings, but the character's self-doubt is perfectly understandable.
In many ways, The Narcissist in the Mirror is a striking piece of work. Fleeshman has a commanding stage presence and the manic energy she invests in her character fuels the production throughout its one-hour running time. The character she creates is not particularly likeable—she can be abrasive, vain and conceited at times—but we warm to her over the course of the evening.
The writing is often sharp, incisive and funny, particularly in one scene where the protagonist berates her Tinder date over his spelling and grammar. At various points, Fleeshman's script veers away from confessional dialogue into spoken poetry and her language becomes rich, potent and evocative.
Some aspects of the show don't work quite as well. At one point, Fleeshman coerces three male audience members onto the stage in order to demonstrate her different seduction strategies, but the desired effect is unclear and made me feel uncomfortable for all concerned.
The Narcissist in the Mirror has been likened to Phoebe Waller-Bridge's superb Fleabag, and this is understandable given that both one-woman shows employ scabrous humour to tackle the perils of being a twenty-something woman. However, Narcissist lacks the narrative thrust of Fleabag, meaning that the show can feel unfocused at times.
Despite these quibbles, I enjoyed The Narcissist in the Mirror immensely. Fleeshman is a skilled performer whose writing demonstrates genuine flair, and I look forward to seeing her next show.
Reviewer: James Ballands