The Play That Goes Wrong
Henry Lewis, Jonathan Sayer and Henry Shields
Mischief Theatre
Grand Opera House, York
–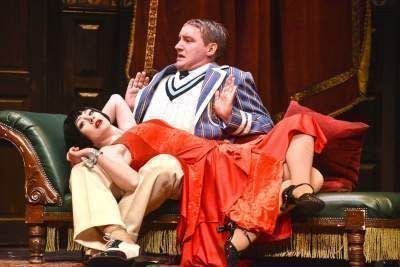 The Play That Goes Wrong may be closing its doors on Broadway after a year, but it's still going strong in the West End where it's been tickling audiences' funny bones since 2014.
Written by a group of twenty-something drama graduates shortly after leaving LAMDA, The Play That Goes Wrong is one of the most heartening theatrical success stories of recent years. From inauspicious beginnings (it was first performed above a pub), the show would eventually win the Olivier Award for Best New Comedy in 2015. Now, audiences across the UK will have a chance to make up their own minds about the production as Mischief Theatre tours the show across the country.
Like Michael Frayn's classic farce Noises Off (1982), The Play That Goes Wrong depicts a stage production falling apart. However, whereas the former focused on a fictional sex farce (Nothing On) performed by professionals, the latter centres on a made-up murder mystery in the vein of Agatha Christie (Murder at Haversham Manor) played by clueless amateurs.
Before the play even starts, it's clear that things will go spectacularly awry for Cornley Polytechnic's ill-fated drama society. Their latest production is about to begin, but the backstage staff are still busy with last-minute adjustments to the 1920s-inspired set, including a mantelpiece that refuses to stay attached to the fireplace.
When Murder at Haversham Manor finally commences, we watch in delight as every conceivable thing goes wrong—from props being misplaced and actors mispronouncing certain words, to performers being knocked unconscious and chunks of the set falling off. Take your worst anxiety dream and multiply it by a thousand!
Sometimes, it can be mystifying why certain shows take off and others vanish into obscurity. In the case of The Play That Goes Wrong, the reason behind its success is abundantly clear: it's extremely funny—often deliriously so—from beginning to end.
If I were to be particularly picky, I'd say there are a few ongoing jokes that lose their potency over time, such as the accident-prone thespians having to drinks white spirits instead of whisky. However, for every moment like this, there is a piece of comic business that is genuinely hilarious or surprising, eliciting gasps and cheers from the audience.
A production like this one, which relies heavily on props and physical comedy, is akin to a high-wire act: the slightest mistake could completely ruin the effect or, even worse, cause real physical harm to the performers. Fortunately, the ensemble cast, expertly directed by Mark Bell, appear to be in complete control.
The Play That Goes Wrong boasts some lovely performances. Jake Curran is wonderfully pompous as Chris, the show's put-upon director, who achieves John Cleese levels of frustration over misplaced props. Bobby Hirston is superb as Max, an amateur actor who can't resist the urge to break character and grin at the audience. Elena Valentina and Catherine Dryden are hilarious in the scenes where they attempt to out-vamp each other.
Benjamin McMahon excels as an inexperienced performer who can't pronounce certain words, and he's matched by Kazeem Tosin Amore, whose increasing exasperation amidst the chaos is a joy to behold. There's also terrific work from Steven Rostance, who plays the least immobile corpse I've ever seen.
Praise must also go to Nigel Hook's Tony Award-winning set design. What on first appearance looks like a perfectly serviceable set for a country house murder mystery is actually fiendishly clever—a funhouse that also self-destructs.
Although it doesn't quite scale the giddy heights of Noises Off, The Play That Goes Wrong remains one of the funniest shows I've seen in years. The audience surrounding me were swept away by its gloriously silly humour, and I wouldn't hesitate to recommend it to anyone looking for some light-hearted escapism.
This major UK tour will be playing at a variety of venues, including Hull New Theatre (21 to 26 May) and Bradford Alhambra (18 to 23 June).
Reviewer: James Ballands