The Play that Goes Wrong
Henry Lewis, Jonathan Sayer and Henry Shields
Mischief Theatre
Lyceum Theatre, New York
–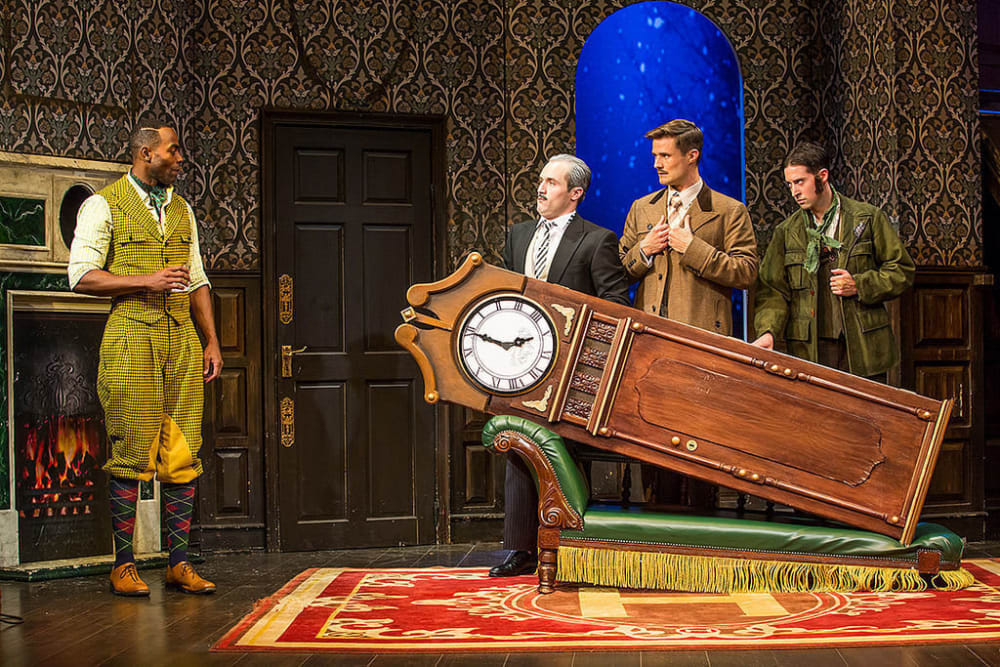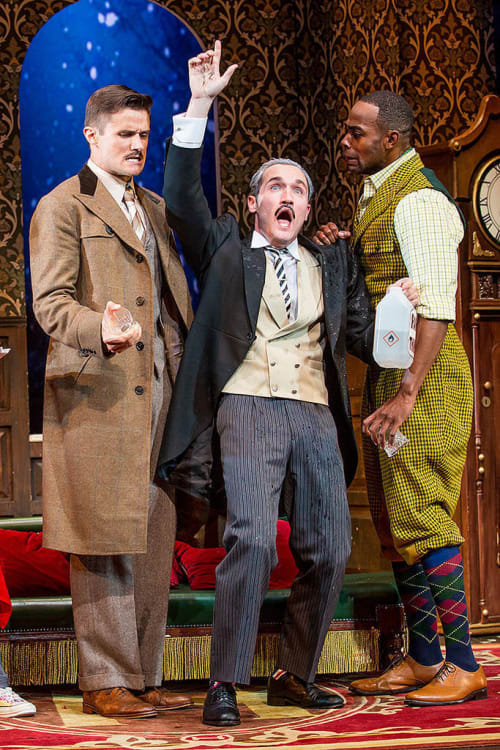 The phenomenon that is The Play that Goes Wrong goes right yet again. Almost ten years from the formation of Mischief Theatre, their star remains in the ascendant.
The company, formed when its leading lights left LAMDA, has three shows playing simultaneously in the West End, a TV special, several tours past, present and future and their first-born has just announced an extension to this Broadway booking.
Three plus years ago, the morning after the West End opening, this critic predicted that the boys had "come up with a concept so good that it could just become the new The 39 Steps" and he is feeling smug after getting a prophesy spot on.
There was a potential risk that what starts out as a spoof on an archetypal British 1920s country house murder mystery might have been baffling to cosmopolitan New York audiences comprising savvy locals and generous sprinklings (sometimes floods) of tourists. Judging by the response of a holiday season house, they are joyously bowled over by the impeccably constructed farce and word of mouth is almost everything when a show wishes to run in perpetuity.
The Play that Goes Wrong, created and subsequently moulded and mildly Americanised by Henry Lewis, Jonathan Sayer and Henry Shields, working hand-in-hand with director Mark Bell, combines the best elements of a Noises Off style comedy and an Agatha Christie country house murder mystery.
The co-creators came up with a night enduring the Cornley Polytechnic Drama Society's second-rate production of Murder at Haversham Manor.
Before the curtain rises, problems are already apparent (although the box office's failure to have this doughty, jet-lagged traveller's tickets may not have been scripted). Long before the opening scene from Cornley, a couple of backstage staff (played by Akron Watson and Ashley Bryant, apparently and rather incongruously from the Deep South) are seen seeking a missing hound and putting the finishing touches to the set.
This is their prelude to a fiendishly complex murder plot during which all is not what it seems. Frankly, the play within a play script is as weak as the acting, which in turn is as weak as a set that shakes as much as the audience as they laugh solidly for just over two gloriously exhausting hours.
For the most part, an American cast has done well to take over from the Brits who brought it across (including the three co-writers) but are now improvising their Mischief Movie Night. Even the accents are convincing with only the odd exception.
After Jonathan Fielding's Jonathan as Charles dies, An Inspector Calls in the person of the genuinely British Broadway debutant Mark Evans.
Before the evening is out, suspicion is directed at the deceased's vampish fiancée (Katie Sexton—n.b. all names in brackets are of the real actors), both of their brothers (strutting Clifton Duncan and simpering, stage-struck Alex Mandell) and a butler (Harrison Unger) who might occasionally bring to mind Andrew Sachs's Manuel in Fawlty Towers.
The fun that starts with an audience member and a mantelpiece never lets up. If someone tried to imagine everything that could go wrong in the most amateurish of amdram evenings, that would probably get the average Joe about halfway there. To say any more would spoil the fun for those planning to catch an infectious masterpiece that could run forever here, in London and quite possibly across the globe.
Reviewer: Philip Fisher