The Prince of the Pagodas
Music by Benjamin Britten, choreography by David Bintley
Birmingham Royal Ballet
London Coliseum
–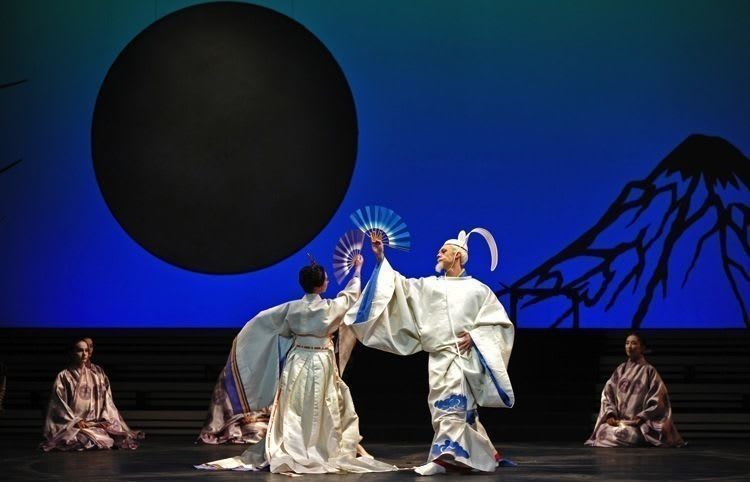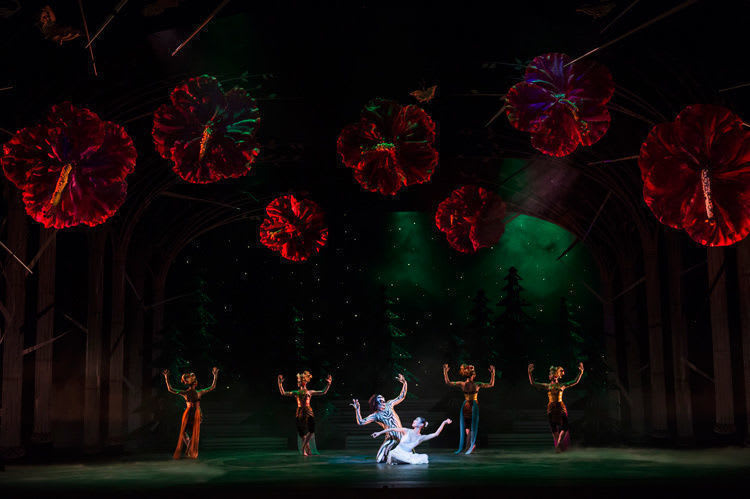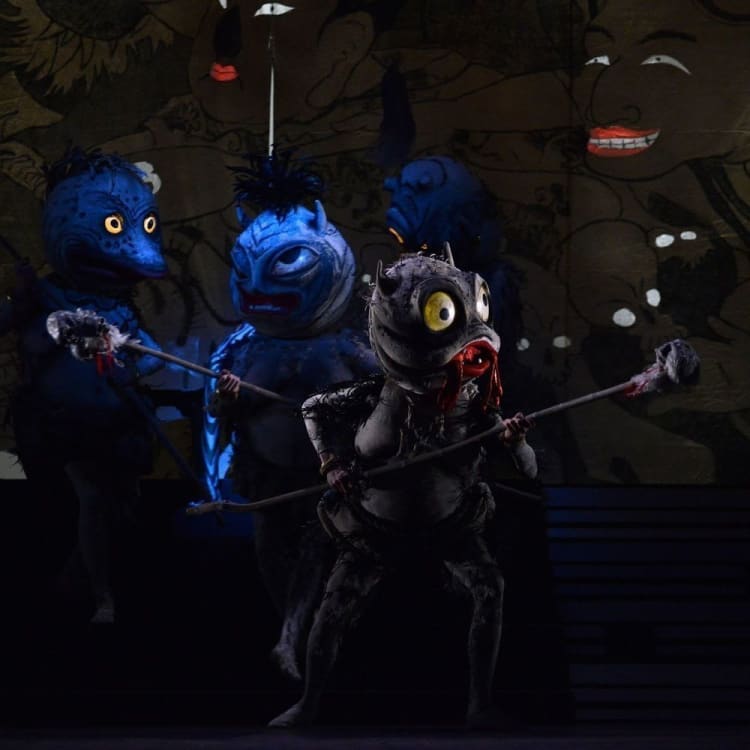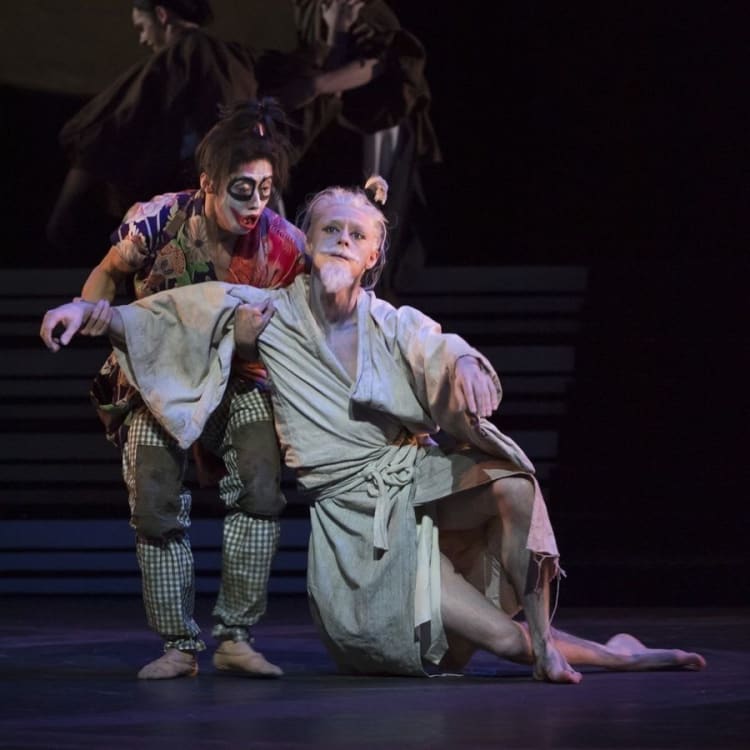 David Bintley has had some thirty years to think about how to approach The Prince of the Pagodas, Benjamin Britten's only full-length ballet score composed for John Cranko in 1957.
In 1979 Dame Ninette de Valois asked him to consider it. Not ready then, though he 'loved Britten's score', eventually the propitious eureka moment came from the chance alignment of Britten 100 celebrations with his stewardship of the National Ballet of Japan, Tokyo, where his new version had its première in October 2011. And its UK première January 2014 at The Lowry, Salford.
Inspired by the Japanese creation myth, Utagawa Kuniyoshi's ukiyo-e paintings, and the gestural language of Noh theatre, Bintley saw a way into Britten's difficult if expansive score, incorporating as it does Balinese gamelan sounds, different time signatures and keys, and polyphonic stratification.
Bintley insists it is 'eminently danceable'. There is no question about that, yet it defeated Cranko, and Kenneth MacMillan in 1989, though it is still in the Royal Ballet repertoire, and if it does not entirely defeat David Bintley, for my money there is a mismatch between sophisticated score and choreography in this family friendly undemanding empty calories eye-candy show.
Paul Murphy and the Royal Ballet Sinfonia give an excellent rendition of Britten's vibrant composition. Cinematic, epic, jazzy, it is not an easy fit with the characterisation on the stage. Maybe one day someone will see something more cutting edge in it.
One chap had come to hear the music, blow the dance… Though I must say many loved the production, charmed by Rae Smith's Japonaiserie set and costumes, which were the highlight for me, too.
What to me looks like an influence and confluence of beautiful Japanese woodcuts, fantastical Studio Ghibli creatures, Alice in Wonderland, even Kashchei and his creatures from The Firebird, Rae Smith admits that many of her ideas were direct picks from the work of Kuniyoshi, famous for his woodblock prints.
The artistry in creating the production designs is as mindboggling as the imagined fantastical creatures. One can see why it was such a success in Japan.
Rewriting Cranko, Bintley has changed the composite fairytale love story borrowed from Beauty and the Beast, Cinderella, Sleeping Beauty, Nutcracker, et al to a family tale, and with it has gone what little dramatic tension there was. The Salamander (William Bracewell) is now not Princess Belle's lover but her brother banished by a wicked ambitious stepmother.
Belle has been renamed Princess Sakura (Jenna Roberts), who mourns the loss of her brother and the falling apart of her King Lear-like father's, the Emperor of the Chrysanthemum Throne's kingdom.
Four suitors come to woo her—Kings of the four compass points in not very PC clichéd stereotypical garb—but quite rightly she'll have none of them. The King of the West is a gun-toting Uncle Sam (Feargus Campbell), North is an Imperial Cossack (Oliver Till), East an opium-pipe-smoking Chinaman (Tzu-Chao Chou), South (Tyrone Singleton) a Zebra-striped ostrich-feather-plumed African bearing gifts of ivory tusks.
When the Salamander turns up with his four Yokai (they translate as ghost / phantom / strange apparition…), she is intrigued and follows them to Pagoda Land.
After a long journey through the elements of earth, air, fire and water—the Deep Sea Creatures (the Empress as octopus), and bobbing Seahorses make me think of The Water Babies, my companion was waiting for the Yellow Submarine…—they arrive at the Salamander's kingdom, where the story of the bad Empress's machinations are revealed.
As in all fairytales the baddies are seen off—which is a pity as the Empress has the best choreography and Samara Downs (second night cast) gives it her Broadway best. 'King Lear' and his Fool (lovely duet from Valentin Olovyannikov and James Barton) are brought down from Mount Fuji.
The Kingdom is restored, the Salamander to human form, a red sun brings colour back to the black and white set, Peter Teigen's lighting floods Rae Smith's stunning creation, and the grand pas brings The Prince of Pagodas to a happy end.
There are parasol dances, Balinese girls, kimonos and tutus, mime, delightful children, magical clouds, giant flowers, monsters, cherry blossom, vortex spins, and all the clichés you can imagine on stage. An indulgent Christmas show, perhaps—the dancing pagodas look very like Christmas trees.
Reviewer: Vera Liber