The Producers
Book by Mel Brooks and Thomas Meehan, music and lyrics by Mel Brooks
Royal Exchange Theatre
Royal Exchange Theatre
–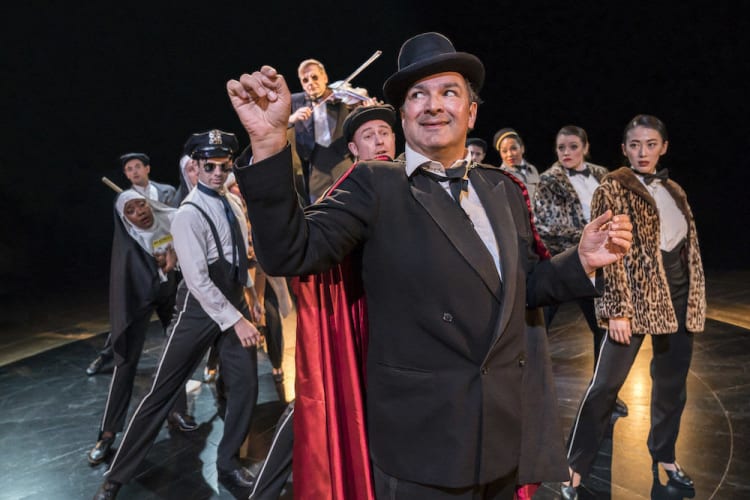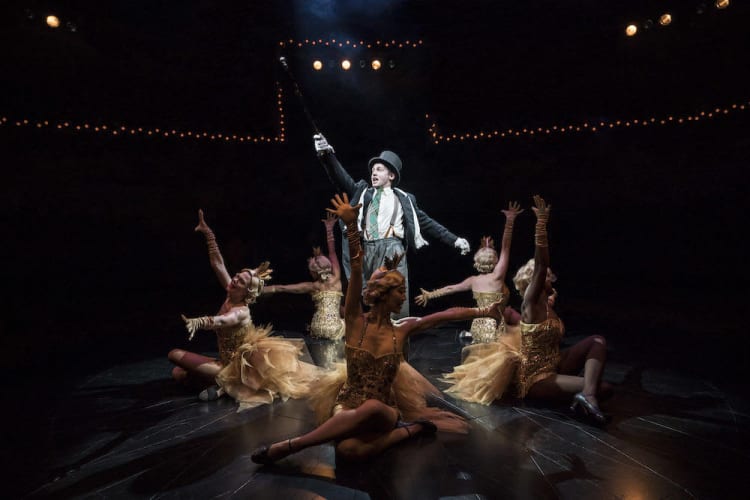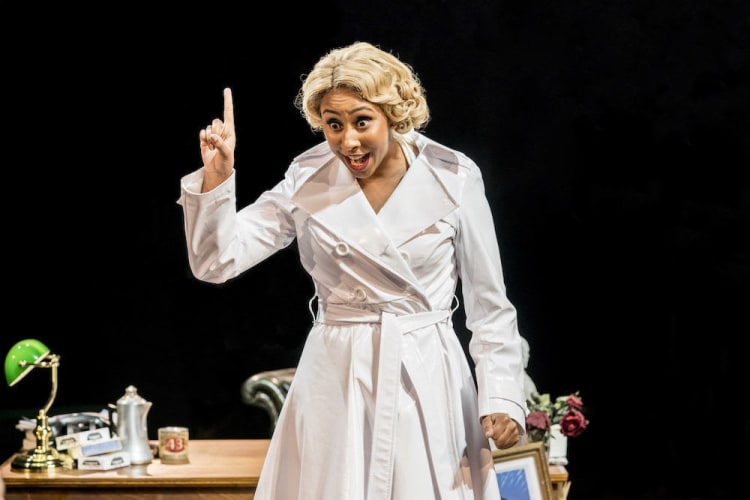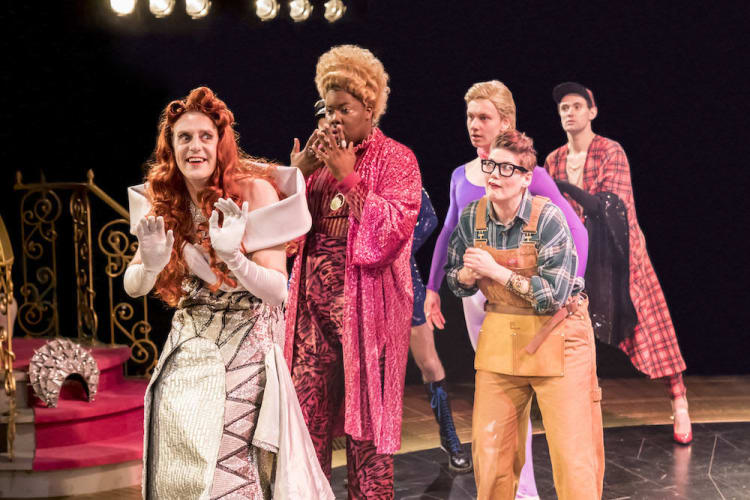 The Royal Exchange is continuing its recent tradition of adult musicals over Christmas, which have sometimes been very successful (Little Shop of Horrors, Sweet Charity, Guys and Dolls) and sometimes brave but flawed attempts to bring the Broadway musical into the Exchange's intimate in-the-round space (Into The Woods). I would put Raz Shaw's production of The Producers into the latter category, but, from the people I spoke to during the interval, I could be in a minority.
The Producers (1968) was originally Mel Brooks's first, possibly still his greatest, film, which brought together an unbeatable duo of Zero Mostel and Gene Wilder in the roles of faded Hollywood producer Max Bialystock and his permanently terrified accountant Leo Bloom. Bialystock raises money for his productions by giving a last thrill to his rich 'little old ladies' and lives on his tales of past glories, but still produces flop after flop. Bloom's casual comment that it would be possible to make more money from a flop than a hit sets them on a scheme to find the worst play ever written and to persuade the worst director, Roger De Bris, to direct it.
They eventually hit on a script called Springtime For Hitler by Franz Liebkind, a not-exactly-ex-Nazi, which Max says is "practically a love letter to Hitler". If the show fails, they take off to Rio with two million dollars; if it is a hit, they end up in prison for fraud. Guess how it turns out...
The 2001 musical makes a few changes from the film: hippy actor LSD, who played Hitler, is cut to be replaced initially by Liebkind and then by De Bris; a romance has been concocted between Leo and their sexy Swedish office assistant Ulla; and of course there are a lot more songs, none as memorable as the title song of the play-within-the-musical but they have some witty lyrics and big Broadway arrangements (orchestrator Chris Walker). However without a big Broadway house, the dance numbers that are written with a slow build-up fill the Exchange's small bare stage with the 11-strong ensemble quiet early on, and so, with nowhere left to go, they can seem too long and repetitive.
Julius D'Silva's version of Max Bialystock is very close to Mostel's in voice and gesture, whereas Stuart Neal's Leo Bloom is quite different from Wilder's, both interpretations working perfectly well. Together, they hold everything together strongly in two very demanding roles, both with some big song and dance numbers, but some of the comedy seems rushed with great lines flying by almost unnoticed and comic business between the lines to develop the gags barely visible.
Dale Meeks portrays well the scary comedy Nazi, if all on the same shouty level, while Charles Brunton brings out all the camp pretentiousness of Roger De Bris—and an interesting household—with Hammed Animashaun putting a very different spin on his assistant Carmen Ghia to the film but one that works well. Finally, Emily-Mae makes Ulla a much more substantial character than the film without losing any of the '60s comedy sexiness.
The Exchange has certainly thrown a lot of money at this production. As well as the 17-strong acting company—with all six principals understudied by members of the ensemble, which is almost unheard of in regional theatre—there are nine live musicians on the balcony under musical director Jo Cichonska (except poor percussionist Helen Washington who is exiled to a sealed booth outside the theatre). Ben Stones's design includes some quite spectacular costumes and lots of very effective pieces of set, which are changed with impressive slickness by the stage management team. The sound was a bit harsh at first, which made the music sound false and obscured some of the lyrics, but it did improve later.
There are lots of laughs in the show, not least from Mel Brooks's joke-laden script and lyrics, many of which can't fail, and there are some impressive performances, but for me it never really all came together, coming across as sprawling and too long as it tells in two hours forty minutes a story that the film told with much greater economy in less than ninety minutes. Perhaps the atmosphere didn't project as well up to the balcony—all the people I spoke to in the interval were seated on the ground floor—or maybe it was just me, but, as a huge fan of the film, I was entertained but a little disappointed.
Having said that, the Royal Exchange has to be applauded for bringing shows like this to smaller regional theatres and to inject some wholesome (almost) adult entertainment into the huge variety of Christmas shows in the theatres of Manchester each year.
Reviewer: David Chadderton