The Public Administration and Constitutional Affairs Committee Takes Oral Evidence on Whitehall's Relationship with Kids Company
Music by Tom Dearing, book and lyrics by Hadley Fraser and Josie Rourke, edited from the transcript of the evidence session
Donmar Warehouse
–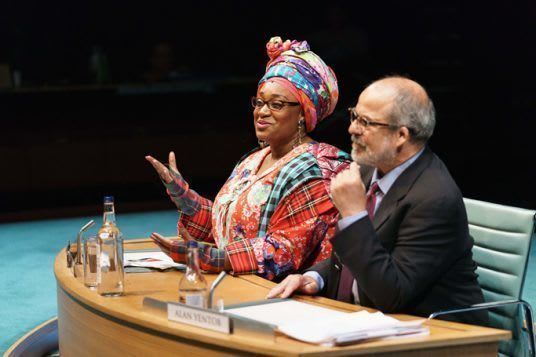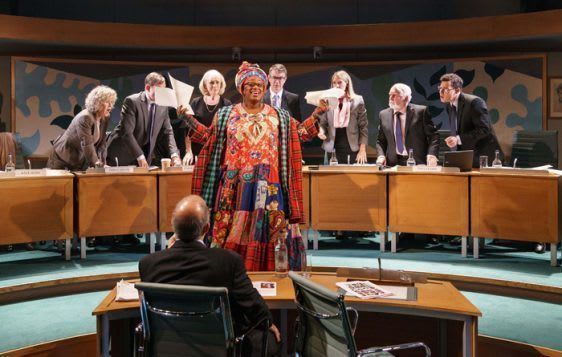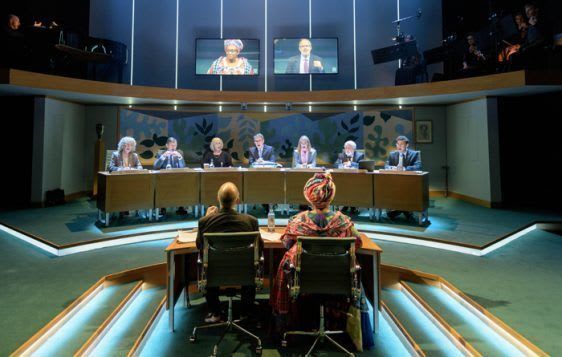 There has to be a risk that the title of the play known to insiders as "Committee" could be off-putting to potential playgoers. The idea of sitting through a rehash of the edited transcript of a Parliamentary committee (and not even a sexy one at that) is hardly hot competition for Harry Potter and the Cursed Child.
The 80-minute performance itself is hard to categorise. In principle, it is a verbatim play about the failure of Kids Company and the subsequent parliamentary investigation. However, it is edited and dramatised to create a more satisfying evening, then pepped up with intermittent musical accompaniment that might strike some as reminiscent of a Shostakovich opera.
At its heart lies the disaster that befell a charity set up to protect vulnerable children. After close to two decades of praiseworthy success, Kids Company faltered on the rocks of financial incompetence, leading to high profile media prurience and an embarrassing collapse out of which nobody, all the way up to the Prime Minister of the time David Cameron, emerged with credit.
Chaired by Alexander Hanson taking the role of Bernard Jenkin MP, the committee sat with the intention of "learning for the future" emphasising that it was not intended that this should be a show trial. However, by the end of the performance, many might feel that the events were dangerously close to that Russian speciality, while one sadly doubts whether politicians and civil servants will ever learn from mistakes of this type.
With five musicians perched at mezzanine level, the stage is taken up by seven places for committee members and clerks opposite two occupied by the stars of the show, Sandra Marvin is Camilla Batmanghelidjh, CBE and Omar Ebrahim plays Alan Yentob, both performers more than competent actors with memorable singing voices.
Three Conservative politicians and two from Labour start off with personal agendas but, such is the personality of Miss Batmanghelidjh, the larger-than-life lady achieves something that almost nobody else ever has, bringing the two parties to almost complete unanimity by the end of the hearing.
Before that, she proves to be an amusing if wholly unreliable witness, ignoring questions like the best of politicians, while answering those of her own invention instead.
Yentob seems little better, apparently bemused by events that led to the charity's spectacular failure.
Final impressions are important, as they were all that anybody is likely to take away from this committee and these events. It seems that Camilla Batmanghelidjh was the ultimate careless do-gooder. Genuinely, her only motivation seems to have been to ensure the welfare of her "clients" and if this meant borrowing millions of pounds from a government that comes out of the affair looking incredibly lax, that was no concern of hers.
Whether there is really enough material in this issue to justify a full-scale play might be open to debate. Given the limited material, the creators, actors and director Adam Penford have concocted an enjoyable confection that might conceivably achieve the goal of the committee, to enable viewers to learn from others' mistakes.
Reviewer: Philip Fisher