The Scottsboro Boys
Music and lyrics by John Kander and Fred Ebb, book by David Thompson
Young Vic
–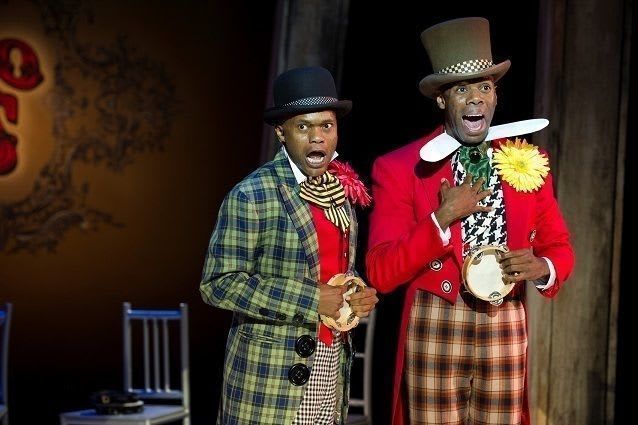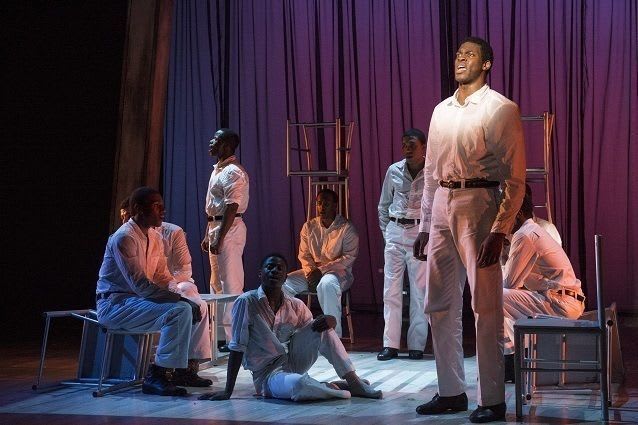 Even for Kander and Ebb, the team behind Cabaret and Chicago, taking this concept to producers must have been a hard sell.
The idea of depicting a tragic tale of nine black men falsely imprisoned for decades through the medium of a light, vaudevillian song and dance minstrel show sounds impractical and highly unlikely.
Happily, not only does The Scottsboro Boys work but the light tone brings out the horror of injustice perfectly to the extent that the real life Scottsboro Boys received a collective pardon from the Governor of Alabama earlier this year in the wake of the Broadway production.
The opening scenes are like a series of music hall acts, as several members of the cast are asked to change gender and race in short comic scenes filled with jokes, songs and dance routines.
They set up a courtroom drama as tense as Twelve Angry Men or Inherit the Wind in which a couple of good-time girls from the titular town in Alabama (hilariously played by members of the ensemble) escape jail by launching rape accusations against nine innocent black teenagers in search of work as the Depression left families starving right across the southern states.
The sheriff and deputy, played, amidst numerous other roles, by a dynamic duo of Colman Domingo and Forrest McClendon, are soon on their case.
The jocularity continues even as Julian Glover portraying the Judge and Governor of Alabama hands down no fewer than eight death sentences, each after the first following successful appeals orchestrated by "Communists and Jews" from the hated north.
Eventually, the only way out is a rather sordid deal as a result of which the four youngest boys, including Idriss Kargbo's sweetly naive 13-year-old Little George, were released in return for the continued incarceration of their companions.
In a deeply moving evening that lasts a fraction less than two hours, one of a number of defining moments comes as arch troublemaker Haywood Patterson, played by Kyle Scatliffe, echoes George Washington by refusing to tell a lie and admit guilt for a crime that he did not commit. The consequence was death in jail in 1952, 21 years after he was first wrongly imprisoned.
Out the proceedings, a quiet woman mysteriously sits and observes, taking no part in the action. Her moment only comes at the denouement when we discover that this is Rosa Parks, the woman who single-handedly began the overturning of generations of racism by sitting on a bus up the road in Montgomery.
Susan Stroman's production manages to be great fun and it is at the same time imbued with immense sadness at man's inhumanity to man.
The music is varied but lively containing everything from spiritual to soul, barbershop nonet to jazzy showstopper, all delivered with tuneful energy by a strong cast. Many of the songs will have the toes tapping, such as "Commencing in Chattanooga" and "Shout", while others are much closer to laments, which is wholly appropriate.
As one expects from this director, the choreography is also well worth a look with a fine tap routine and an energetic slapstick, hip-hop around the electric chair proving to be the highlights.
This is a thoughtful, impeccably realised musical that addresses tough issues and offers no happy ending for the protagonists. As such, David Lan can congratulate himself on achieving a real coup by staging the British première of a really special Broadway hit at the Young Vic.
Reviewer: Philip Fisher