The Signalman
John Goodrum, based on a Charles Dickens short story
Rumpus Theatre Company
Pomegranate Theatre, Chesterfield
–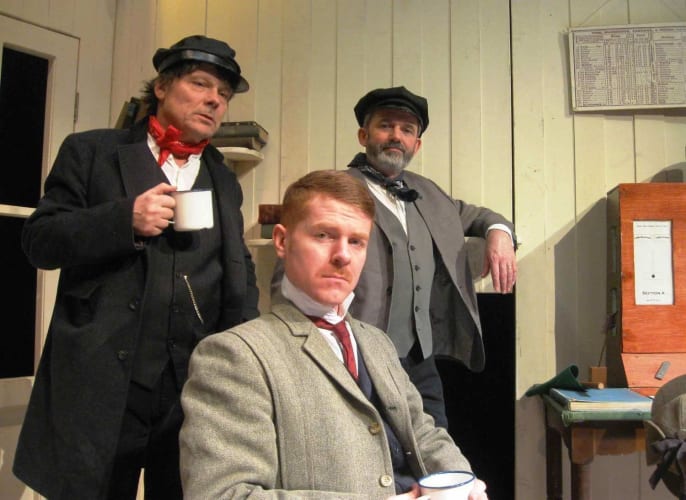 Charles Dickens's 1866 ghost story The Signalman has proved to be popular across the generations and has been presented in various forms.
Andrew Davies adapted it in 1976 for a BBC Television production which featured Denholm Elliott in the eponymous role. It was shown again at Christmas 2017 as part of a season of ghostly tales.
Middle Ground Theatre Company has toured a stage adaptation of the short story a couple of times, in 2015 teaming it with Oh, Whistle, and I'll Come to You, My Lad by M R James in a double bill regarded by some people as the two finest ghost stories ever written. Jack Shepherd played the principal character when I saw it at Derby Theatre.
Now Rumpus Theatre Company has revived its 1997 adaptation of The Signalman which is distinct in that John Goodrum's version is a full-length play. It delves deeper into the characters of signalman Joseph Standcot, played for the first time by Goodrum himself, and Richard Brightwell, performed admirably by Chris Sheridan.
The play had its première at the Pomegranate in Chesterfield, was staged by Bill Kenwright at the Theatre Royal Windsor the following year and last toured nine years ago.
The Signalman is the third play in a spring rep season at the Pomegranate and is completely different from the two previous offerings, the Rumpus staging of Ray Cooney's farce Caught in the Net and Weekend Breaks by John Godber, a Tabs Productions presentation.
Dickens wrote The Signalman after a railway crash in which he narrowly escaped death. Set in 1860, it tells the story of a troubled signalman who looks after a stretch of railway line in a deep cutting. He strikes up a friendship with a traveller who learns his new acquaintance is haunted by a spectre which warns him of danger.
Goodrum has extended Dickens's version by revealing the signalman's back story in the first act and the visitor's troubled past in the second.
There are several opportunities to crank up the atmosphere and director Karen Henson makes the most of them with flashing lights, smoke, train sounds and spooky music.
After an impressive opening with a train thundering out of a tunnel and along the track, the play settles down and takes a while to get going again. Once it does, it reveals Goodrum's skill as a writer as well as his acting abilities.
He looks totally bemused early on when Standcot meets Brightwell for the first time, believing the pair have met before. Goodrum shows Standcot to be odd without being laughable, educated yet not too self-opinionated to accept a menial, boring job.
Sheridan has been able to show his full array of talents in this season. In his third role in three weeks, he gradually brings out Brightwell's insecurity and culpability over the death of someone close to him.
Goodrum and Sheridan work together well, especially in a heated exchange when Standcot insists that you can never lose your guilt, only for Brightwell to argue that you can become more comfortable with it.
There's an enjoyable cameo towards the end from David Gilbrook—who is also responsible for the moody sound—as the train driver who puts everything into perspective.
Goodrum was certainly on the right track when he extended The Signalman and no one could accuse him of having ideas above his station. As a two-act play, it works really well. But you'll have to act quickly if you want to get on board and see it before it's shunted off into a siding.
Reviewer: Steve Orme