The Sugar-Coated Bullets of the Bourgeoisie
Anders Lustgarten
HighTide and Arcola Theatre
Arcola Theatre
–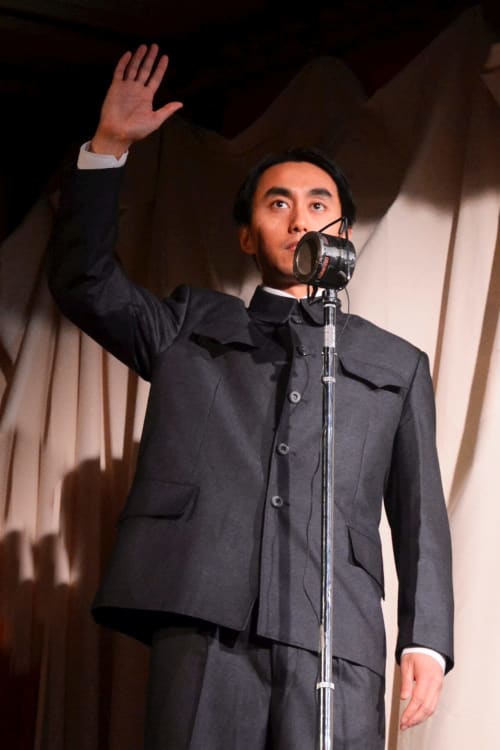 Anders Lustgarten carries the torch for political playwrights in an era when the genre has fallen somewhat out of favour.
To date, his ruthlessly cynical eye has turned in several different directions and The Sugar-Coated Bullets of the Bourgeoisie provides a useful cultural and historical context from which to view the bid for economic domination that has been launched by the Chinese in the last decade.
The 2½-hour history co-produced by HighTide and Arcola starts in 1949 in the typically primitive village of Rotten Peach. There, times are hard but starving villagers still believe in ancient gods and promote prejudice under the far from paternal eye of the local landowner.
The arrival of Mao's Revolutionary Guard with instruments of social change brings fear and hope in roughly equal measure. With a little gentle prompting, members of the underclass rise up and lynch their former tormentor.
From there, the path to communal affluence should be easily followed but somehow, the revolution loses its way. That owes a great deal to the malign influence of a soldier who settles in the village.
Andrew Leung's Xu hails from a different class, a Shanghai dentist's son who starts off with the best intentions but soon discovers that the only way to hit the quotas demanded by the Chairman and the Party is to browbeat and starve the people, rigging the numbers. This might prove instructive to those of us in Britain today in a society that is increasingly goal-orientated.
Just when things reach their nadir, a scene of chilling comic value is played out when Siu Hun Li as Mao himself arrives demanding to know whether his representatives on the ground are corrupt.
The challenge sets sharp Tang, played by Louise Mai Newberry, star of Lustgarten's last play for HighTide, Lampedusa, against her protégée, Anna Leong Brophy taking the role of Lotus Blossom.
The interval moves the action on 50 or so years to the present day.
Enjoying the glitzy city, Alice Hewkin is Lotus Blossom's 15-year-old granddaughter Xiaomei, trying to make her way in a factory as a stepping stone to pop stardom.
Economic times are hard, allowing the writer to take a few choice pops at the British political climate, whilst observing China on the skids.
Back in Rotten Peach, the villagers are about to be dispossessed by the new capitalists until Lotus Blossom comes up with the only possible chance of salvation, a Mao lookalike contest.
The Sugar-Coated Bullets of the Bourgeoisie provides a good overview of a country rarely depicted on the British stage, the theatrical version of Wild Swans being an honourable exception.
Anders Lustgarten makes some strong political points at the same time as amusing and entertaining with good support from director Steven Atkinson and his versatile ensemble cast.
Reviewer: Philip Fisher