The Suicide
Suhayla El-Bushra after Erdman
Lyttelton Theatre (National)
–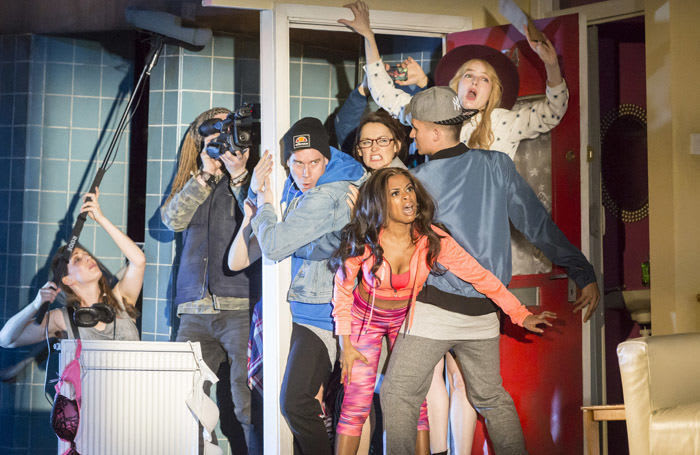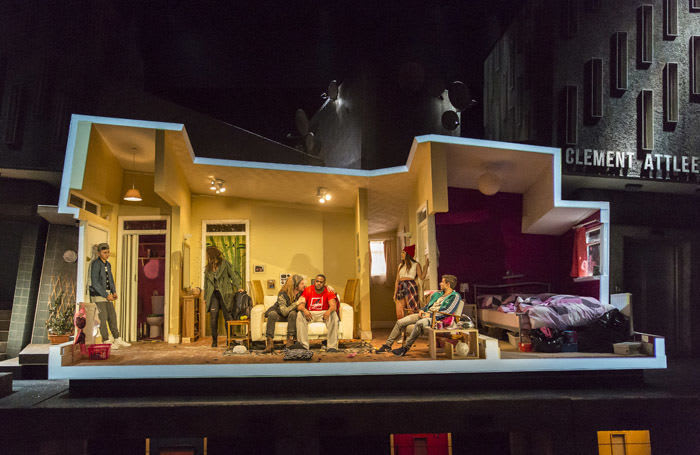 When Nikolai Erdman wrote The Suicide around 85 years ago, it was a razor-sharp political satire of the kind that terrified repressive Soviet dictators and duly got banned.
It is popular today both as a reminder and warning about corrupt political regimes and for its ubiquity.
Even so, Suhayla El-Bushra's new take on the play, given a lively production by director Nadia Fall, comes as a shock, not by relocating it to London right now but for the distance she has taken her creation from the original Soviet satire.
Some of the themes and character types have undoubtedly been borrowed from Erdman but this piece will live or die on its own brash contemporary values.
The protagonist is Javone Prince's Sam, a black tenant in the sink estate flat of his lusty, larger-than-life mother-in-law, played with gusto by Ashley McGuire.
Having been unemployed for five years and relying on the income from wife Maya's job does little for Sam's pride and, while Rebecca Scroggs's character undoubtedly loves her husband, his inability to finish anything that he starts has clearly worn her down after a decade of marriage.
The evening moves into top gear when she mistakenly believes that Sam is about to take his own life. Initially, her fears spread no further than concerned friends and family.
However, when some local kids post a video of the despairing man on the World Wide Web, it goes viral and turns the "lame ass pussy guy" into a popular hero for our times.
Having set the social media roller coaster off, neither Sam nor anyone else can stop it as more and more outlandish characters begin to ride on his virtual hearse, even before the guy has committed the deed.
Quickly, not only are youngsters filming him but so is a right-on, drug-pushing professional played by Paul Kaye, better known as Dennis Pennis. In addition, a polished but unethical councillor and social worker with whom he jousts, a posh cafe owner, a former friend turned rap poet and many others see the imminent demise of Everyman Sam as the ideal opportunity to promote their generally far-from-worthy causes.
Unlike Erdman's source, the 21st century British equivalent goes less for social commentary—although there is an underlying attack on inequality as well as the unsavoury side of social media—and more for knockabout comedy.
On the basis that The Suicide forms part of the Travelex £15 season, the target audience might well be very different from the normal National Theatre clientele.
It remains to be seen whether productions of this type, featuring an elaborate set and lively videos to bring out the video gamers, Wonder.land being a close relation, begin to draw a new generation into the main spaces on the South Bank. The likelihood is that those who have rarely, if ever, visited the theatre before might respond better to the broad humour that is on display than the traditionalist regulars.
Reviewer: Philip Fisher