The Tempest Replica
Choreography by Crystal Pite
Kidd Pivot
Sadler's Wells
–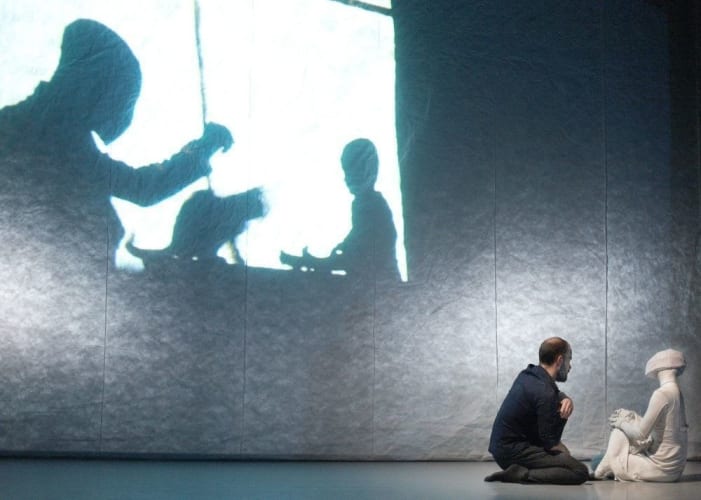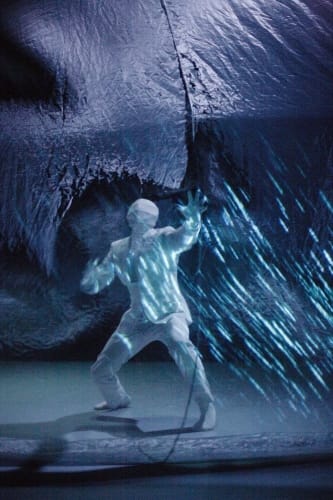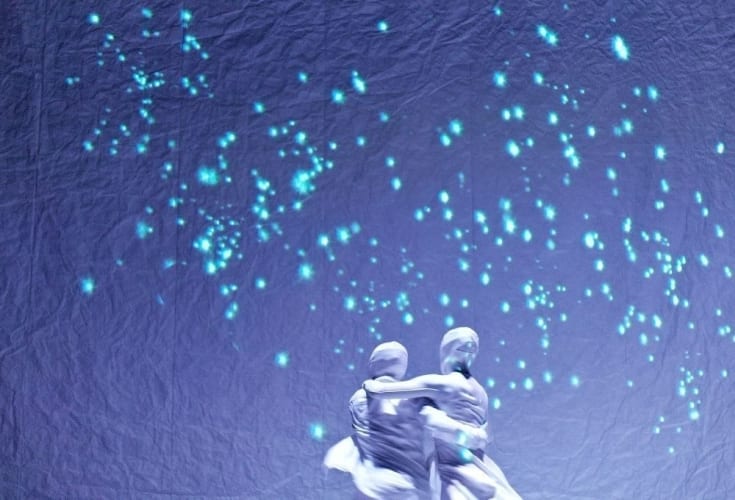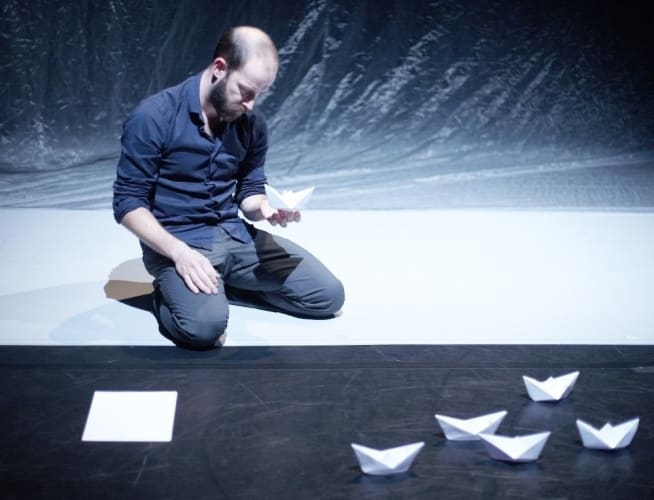 A multimedia, eighty-minute story ballet that guides its audience at a clip through Shakespeare's Tempest with captions (even 'island' is spelled out in capitals on the white maquette set), act and scene headings, thematic indications, quotes, filmic and foley sound effects, animation and other tricks finds its choreographer trying to be Prospero.
But it divides the audience. My companion, who has seen The Tempest once only, is distracted from the dance by The Tempest Replica's layered texture and onslaught of print information. There are walkouts midway, and also cheers at the end.
It is a lugubrious work full of sound and fury, of silence and darkness, shadows and whispers, of confusion and measured pace.
But it opens wonderfully. A man, Prospero (Eric Beauchesne), sitting quietly folding white paper sailing boats, calls for Ariel. She comes, stuffs a boat in her mouth, and the storm commences: billowing sails, slanting rain, thunderclaps, and lightning that reveals white faceless replicants fighting against the elements.
Featureless marionettes, their limbs jointed, at Prospero's command, their movement precise with an element of street dance—avatars for the main characters in the play.
In projected silhouette animation, the backstory is told. No one is named—and, when Prospero puts people to sleep, a steam of zzzzzzz rises up until 'AWAKE!' flashes on the backcloth. Could be a children's fairy tale or nightmare.
The shipwrecked prince is put to the Sisyphean task of moving a recalcitrant rock to keep him away from Prospero's inquisitive daughter. The monster also dreams (animation again) of taking the daughter by force.
Then, in normal dress scene interludes, the characters dance a soft shoe shuffle and a lindy hop at a party. But the record needle gets stuck in a groove, as do the moves.
Rock and speakeasy music, confetti, fireworks, and a bridal veil, but are Prospero's powers waning? Ariel does not come out on cue, there are voices in the air, shipyard dock noises, and another cocktail party. Seagulls cry, doorbells ring, and lovers dance.
Mime and movies—silent, swashbuckling, film noir, and futuristic sci-fi—emotional conflict, a father daughter relationship, bids for freedom. The best choreography is for Ariel (Sandra Marín Garcia) in solo and duet with Prospero when she flies curving through the air in his arms.
Martial moves, capoeira, crisp inflection, and a credible attempt to get to the subtext, at Prospero's fractured psyche, a marooned bitter soul. Four replicants come to take him away and lay him face down on the seashore, a victim of his own imagination.
Created in 2011, The Tempest Replica has garnered good reviews. A lot of the credit must go to the design of the show: set Jay Gower Taylor, projection Jamie Nesbitt, costume Nancy Bryant, lighting Robert Sondergaard, sound Alessandro Juliani and Meg Roe, and composer Owen Belton.
I admire Crystal Pite's work—former dancer with William Forsythe's Ballett Frankfurt (speaks volumes), Sadler's Wells's newest Associate Artist and the youngest person ever to receive the Clifford E Lee Choreographic Award in 1995, she has created work for Nederlands Dans Theater, National Ballet of Canada and Cedar Lake Contemporary Ballet—but The Tempest Replica does not stir any emotions.
Drawn to storytelling, she explains, "The Tempest Replica presents Shakespeare's play in two parallel worlds. Firstly, the play is represented as an on-stage storyboard, with the plot points of the narrative delivered minimally, through the gestures, postures, and configurations of the faceless body inside a maquette-like space.
"Secondly, the play is explored through a series of portraits—the characters and relationships from The Tempest are manifested through fierce physical language and emotion."
I did find moments of beauty in The Tempest Replica, and her performers Bryan Arias, Eric Beauchesne, Peter Chu, Sandra Marín Garcia, Yannick Matthon, Cindy Salgado, Tiffany Tregarthen are impeccable, but I wondered whether Pite was trapped choreographically, like Prospero, in this conceptual island realm by the creative team magical powers at her command.
Pite again: "Prospero's relationship to his muse, Ariel, and his monster, Caliban, is the relationship of any creator to his work, passion, obsession. The relationships between the civilized and the wild echo the tension between the conscious and the unconscious, the instinct and the intellect.
"The Island, like the mind, is a place of mystery, spirit and ego." 
Reviewer: Vera Liber