The Theatre of David Greig
Clare Wallace
Bloomsbury
Released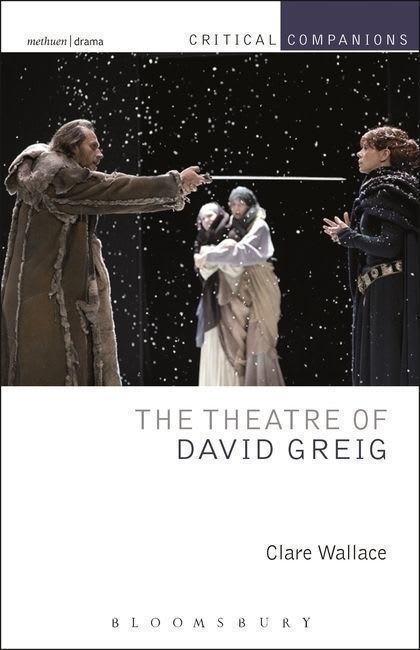 Scottish playwright David Greig is not only possibly the most prolific but also one of the very best writers producing work for the stage in Britain today.
His long-time collaborator, the former director of the Traverse Philip Howard, gets it right when he talks of "a quite extraordinary inquiring (sic) mind, a chameleon-like agility in marrying form to subject, a Harlequin's ability to be Scottish or British or European or a World writer, depending on the force behind a particular piece of work".
Vicky Featherstone, his long-time collaborator and until recently colleague at the National Theatre of Scotland, enthusiastically praises Greig's "mythical and provocative storytelling", which has brightened up the lives not only of Scots but theatregoers around the world, sometimes in the most unlikely places.
As such, it is fitting that this multi-talented playwright finds himself the subject of an analytical work, even if this study can come across as overly academic at times.
The Theatre of David Greig commences in the early days of Suspect Culture, when the recent graduate from Bristol University was still only in his mid-20s and moves almost to the present day, although it doesn't quite get to this year's contrasting contributions, Charlie and the Chocolate Factory and The Events.
Clare Wallace, who does not give the impression of having seen many of the plays that she describes, intelligently themes the playwright's canon rather than working chronologically, presenting succeeding chapters on Lesson Plays, Scotland, Globalisation and East/West.
This gives the reader an opportunity to learn about or recall in detail plays as diverse as Mainstream, Europe, Victoria, Midsummer, The Cosmonaut's Last Message and Damascus, which proved to be the most controversial of all, even before Syria fell apart.
The author's descriptions are helpfully supported by an interview with Greig himself plus sections written by Howard, Miss Featherstone and two other directors with whom he has worked, Guy Hollands and Wils Wilson. There is also an informative essay from David Pattie on the playwright's relationship with Scotland.
Like so many authors in series of this type, Miss Wallace has a tendency to write for an academic audience, ignoring the needs of more general readers. This means that she has no qualms about using difficult language or inventing words, even when standard English would be much more easily understood, not only by members of the public but also her peers.
Inexplicably, this book appears to be have been published without any proofreading, which is disappointing when the cover price is £50.
Regardless of these relatively minor quibbles a book about David Greig is very welcome and one comes away with a good understanding of the plays and motivations behind them. This helps us to recognise a fiercely intelligent mind allied to the ability to relate information in a highly entertaining fashion.
Reviewer: Philip Fisher