The Turn of the Screw
Music by Benjamin Britten; libretto by Myfanwy Piper; based on the novel by Henry James
Opera North
Leeds Grand Theatre
–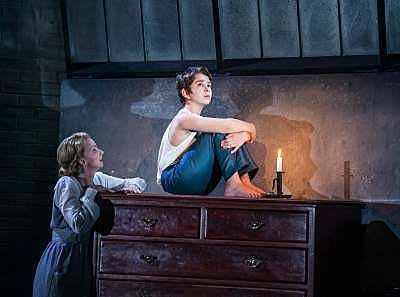 More than three years after its powerful production of Billy Budd (1951), Opera North has returned to the work of Benjamin Britten with The Turn of the Screw (1954). After the teeming vitality of Street Scene (1946) and The Marriage of Figaro (1786), this revival of The Turn of the Screw—first staged by director Alessandro Talevi in 2010—offers a pleasing change of pace with its small cast of characters and intense focus on an imperilled young woman.
Based on the classic ghost story by Henry James (brilliantly filmed by Jack Clayton as The Innocents in 1961), Britten's opera tells the story of a young governess (Sarah Tynan) who relocates to a remote country house in order to look after two young orphans, Miles (Tim Gasiorek) and Flora (Jennifer Clark).
Shortly upon her arrival, the governess becomes convinced that the children's lives are being endangered by the ghosts of two former employees, Miss Jessel (Eleanor Dennis) and Peter Quint (Nicholas Watts), and resolves to protect her young charges at any cost.
Henry James's 1898 novella is routinely described as the greatest ghost story ever written, and this is largely due to the psychological reading that the text invites. Are the children truly at risk from supernatural foes, or are the ghosts in fact the mental projections of a sexually frustrated woman trapped in an isolated country house with only a middle-aged housekeeper, Mrs Grose (Heather Shipp), for company?
This ambiguity is beautifully preserved in Talevi's tense and claustrophobic production, which skilfully conveys the subjectivity of Tynan's increasingly fraught governess. The latter's increasingly unbalanced state is also reflected in Madeleine Boyd's unnerving set design, in which several objects appear too big and others too small. The central placement of a large four-poster bed suggests childhood nightmares whilst also nodding towards the opera's psychological subtext.
The use of a single set means that all of the indoor and outdoor scenes take place in the same space. This could have been jarring, particularly for the scenes involving Miss Jessel appearing at the lake, but Matthew Haskins's deft lighting design manages to clarify these shifts in setting. Moreover, the sense of claustrophobia tension created by a single set amply compensates for any small moments of geographical dislocation.
All six members of the ensemble excel, particularly Sarah Tynan who is piercingly vulnerable as the governess. Nicholas Watts and Eleanor Dennis are deliciously evil and dangerous as the two spirits, and Heather Shipp is also strong as the concerned housekeeper. Jennifer Clark and Tim Gasiorek are both captivating as the two children, striking just the right balance of childlike innocence and adult corruption.
Conducted by Leo McFall, the orchestra of Opera North captures the eeriness of Britten's score, consistently ratcheting up the tension to breaking point.
The Turn of the Screw represents another winner for Opera North in what has already been a stunning season.
Reviewer: James Ballands