The Two Noble Kinsmen
John Fletcher and William Shakespeare
Shakespeare's Globe
Shakespeare's Globe
–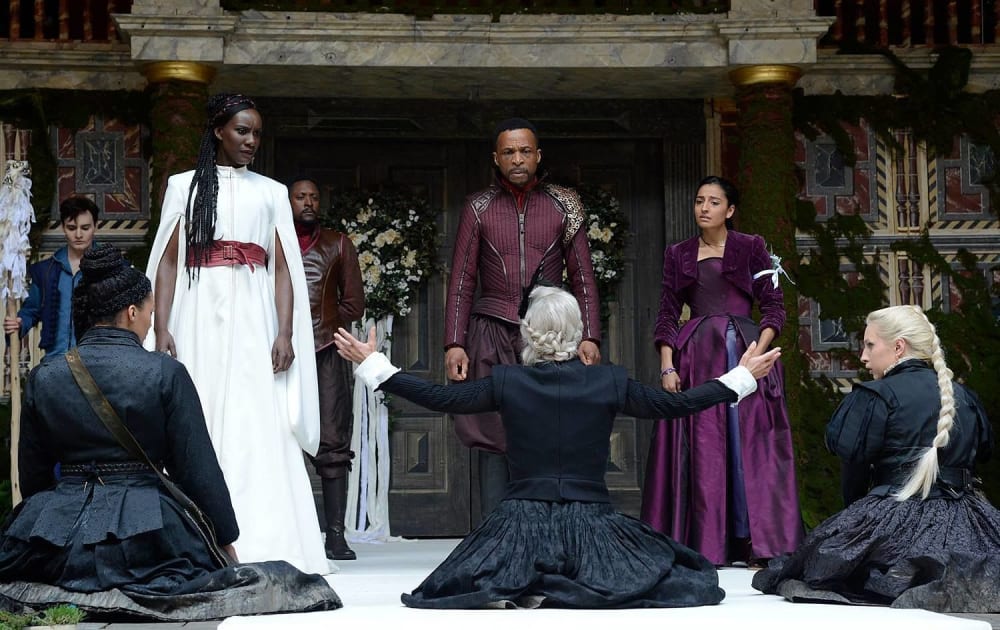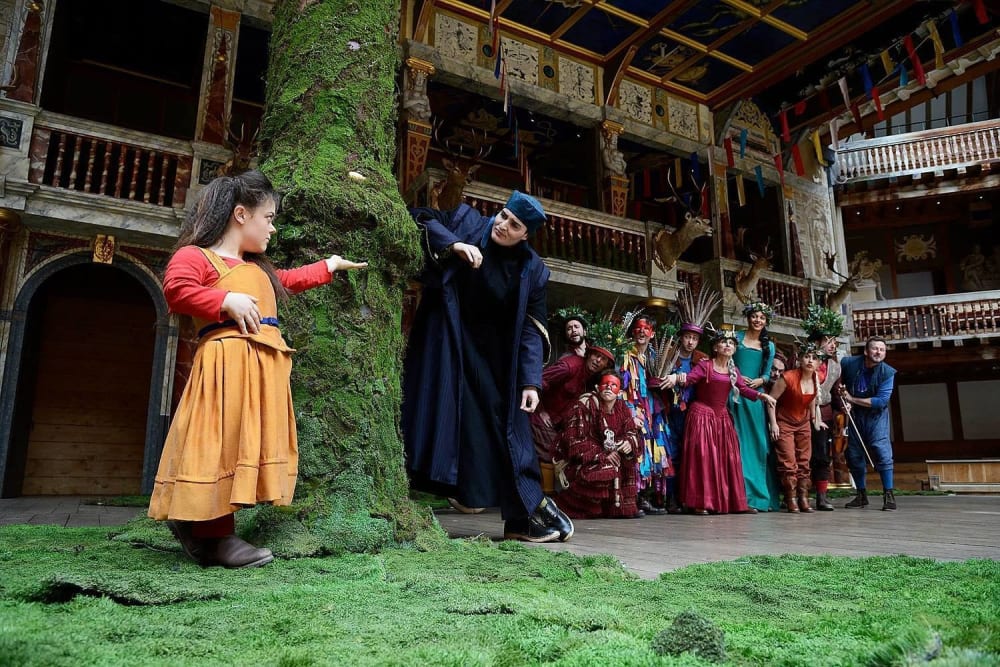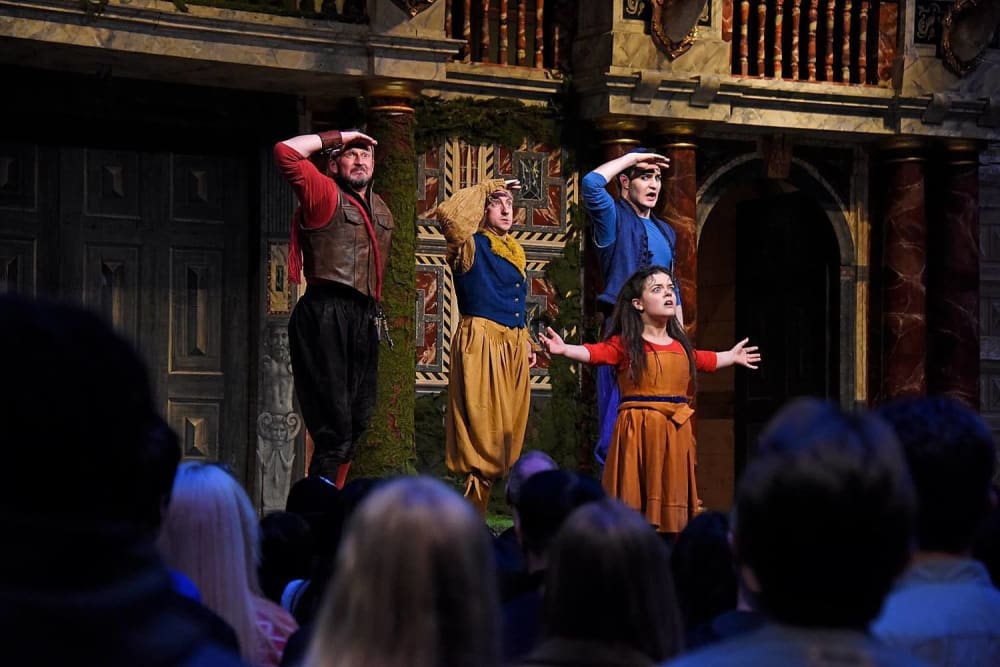 This collaboration doesn't appear in the Folio edition of Shakespeare's works and wasn't published until 1634, but it was probably written in 1613–14, perhaps making it his last play. It is an odd piece that doesn't get many revivals. It was the first production in the RSC's Swan Theatre in 1986, had an Instant Classics production in 2015 and another Swan staging in 2016. This Shakespeare's Globe production, recorded in 2018, is probably the most enjoyable of modern revivals. Ian Russell's video puts you right in the Globe to share a performance that bears the hallmarks of Barrie Rutter's direction: lively, direct, clear spoken and fun. This is a tragi-comedy that you can't really take seriously.
The text has been heavily cut and the prologue and epilogue stripped away. There is a Morris dance troupe bang in the middle of the original text and Rutter picks up on this and begins the first scene celebrating the marriage of Theseus, Duke of Athens, and Hippolyta with a procession through the yard and a stomping, pole stamping dance to the opening song that sets the mood for the whole show.
Three queens arrive seeking revenge on Creon, the ruler of Thebes who has killed their husbands. Theseus wages war on Thebes where friends Palamon and Arcite, though troubled by Creon's tyranny, fight for Thebes. They are captured and imprisoned.
This is rapidly presented and the main story starts. From their prison cell, Arcite and Palamon glimpse Hippolyta's sister Emilia and both immediately fall in love with her. These noble kinsmen, formerly blood brothers, now become sworn enemies. A relative in Theseus' court gains Arcite's release and he finds acceptance there. Palamon, set free by his gaoler's daughter who has fallen for him, takes refuge in a forest and it is there that Arcite again encounters him and Theseus finds them fighting.
One young man is going to get the girl, the other lose his life.
There is a stately Theseus from Jude Akuwudike, Moyo Akande a gentle Hippolyta and Matt Henry (well remembered as Lola in Kinky Boots) as courtier Pirithous setting the standard for the lively songs and dances, while Ellora Torchia has to chose between Paul Stocker's Palamon and Bryan Dick's Arcite.
This is a strong cast who handle the text adroitly but the courtly romance is only half the play. What are the common people up to? There's a schoolmaster (Jos Vantyler) who, like Quince in A Midsummer Night's Dream, is preparing an entertainment for Theseus and Hippolyta and then the story of the gaoler's (nameless) daughter's infatuation.
The gaoler (Andy Cryer) already has a husband (Jon Trenchard) lined up for his daughter but she has her heart set on Palamon to the point of madness. Multi-talented Francesca Mills is bewitching; she may be small but she commands the theatre and the audience, quite rightly, love her.
Unlike Shakespeare's other later romances, this doesn't have an entirely happy ending but you won't be shedding a tear either. You are never quite sure how things will turn out and careful cuts ensure it all moves swiftly. It's a medieval tale lifted from Chaucer, not real life, though it does show just how irrational love is. Just join these Globe groundlings and enjoy it.
Reviewer: Howard Loxton