The Vote
James Graham
Donmar Warehouse
–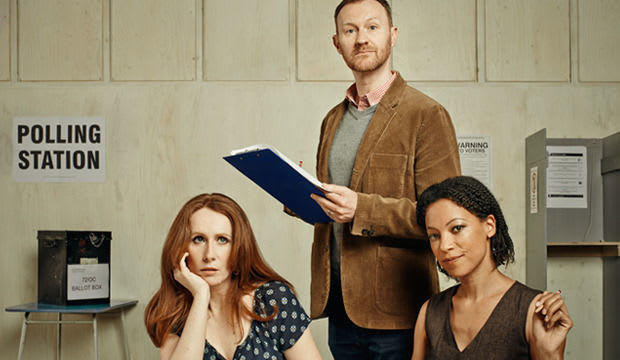 As he demonstrated so brilliantly in This House, James Graham is a writer who cares deeply not only for politics but the democratic process.
Where that play focussed on parliamentary shenanigans, The Vote concentrates on the ups and downs of a polling station in the final 90 minutes of what has felt like an interminable lead-up to a decision that will shape British lives for the next five years.
To spice up the drama, the performance on election night will effectively run in real-time from 8:30 till 10, closing as the polls do. Even better, those who cannot get to the Donmar (or find tickets) can watch it live on More4 at no cost.
Those that do so will have a whale of a time. The theatre's Artistic Director, Josie Rourke, has somehow put together a cast of 44, who together make up something of a Donmar Hall of Fame.
They take part in a broad but often very funny comedy that will persuade any viewer to shun the opportunity to work as an officer in a polling station.
The home team comprises Mark Gatiss, running the shop as ambitious Steven Crosswell, with the assistance of counsel apparatchiks Catherine Tate and Nina Sosanya, respectively Kirsty Henderson and Laura Williams.
They face a constant stream of nightmare voters. These include Timothy West as an old boy who somehow manages to vote twice, Hadley Fraser playing a drunk and kids who really don't seem responsible enough to choose our next Prime Minister, not to mention a Swedish TV crew.
A couple of Parliamentary candidates make their own implicit statements about the democratic process. Paul Chahidi is consistently hilarious as Independent by-pass enthusiast Howard Roberts, while Chukwudi Iwuji plays a second-generation Nigerian Tory candidate who, even though his chances of winning in Lambeth are zero, by appreciating the importance of democracy, makes us follow suit.
However, more problems are generated by Miss Tate's Kirsty than all of the visitors put together. She is one of those good-natured people whose efforts to put things right always make them worse, commencing first thing in the morning when she takes an axe to the door of the school that is briefly masquerading as a polling station.
While all of this is going on, Bill Paterson's Scottish caretaker has the joy of becoming a grandfather to wee Nicola, producing a wry collective laugh.
The evening then builds to a crescendo, in no small part thanks to the efforts of Dame Judi Dench and her daughter Finty Williams, respectively playing a crotchety senior citizen and her perpetually frustrated and irritated daughter.
By the time that the last vote has been posted, the police represented by Jade Anouka almost literally cannot decide who to arrest first.
Amidst the comedy, James Graham cleverly inserts some nuggets of social commentary that make incisive observations about society and the media today.
Depressingly, while The Vote is great, if sometimes lightweight, fun, with due respect to all of those political leaders who have been dominating the media for the last couple of months, it has every chance of being the best thing to come out of the 2015 Election.
The Vote is broadcast live from The Donmar Warehouse on More4 at 8:25PM, Thursday 7 May.
Reviewer: Philip Fisher