The Way of the World
William Congreve
Donmar Warehouse
–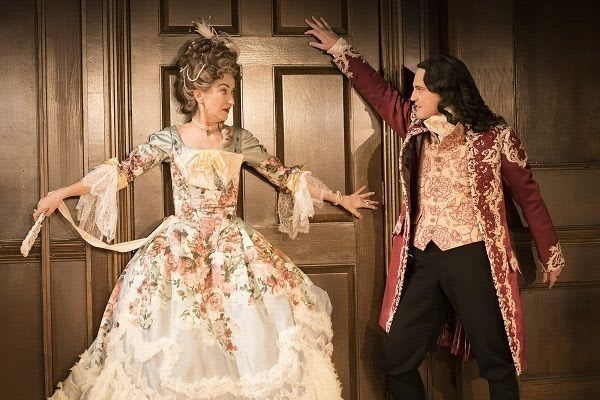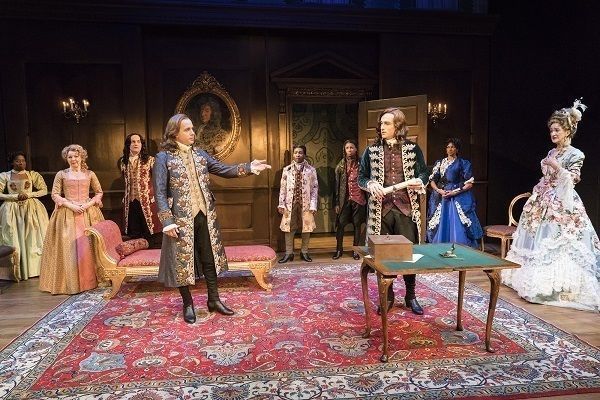 James Macdonald's revival of William Congreve's classic comedy of manners, first staged in 1700 and, somewhat unusually in this age of perpetual modernisation, actually set in the original period allowing for the display of a series of gorgeous costumes, might easily be likened to a jaunt in the car.
The evening opens in sedate fashion as pairs of society gossips, one male, the other female, bitch quietly about friends and relations, slowly informing the audience of the sexual merry-go-round that is prevalent in their circle.
The foot goes a little further down on the accelerator with the appearances of various of their friends, including Fisayo Akinade, who is deliciously foppish as Tony Witwoud. Spicing the evening up just a little further, Justine Mitchell takes on the role of Millamant and emerges as an obvious foil to Geoffrey Streatfeild's Mirabel, a duo as well matched as the vindictive central couple in another Donmar success Les Liaisons Dangereuses, sharing the same scheming intentions, but with far greater charm and much less malice.
The first time that viewers fully appreciate the capabilities of this smooth but speedy vehicle comes when the pompously aristocratic Lady Wishfort, desirous of a husband to comfort her old age, richly entertains the audience with her efforts to make the best impression with her dwindling attractions. Haydn Gwynne gives a glorious rendition of this mutton dressed more like a wedding cake than lamb, with pretensions to match.
She also becomes the subject of some particularly witty wooing from Alex Beckett's Waitwell, not quite the rich uncle that he is supposed to be but an important component of this life's rich pageant. At the same time, Millamant seems destined to become a trophy wife for her Ladyship's countrified nephew Sir Wilfull Witwoud, bequeathed with great good humour by Christian Patterson.
Towards the end of 3¼ hours, the revs increase to Lewis Hamilton levels in a hilarious closing scene that ties up innumerable loose ends in a hilarious fashion that may leave some viewers dumbstruck with the virtuosity of a playwright whose heyday was over 300 years ago but still has the ability to get to the heart of sexual and social relationships today, while making his guests laugh throughout at people not too different from themselves.
By the time that the final curtain falls, they should, at the very least, have a great appreciation of the virtuosity not only of a writer whose work is justifiably regarded as timeless, but also an adept director, who benefits from an absolutely superb cast, that also features strong performances from Jenny Jules and Tom Mison as the baddies and Sarah Hadland.
They are led by Haydn Gwynne, Geoffrey Streatfeild and Justine Mitchell, each of whom vies to be the most hilariously eye-catching. The first named is hilariously batty and vain throughout, the second calmly suave, never more so than in that last act when he effortlessly saves several friends from fates worse than death, while Miss Mitchell spends the whole evening giving a fine impression of a sexual volcano smouldering and prepared to blow at any moment.
While this microscopic investigation of society's sexual mores takes time to warm up, by the end of the evening, it roars past the chequered flag in fine fettle.
Reviewer: Philip Fisher