The Wedding
Created and devised by Amit Lahav with his performers
Gecko
London International Mime Festival 2019 at the Barbican Theatre
–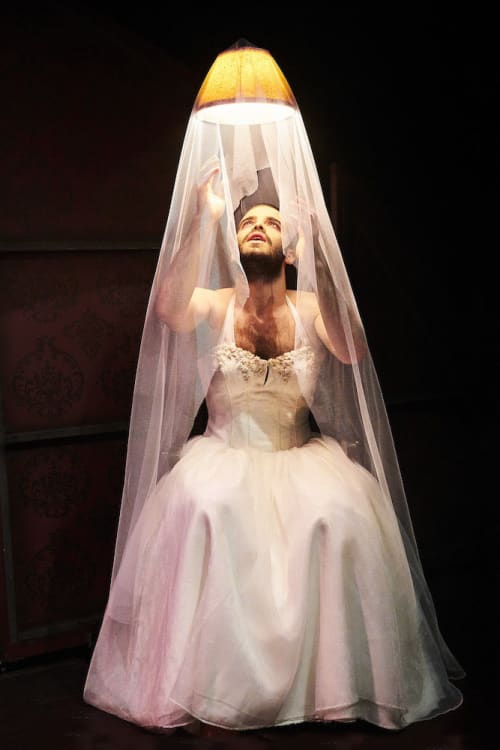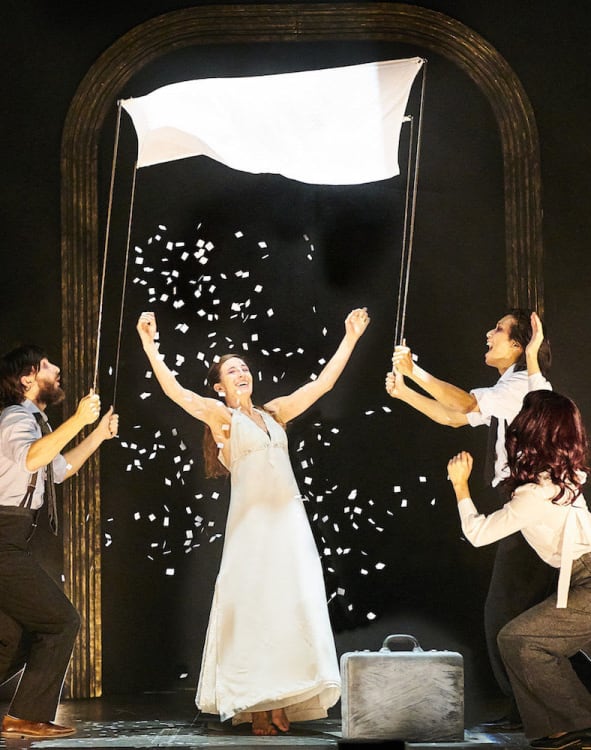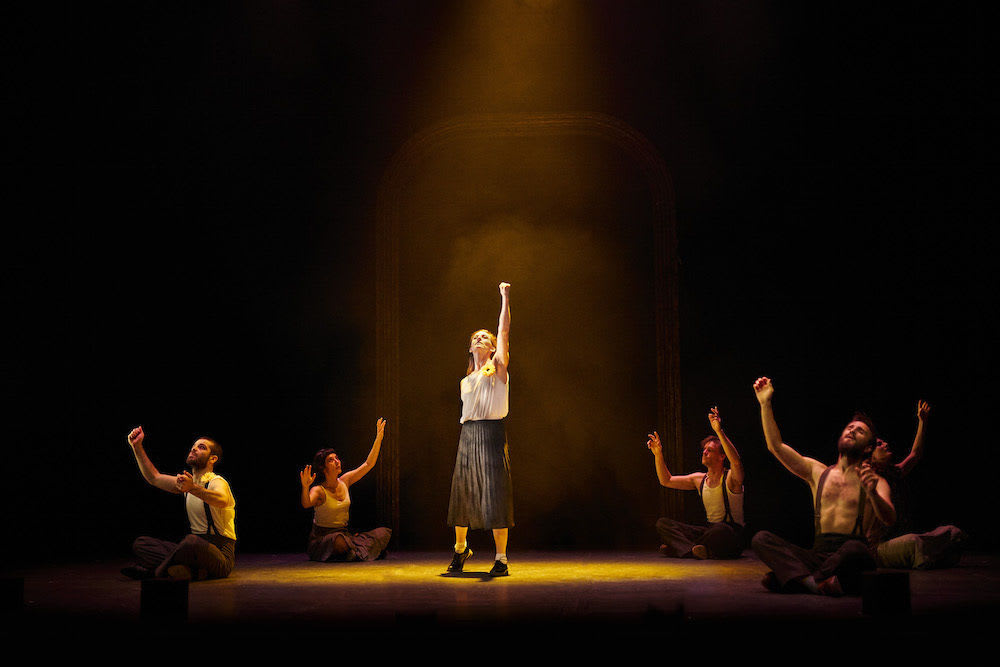 Gecko is a physical theatre company that brings profundity, wit and humour to the table—I saw them recently at Battersea Arts Centre—but I've only seen them in small spaces. How will they fare on the large Barbican stage? Will it diffuse their dense / intense, tightly woven, darkly lit (Joe Hornsby lighting), all smoke and shadows, drama? Well, they rise to the occasion. Though I think I do prefer them in a more intimate personal space.
The auditorium is buzzing with a chorus of excited teenagers full of anticipation—the perfect audience—who give The Wedding a standing cheering ovation. My teenager companion is not as convinced. He gets the message but it does seem longer than eighty minutes to him. And he is not wrong, there are longueurs in this devised show "taken from the world around us" (artistic director and creator, Amit Lahav).
A fusion of symbolism, metaphor, allegory and cliché, with nods to a profusion of influences and social history events… Something of Orwell's 1984, something of the Holocaust, something of the Wizard of Oz, something of Ohad Naharin's Batsheva Dance and Hofesh Shechter, something Meyerholdian in Rhys Jarman's set design and clever props that seem to float in the darkness.
That's quite a collage, a cartoon strip mix, which we have to read as best we can. Each of the international cast speaks in their own language, a cacophony of sound wanting to be heard. Soundscape, a mix of opera extracts (the Casta Diva aria from Norma I recognize), film scores, music from the Balkans and Middle East (I'd love a music list) and emotive effects (sound by Jonathan Everett / original music by Dave Price) is cinematic and seductive. Music and heightened universal body language transcend speech: you see, we can understand each other.
Bodies clutching teddy bears emerge from a birth canal chute. They have to relinquish their teddies (innocence?) and, male or female, don a wedding dress and sign a contract. The processing person could be out of the Powell and Pressburger film A Matter of Life and Death or a concentration camp. One of the wedding ceremonies is Jewish with its canopy and breaking of glass. The elation of a wedding then the reality of wedded bliss.
Wedded to our work, isn't that another familiar phrase? After the signing of the contract they are set to work, harnessed to their stations, given briefcases, suggestive of few worldly possessions as well as office workers differentiated / segregated by the colour of the case. One girl tries to get back up the chute. The drudgery and routine is not for all, there are rebels who wear a yellow flower: the yellow Jude stigma star must be the insinuation, yet here it symbolizes the rebels, the freedom fighters.
There's interrogation in a small cell; there's scary faceless bureaucrats and faceless rich gorging themselves at a high table banquet behind a curtain (something of James Gillray lampooning here), whilst down below enterprising immigrants (four!) climb out of a zipped wheelie suitcase (this cameo gets the best response) and beg, but get nothing from us. Witty, appealing, and fantastic movers all, but is this satirical stereotyping entirely PC?
The revolution is coming, the people are stirring, the music is stirring, the uprising is inevitable. The curtain is pulled aside; the horror story wizard is toppled off his stilts… Now what? The tribal circle dance is full of joy and energy, but what comes next? Isn't this where the revolution eats its own?
But, hey, let's stamp and sing—the ecstatic finale is the highlight: all nine performers—Lucia Chocarro, Chris Evans, Madeleine Fairminer, Anna Finkel, Katie Lusby, Ryen Perkins-Gangnes, Uroš Petronijević, Dan Watson, Kenny Wing Tao Ho—sit on their chairs, under their individual lamps, and sing and stamp a rhythmic, synchronised, seated dance that lifts us out of our seats.
"For me, The Wedding started as a battle between anger and love. Played out around the complex ideas of belonging, state, exclusion and a longing for community, all set within the excitement and ceremony of marriage." Amit Lahav.
Political, melancholy and rousing all at the same time, an evolving work, perhaps, for what is humanity but a work in progress? Who is in charge? Is anyone?
Reviewer: Vera Liber