The Wheelchair on My Face, Charolais and The Humours of Bandon
Sonya Kelly, Noni Stapleton and Margaret McAuliffe
Bloomsbury Methuen Drama
Released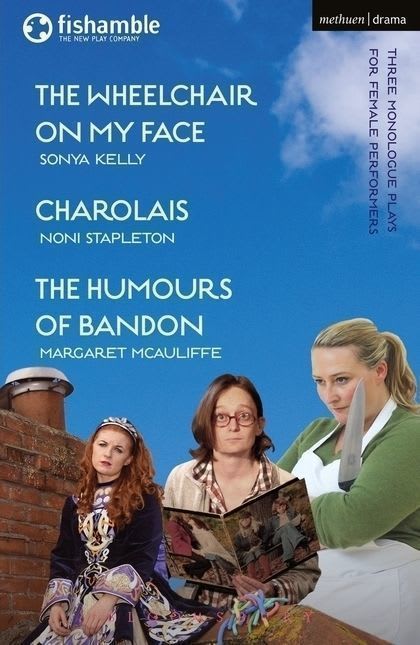 The three short monologues in this volume are a sample of pieces developed by Dublin company Fishamble as part of a project known as Show in a Bag (SIAB). The intention was that they would be produced for the Dublin Fringe Festival, although each of these pieces has subsequently toured the world.
In each case, the play was commissioned from an actor with little or no writing experience, who then delivered the monologue when it reached the stage.
The Wheelchair on My Face by Sonya Kelly
This presumably autobiographical comedy is subtitled "A Look Back at a Myopic Childhood", which says it all.
Ms Kelly is a consummate comic writer and it could be argued that The Wheelchair on My Face is closer to a comedy set than a theatre piece. It is certainly very funny.
In it, the writer relates the difficulties of growing up in Dublin unable to see beyond the end of her nose.
She evokes the difficulties of a seven-year-old who does not realise that her eyesight is so far below par, followed by the revelation when she is eventually presented with a pair of glasses that look like bottle tops but enable her to see the world.
This short debut marked out Sonya Kelly as a writing talent, which has subsequently been consolidated, as visitors to both the Dublin and Edinburgh fringes as well as other theatres internationally discovered on viewing another quirky autobiographical offering, How to Keep an Alien, a Story about Falling in Love and Proving It to the Government.

Charolais by Noni Stapleton
Noni Stapleton has penned an everyday story of farming folk with, at its centre, a cow of the breed in the title.
The piece is largely narrated by Siobhán, a townie who has moved to the country and fallen in love with one of those big, slow farming types called Jimmy.
It quickly becomes apparent that in Jimmy's eyes given the choice between a long-term relationship with the lady or the cow, the latter is always likely to come out on top.
Siobhán's hopes of winning her man are hardly helped by her man's dreadful not-mother-in-law, Breda.
The chance of a happy ending turns on a double pregnancy, which leads to unexpected alliances and outcomes.
The Humours of Bandon by Margaret McAuliffe
The Humours of Bandon shines a spotlight on the world of junior Irish dancing.
Events are observed through the eyes of Annie, a competitive teenager, her caring mother, who couldn't care less about the dancing and one of those serious trainers. Assumpta has the kind of win at all costs mentality that leads coaches to slip their charges the odd performance enhancing drug, although it is emphasised not in this case.
In simple terms, the play follows Annie's attempts over a three-year period to win a national trophy via her twinkling toes.
While readers may not be familiar with the cut and thrust of the Irish dancing world, they will immediately understand the attitudes of the main players in a comedy with the ability to comment intelligently on human motivation in a sporting context.
Reviewer: Philip Fisher