The White Carnation
R C Sherriff
Finborough Theatre
–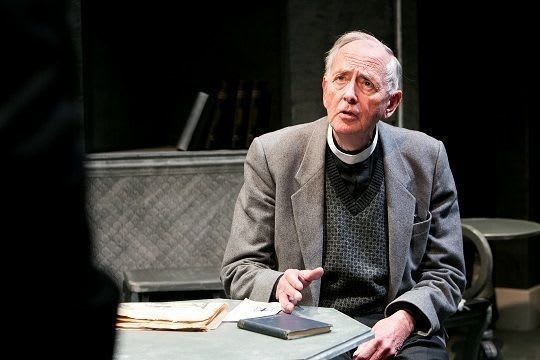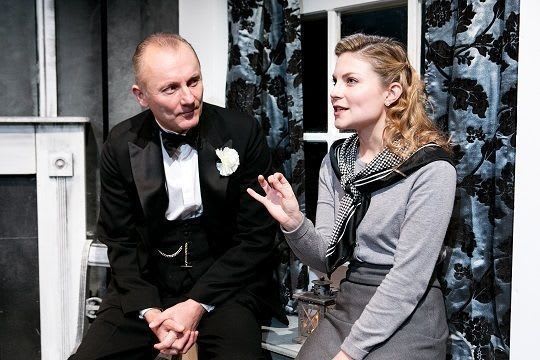 The Finborough's latest discovery is a Christmas ghost story from R C Sherriff, the playwright who will forever be associated with Journey's End.
Ironically, designer Alex Marker has chosen to create every facet of John Greenwood's afterlife in black and white, unconsciously mirroring the decision of Tim Goodchild for Strangers on a Train, which has also opened this month.
The start seems rather downbeat as Aden Gillett's bored stockbroker bids farewell to boring friends at the end of a Christmas Eve dinner.
After a gust of wind locks him out of his suburban mansion, he breaks in and finds the house deserted and transformed.
He then undergoes a series of meetings that Sherriff has contrived to consider what being a ghost might mean.
The initial discussion with Joss Porter's cheery police constable is amusing and confusing for all but, after his sergeant looks as if he has seen a ghost, whimsy intervenes.
In an evening that aspires to do what Priestley was so good at, Greenwood is forced by a series of eccentrics to face issues such as eternity, ceasing to exist and his own past behaviour. The problem is that each is approached from a comic viewpoint, making it very difficult to take the issues seriously.
Apart from the suitably dignified Gillett, nobody sticks around long enough to develop a character, although Daisy Boulton is sympathetic as ghost-hunting librarian Miss Truscott and Benjamin Whitrow offers a delightful cameo as a dotty old vicar.
The White Carnation was originally written for Ralph Richardson and has not been professionally performed since the original production 60 years ago.
Anyone expecting the virtuosity of Journey's End is likely to be disappointed by a light morality tale that lacks any sense of real purpose.
Reviewer: Philip Fisher