Strangers on a Train
Craig Warner, based on a novel by Patricia Highsmith
Gielgud Theatre
–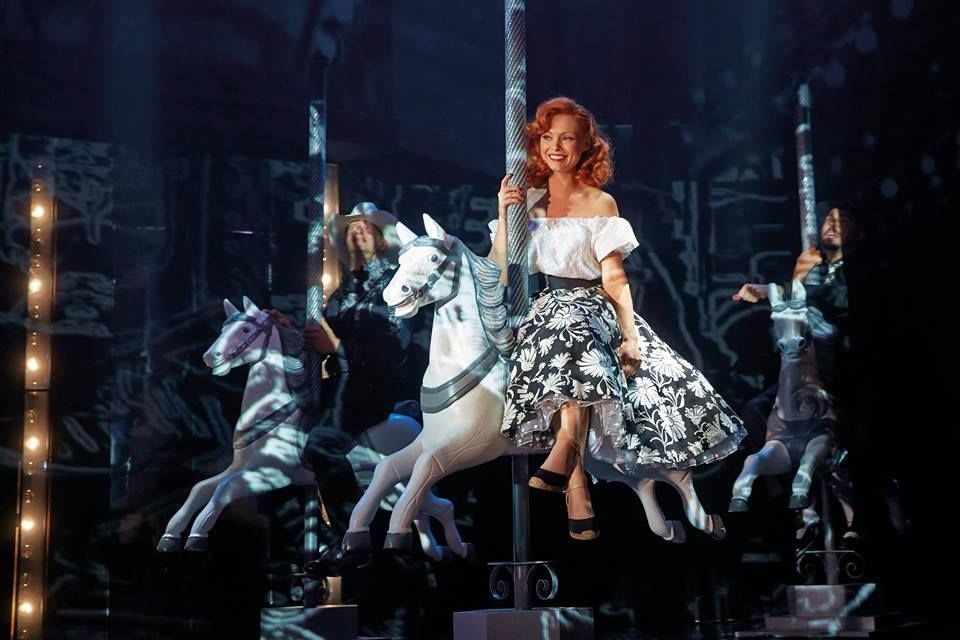 In the last few years, those re-creating mid-twentieth century film adaptations of dramatic novels have been tempted to turn them into comedy spoofs. Thus, both The 39 Steps and The Hound of the Baskervilles have gained fresh, enthusiastic audiences.
Writer Craig Warner, a West End newcomer, and veteran American director Robert Allan Ackerman, both with considerable screen experience, have taken a different approach.
Their idea is to play the novel (rather than the film version) pretty straight, giving a stylish black and white aura to a story that needs some gimmicks to entrance modern audiences used to the attractions of fast-paced video games and action-packed film and TV thrillers.
Tim Goodchild's design is really eye-catching, eschewing colour in favour of blacks, whites and especially greys, only skin, hair and alcoholic drinks injecting any colour.
Patricia Highsmith's psychological tale starts with an unbelievably clever concept that will be familiar to most from one of Alfred Hitchcock's best movies.
Two men, unknown to each other, meet on a train and moan about respectively a strict (but generous) father and an unrepentantly unfaithful wife.
One suggests that the perfect dual crime would be if each killed the other's bugbear. So far so good.
Putting a drunken idea into practice is a challenge and the consequences should be gripping. In this case, while there is an element of intrigue, the plotting quickly becomes as unlikely as the behaviour of Jack Huston's androgynous Charles Bruno, a very rich, delusional drunk with a fixation for Imogen Stubbs playing a mother straight out of Tennessee Williams.
Laurence Fox's lacklustre Guy Haines has other problems (including inaudibility), haunted by a dead wife and a psychopathic live murderer, the latter seemingly hell-bent on giving the game away.
Even the soothing efforts of Miranda Raison as second wife Annie can do little to assist once creepy, charming Charlie comes to call.
The overly-long 2½ hours are eventually brought to a moral but nonetheless spectacular closure following the efforts of a rather unglamorous private eye, played by Christian Mackay.
This version of Strangers on a Train has been doing the regional rounds since at least 2006 and looks fantastic. It will probably appeal to devotees of hard-boiled novels featuring psychotic murderers but suffers from too much unconvincing plotting along with weak characterisation, although Boardwalk Empire's Jack Huston has a whale of a time as Charlie.
This means that even fans might recognise the need to shave a significant amount from the running time and sharpen up the script.
Reviewer: Philip Fisher