Three Men in a Boat
Jerome K Jerome, adapted by Craig Gilbert
Original and Theatre Royal Bury St Edmunds
Salisbury Playhouse
–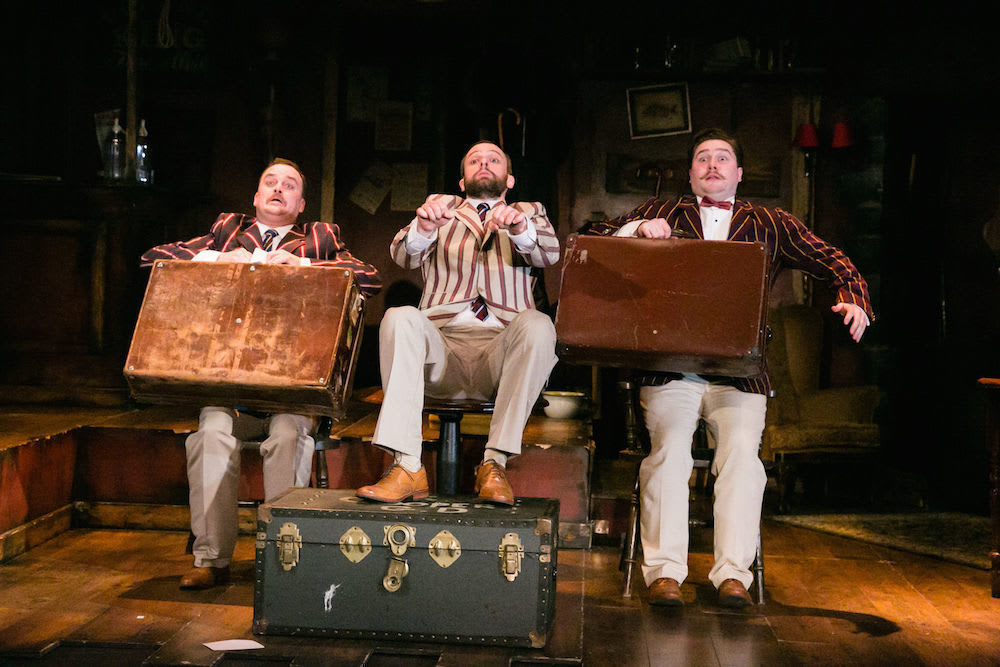 We all know the story, don't we? Jerome K Jerome's hilarious account of his boating trip from Kingston upon Thames to Oxford in 1889 together with his friends Harris and George and their fox terrier Montmorency? It's surely one of the greatest comic narratives of all time.
Who could forget Uncle Podger's picture-hanging episode, the friends' alarm, after they have just drunk some tea made with river water, when their attention is drawn to the sight of a floating dead dog? And, of course, their attempts to navigate the Hampton Court maze?
Record-breaking in its popularity when first published, the book has been filmed many times. Made into a play? Less often. And you can see why.
Rivers are not so easy to reproduce on stage. Salisbury's done it before with Ayckbourn's Way Upstream, with an actual running stream, but it's not quite as manageable when you're on tour. And I think we can forget the maze.
All credit then to director Craig Gilbert, the Original Theatre company and the Theatre Royal, Bury St Edmunds for this production, with its rapid-fire dialogue and instant, carefully choreographed changes of action and character, reminiscent of the best of the silent film era.
So Three Men in a Boat and how to manage that without even a scenic river bank. Well, you set the whole thing in a pub, "The Elusive Pelican", in Belvoir-under-Sheet, somewhere in Surrey.
Everything is dark brown, with layers of ingrained dirt and years of tobacco smoke. It's almost certainly sticky underfoot. And because we are in a pub, where, traditionally, everyone tells stories anyway, we can accept that we sometimes have to use our imagination.
The bar's useful for ducking behind for quick costume changes and we accept that a riverside hostelry will have nautical things like oars and rope which can be brought into play. There's much interaction with the audience too. Terry in the front row isn't ever going to forget being handed the boat's tow rope, is he?
This is fundamentally—with all emphasis on the fun—a laughter-filled production in which we recognise incidents and phrases (remember "the winter of our discount tent"?) and welcome them as old friends. And younger members of the audience, for whom Three Men in a Boat hasn't been a rite of passage? There are plenty of them here and they share in our delight. Perhaps some will even search their Kindles and iPads for Jerome's original account (well worth it.)
So thank you, Tom Hackney (Harris), David Partridge (J) and Michael Rouse (George). You were just as cheerfully manic as we remember and we loved you for it.
And, of course, there was all the music, because there are actually four characters in this production. Not exactly silent, although she doesn't ever speak, Nelly the pianist (Anna Westlake) is the perfect antidote to the three characters of the title. Whether playing the opening bars of Beethoven's Fifth or accompanying their singing of "Any Old Iron", her dignity and her wry smiles to the audience at some of their more outrageous goings-on, provide a perfect contrast to their antics. She is the grown-up. They are the naughty children.
This Three Men (and especially Nelly, the lovely woman) deserves, I believe, in the same way as One Man,Two Guvnors and the current 39 Steps, to become a classic. It would be a real theatrical tragedy if, after its present tour ends, it were to disappear for ever.
Reviewer: Anne Hill