TIMBER!

Cirque Alfonse
Queen Elizabeth Hall, Southbank Centre
–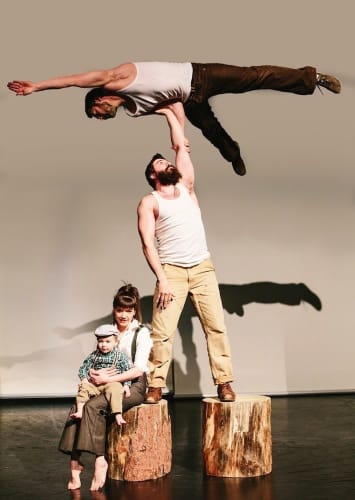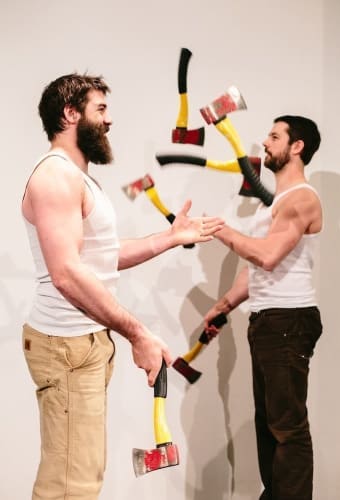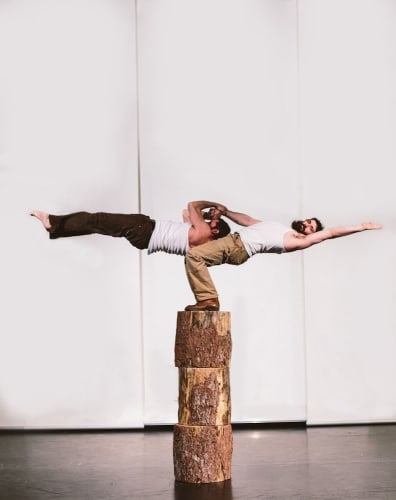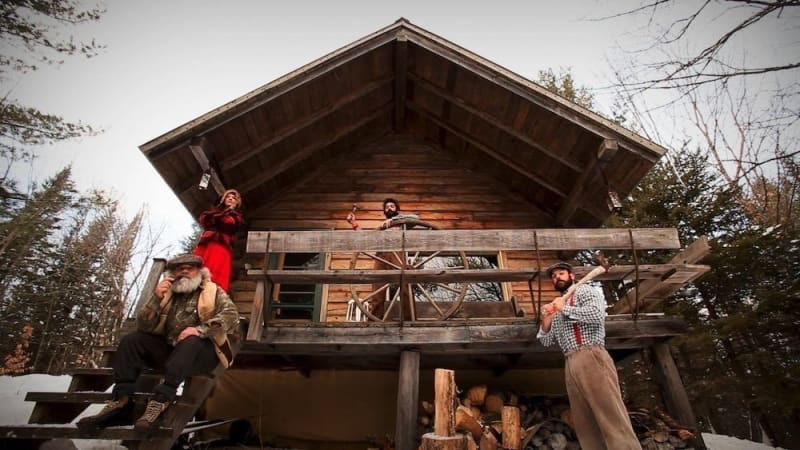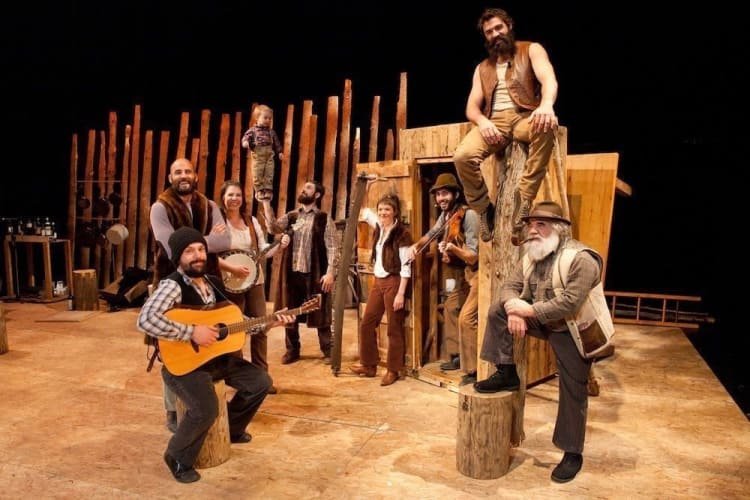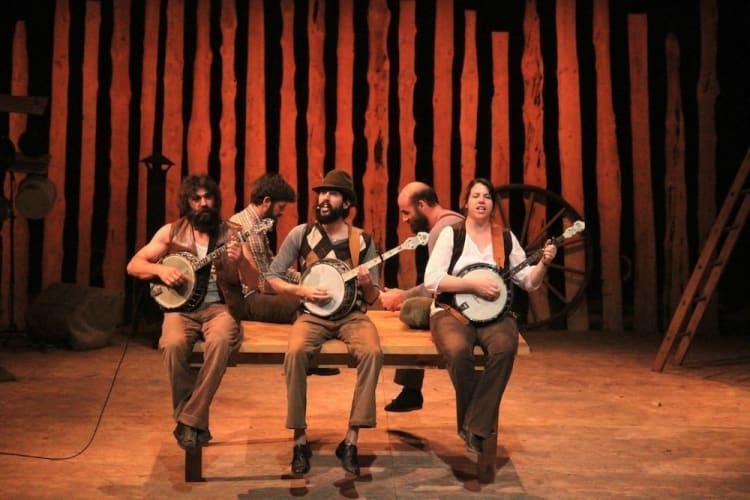 TIMBER! is a treat for my grandson, who falls about laughing, eyes wide with amazement, throughout. Circuses are not my thing—there I've said it. But I'd have to be a total Scrooge not to fall under the charms and into the warm embrace of the Québécois backwoods bushy beards of Cirque Alfonse… They're all lumberjacks and they're OK.
A family affair, Cirque Alfonse reminds me of another lovely family circus—Cirque Imaginaire / Invisible—whose conceit is its apparent amateurishness, but of course they are far from that.
You'd have to be mad to juggle with axes and leap through jagged two-man saw hoops if you weren't skilled professionals. Split timing is everything, I whisper, don't try this at home...
The acrobats are all graduates of the École nationale de cirque de Montréal. The troupe includes a professional dancer, an ex-skiing champion and three versatile musicians.
The story goes that grand-père Alain Carabinier always wanted to run away to the circus, so for his sixtieth birthday in 2005 they brought the circus to him. With their training it seemed the natural thing to do. Now that's love for you. Home entertainment.
And one can see why—he's an endearing old codger (there's a bit of Raymond Brigg's Father Christmas about him), even when irate, disturbed sitting in the outdoor wooden khazi, loo roll in hand. Can get a bit crowded in there, too, when three abreast.
On Nicolas Descôteaux's log cabin set of wooden stumps, palisades, huge wooden cartwheel, wood burning stove, bottles of booze, eight characters chop wood and vegetables (for that nourishing potage), sing, play country music, dance an acrobatic hoe down, and perform strongman feats of daring and balance.
Pipe-smoking grand-père is swung from a bouncer above his pickle-eating boys, and across into the auditorium, looking for all like a baby gnome; his daughter Julie Carabinier Lépine sings, clog dances, cracks the whip and spins on a wooden swing rope trapeze.
Her brother Antoine Carabinier Lépine and husband Jonathan Casaubon, joined this year by Francis Roberge, make up a testosterone trio. One hand lifts, beefy man on beefy man, these are 'real' men.
Casaubon walks a bendy bough tight rope, rides a log like a steer, flips and somersaults. Powerfully built Antoine Carabinier Lépine uses that cartwheel like a German / Cyr wheel, and Roberge balances on and rolls his dancing logs like the log-rafting champion he is—in ballroom duet with Casaubon.
Authenticity is the deal. Just a day in the life of a farming family… And to get to bed out comes the seesaw catapult. In long john combinations—which has my grandson in stitches—at that age it doesn't take much—the boys get flung in double and triple somersaults into bed—well, on to a tatty divan with a scattering of chicken feathers.
A wholesome family—including three-year-old Arthur, Julie and Jonathan's son—some of whom just happen to have worked with some of the world's most renowned circuses including Cirque du Soleil, Cirkus Cirkor and Les 7 Doigts de la Main.
Director Alain Francoeur interweaves real metal saws, axes and logs with live folkloric music of Quebec for a hootenanny of a show.
Percussionist Josianne Laporte joins in the complicated axe juggling ballet, whilst strolling players, André Gagné and David Simard, on guitars, banjos, fiddles and a whole array of other instruments—saws are played, jaw harps too—provide the jazzy and deceptively simple old jig-dancing tunes.
Queen Elizabeth Hall is filled with families and plaid shirt and braces lumberjack lookalikes for this ninety-minute, no-interval show (I timed it as 75 minutes) for all the family, 8+ it says.
From a small town called Saint-Alphonse-Rodriguez north of Montreal, Cirque Alfonse, drawing on its country roots, its raw materials and farming equipment, is a natural. That's why for the second year running at London's Southbank audiences have been taking them to their bosoms. Feels like a familiar familial reality show. A special. A family extraordinaire.
Day's work over, they sit down to the broth that's been quietly bubbling away.
Reviewer: Vera Liber