Time of My Life
Alan Ayckbourn
Rare Insight Productions
The Jack Studio Theatre
–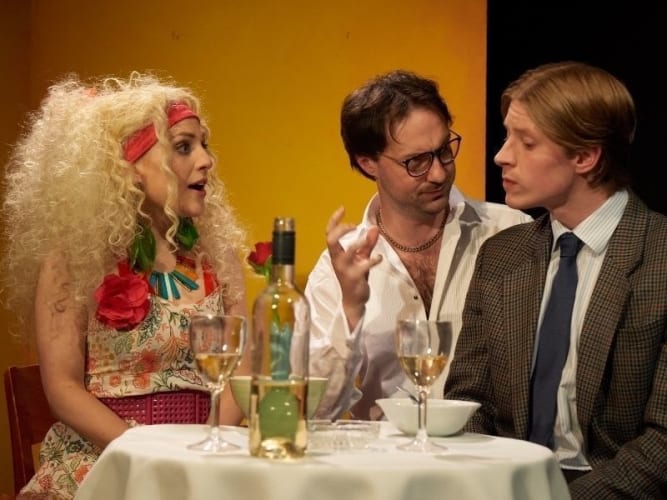 Rare Insight Productions brings its successful production of Alan Ayckbourn's Time Of My Life to the Brockley Jack Studio Theatre.
That there is demand for the company's 2015 Tabard Theatre production to have a second life is incontrovertible: the play (re)opened on Tuesday and the run is nearly sold out with an additional matineé performance being added.
Just why this 24-year-old play is worthy of such audience attention is similarly beyond debate.
It comes from the pen of prolific and popular playwright, now Sir Alan Ayckbourn, whose writing credits include How the Other Half Loves (currently being revived in the West End), trilogy Norman Conquests (whose 2008 revival at the Old Vic went on to Broadway gathering awards along the way) and personal favourites, Comic Potential and Woman in Mind.
Like other of his work's Time Of My Life plays with the notion of time, dispensing with revealing the narrative in chronological order of events, and concerns itself with the institution marriage and family.
It is a classic sad comedy. Time Of My Life is witty, insightful and heartbreaking in its portrayal of how mum and dad can "fuck you up", to paraphrase Larkin.
All the action of the play takes place in a single setting, the favourite restaurant of the Stratton family (a wonderfully evocative set from designer Paul Lunnon and scenic artist Chiara Pecchioli).
The main event is a family meal to celebrate Laura's 54th birthday. Joining Laura and her husband Gerry are their two sons: Glyn, the elder son, is accompanied by his wife Stephanie whilst Adam brings along his new girlfriend, Maureen, to introduce her to the family.
It is a beautifully crafted play, whose intricate structure is un–laboured. The birthday dinner dominates the action but over meals and over time past and future events unfold for each of the couples putting events in a new light.
As it autopsies Laura and Gerry's marriage and parenting, the play also becomes something of a masterclass in the inadequate way family members communicate.
Matriarch Laura is manipulative, domineering and hypocritical. As she knocks back the Remy Martin, she is scathing of Maureen's drinking excesses and, when Laura lets slip an historic alcohol-fuelled sexual indiscretion, it puts her condemnation of Glyn and his near marriage–breaking affair in a different perspective.
No wonder Glyn, who was disliked by his mother from birth and given the occasional walloping by his father, and Adam, who was, and is, idolised and indulged by his mother, are the screw-ups they are. Now they would both be in therapy.
In this sense, Time Of My Life is a timeless piece of writing that will continue to have resonance for as long as there are family units as we know them now.
The play is not flawless however. Only Laura has a well-rounded character and Maureen's extreme dittsiness becomes annoying.
A lot of the comedy comes from a succession of waiters of undefined southern European origin, mercilessly stereotyped to within an inch of their desert trolley.
When Adam tells his mother to "bugger off", it lacks the shock impact that the original must have had; the same is probably true of Maureen's immoderate drinking.
The play, however, generally ages well unlike, say, Communicating Doors whose 2015 production at the Menier Chocolate Factory was eye-bogglingly underwhelming beside its contemporary counterparts.
There is a great turn from Joey Bartrum as the five Euro Waiters and a strong performance from Charlie McClimens as Stephanie and most especially from Hilary Derrett as Laura, whose presence is felt even when she is absent, in more ways than one.
Director David Lucas injects a lot of movement into a play that mostly requires people sitting at restaurant tables and he doesn't miss a comic trick.
The characters of this play may not be aware when they're happy, but you can be pretty certain you will be if you see this production.
Reviewer: Sandra Giorgetti