Tipping the Velvet
Based on the Novel by Sarah Waters in a new adaptation by Laura Wade
Lyric Hammersmith
–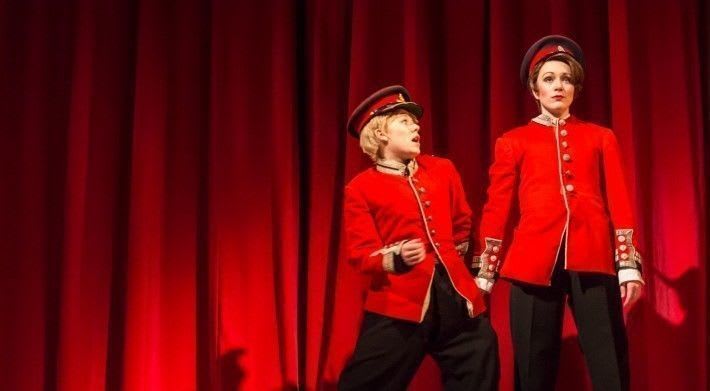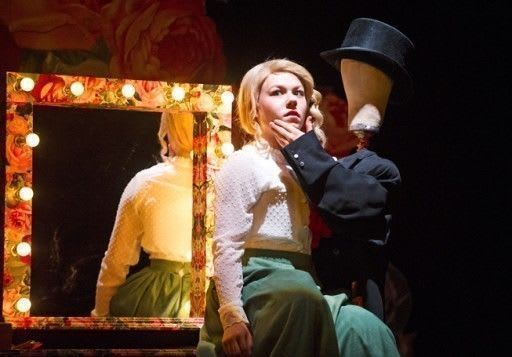 Tipping the Velvet is a feminist's dream. It has been adapted for the stage by a woman based on a novel by another. The director, designer and all of the leading actors also fly the women's flag, as does the subject matter.
Sarah Waters's award-winning 1998 novel is currently probably better remembered in its TV incarnation and in a co-production with the Edinburgh Lyceum now tries its luck on stage.
For those unfamiliar with sexual slang, the title refers to an intimate act that can be practiced by women together and through three lurid hours, Victorian cross-dressing and lesbianism come under the authorial microscope.
Director Lyndsey Turner, fresh from showcasing Benedict Cumberbatch in Hamlet, works her socks off to enhance a tale that lacks the narrative cohesion to make a successful stage play. Repeatedly through the long performance, she comes up with fresh visual ideas which delight.
Her skills are compounded by an often witty text from Laura Wade and on-stage musical accompaniment, largely comprising novel arrangements of pop hits, meaning that there is much to divert.
Set in 1887, the underlying story follows the topsy-turvy journey of the highly impressive professional stage debutante Sally Messham taking the role of Nancy. The blonde-haired youngster is a callow Kentish girl who obsesses over a music hall star, Kitty, played by Sally Rogers.
The attraction is that well-spoken Kitty wears a man's clothes and her song and dance routine comprises a passable impersonation of a toff of opposite sex.
In no time, the fan becomes a dresser to the star and then double act on stage and in bed, their unique selling point for the public a sensational lesbian kiss that brings the house down.
The problem with a love that dare not speak its name is that it has to remain hidden and, before long, what seems like a partnership made in heaven fails though not for lack of love on both sides.
Thereafter, we leave Kitty and watch Nancy's descent into prostitution followed by upmarket sex slavery.
This is all tawdry, especially in the aftermath of a scene of extraordinary aerial beauty in which the passion of the performers is dizzyingly consummated.
Redemption comes in the form of Adelle Leonce's kind socialist Florence, who offers love and the potential for the perennially unhappy Nan to change her life for the better.
The evening is kept on track and enlivened by the efforts of David Cardy playing a lively chairman, the kind of wisecracking MC who was essential if managements wanted to ensure that music hall evenings did not descend into complete chaos when the punters got rowdy.
Having said all of that, despite the sterling efforts of all concerned with a highly imaginative production, due to its rather formulaic underlying plot, Tipping the Velvet somehow fails to move as it should.
Reviewer: Philip Fisher