Translations
Brian Friel
Olivier Theatre (National Theatre)
–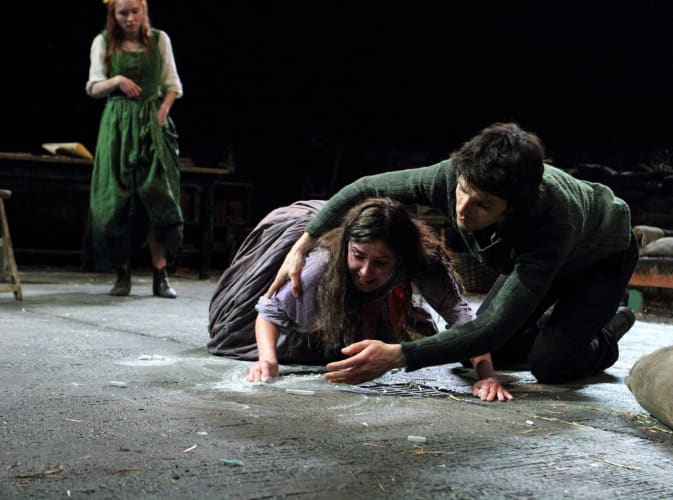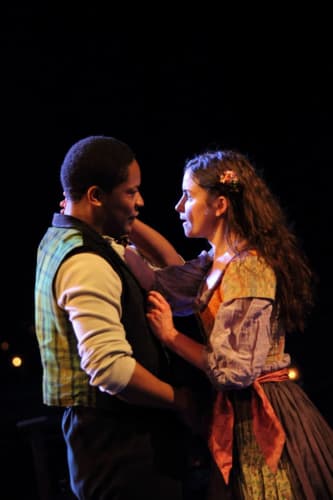 Written during one era of Irish Troubles in the 1970s and harking back to another almost a century and a half before, Brian Friel's modern classic has it all. Squeezed into a running time of only just over 2½ hours, this moving piece contains a good dose of very funny comedy, even as it addresses local and national history, while containing tales of love and disappointment, all within a structure that owes much to Greek tragedy, not to mention Sean O'Casey and Romeo and Juliet.
Ian Rickson's atmospheric and deeply moving production is assisted by designer Rae Smith who lovingly recreates a peat bog and primitive house, together with those legendary mists and lowering skies, in this writer's favourite Ballybeg, which in Donegal back in 1833 still had its traditional name that might phonetically have been written as Bal-ye-be-yug.
This is where Ciarán Hinds as "Master" Hugh runs his hedge school, inculcating rudimentary skills of literacy and numeracy as well as the classics into his grateful neighbours, aware of threatened competition from the national school service, which seeks to force the natives to forego their own language in favour of English, threatening to change their culture forever.
Love burgeons but remains largely unrequited in a series of relationships that will ring true with viewers today, particularly when Hugh's son Manus, played by Seamus O'Hara, cannot demonstrate the financial wherewithal to win his fickle lady love.
The added dimension is a series of threats to this microcosm of wider society at a time when half the world was dominated by the British Empire. In Ireland, the first of these was worry over potato blight and the famine that would inevitably follow. Even closer to home, although seemingly less significant, the colonising English redcoats, specifically the Royal Engineers, were beginning what should in principle be a peaceful invasion to map the territory for Ordnance Survey and, where necessary, invent new, anglicised names to replace those that have worked fine for centuries. In addition, there is a hidden agenda to raise additional taxes from those who are already practically penniless.
The lynchpin between two groups, who face a language barrier as large and impenetrable as the Irish Sea, is the Master's more genial son, Colin Morgan in the role of Owen, returning from six years in Cosmopolitan Dublin to earn blood money by collaborating with the troops.
The two funniest scenes in the play involve Translations, the first when Owen attempts to interpret and mediate between locals and soldiers and, more poignantly, when Judith Roddy as passionate local girl Maire and Adetomiwa Edun's kindly Lt. George Yolland fall head over heels in love, causing predictable dissension and worse.
The stakes are raised when guerilla warfare of the kind that became the trademark of the IRA proves potent, leading to threats of inhumanly vicious reprisals and an early chapter in a war that director Ian Rickson reminds us continued into our own lifetimes and is arguably hindering the United Kingdom's attempts to leave Europe next year.
Translations is a perfectly constructed, immensely powerful and poetic work that receives an impeccable, beautifully acted production, which works on numerous levels and should provide a welcome sell-out success for the National Theatre this summer.
Reviewer: Philip Fisher