Travesties
Tom Stoppard
Chocolate Factory Production and Sonia Friedman Productions
Apollo Theatre
–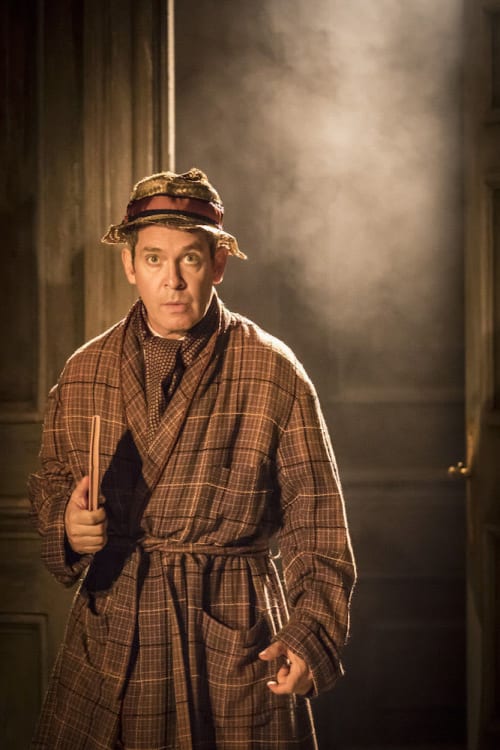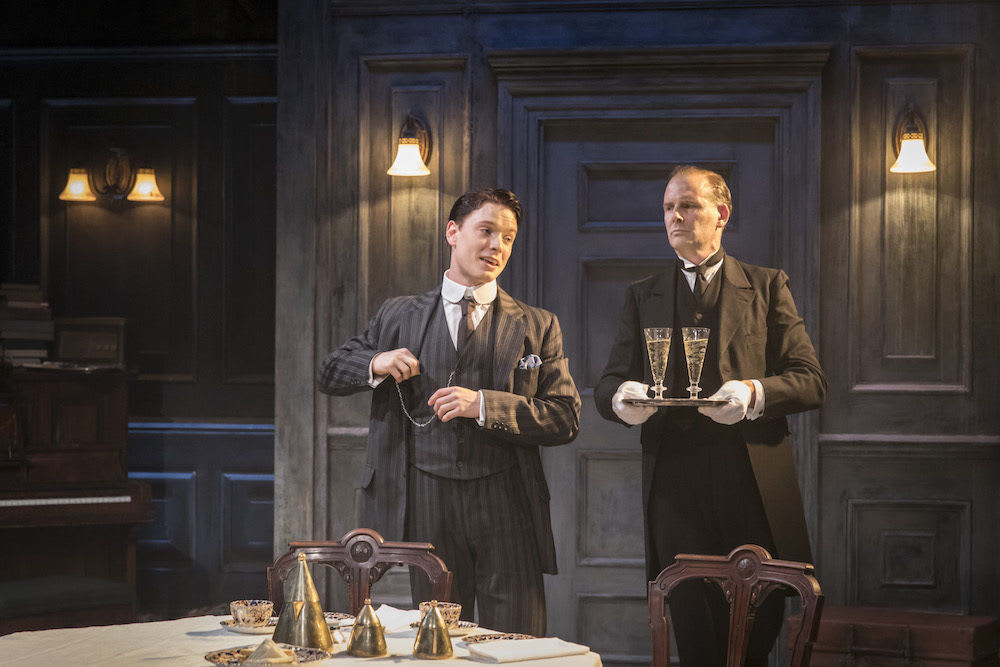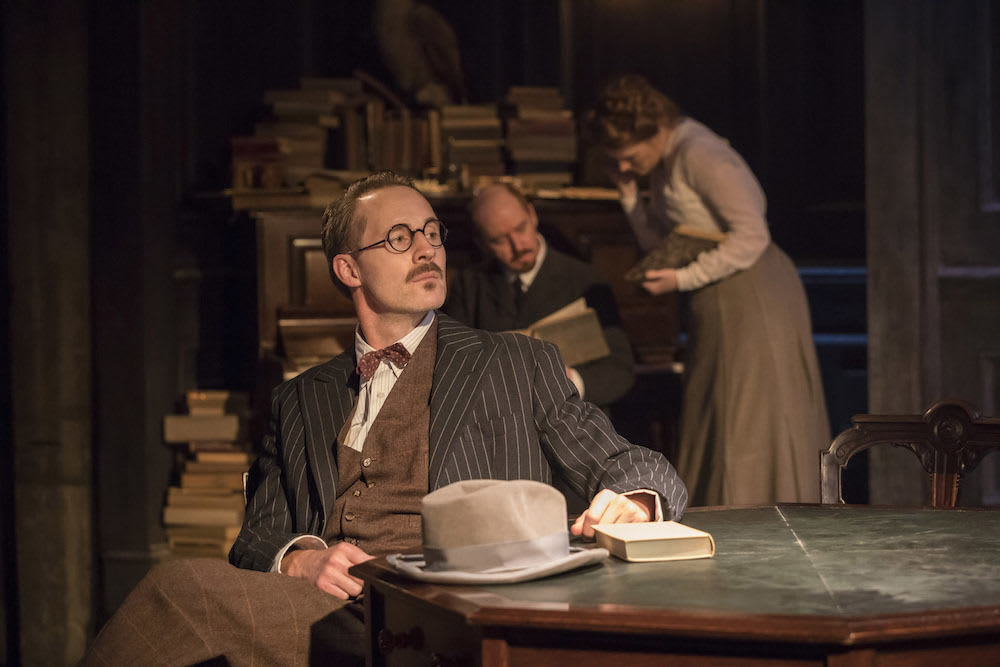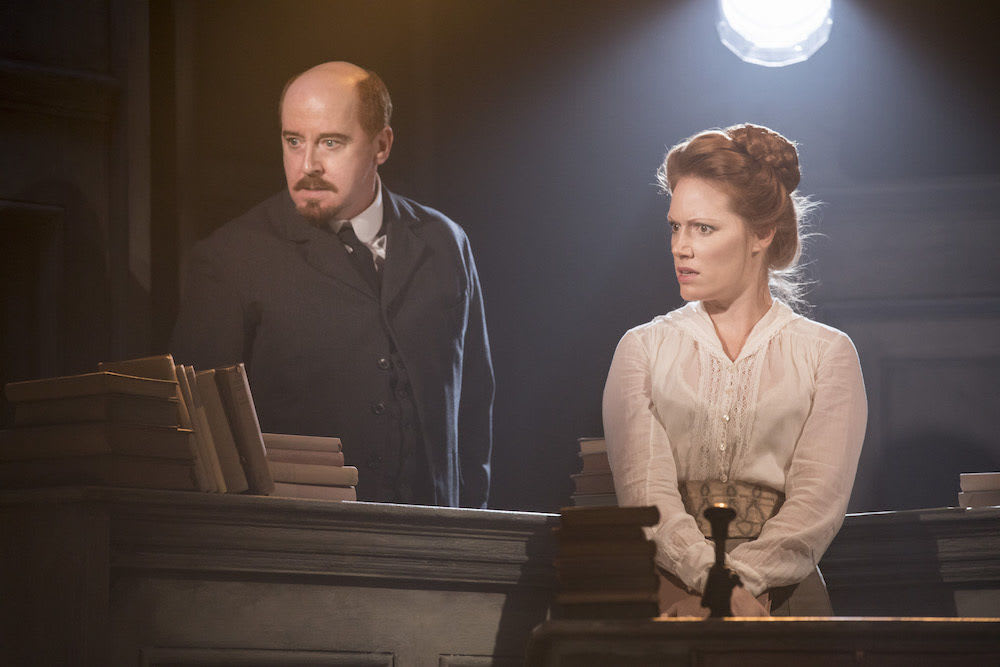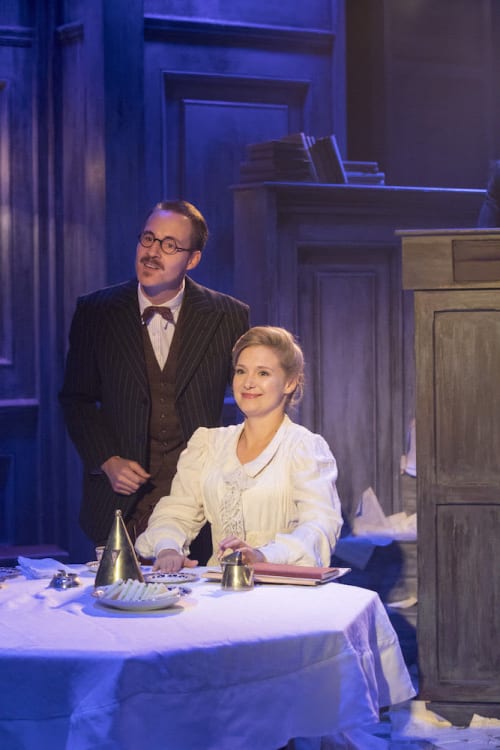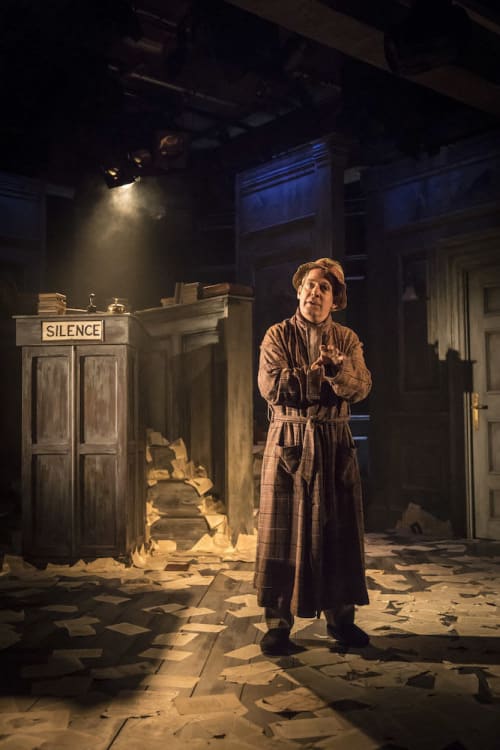 Speak, Memory, and does he speak—ten to the dozen! At least that is my memory of John Wood, for whom Tom Stoppard wrote Travesties in 1974.
In dazzling and dazing Gatling gun delivery we were served a balancing act of verbose history lessons, vaudevillian fun, Wildean wit and structure, cabaret, puns, limericks, alliteration, clichés, agile word play of such quantum leaps that our poor brains struggled to keep up.
I'm speaking for myself, of course. I went away and read the text and found I had kept up, but how? How does Stoppard keep all the balls in the air? That you have to see and give your brains a fun workout: there are lots of laugh-out-loud jokes. "Clever nonsense"… Maybe a little tamer than I recall. But the present fine ensemble gives it their best.
Firing on all synapses, Stoppard gives us James Joyce, Lenin, Dadaist iconoclast Tristan Tzara ("everything is chance and causality"), and minor British consulate official Henry Carr, who by serendipitous coincidence were all in Zurich in 1917—now there's a mix. Not only that but Joyce put on Wilde's The Importance of Being Earnest in which Carr played Algernon ("the other one" a running joke), which resulted in a court case over money between the two.
That much is fact. Stoppard came across the raw material in Richard Ellman's biography of Joyce, which Anthony Burgess claimed the best literary biography of the century, and, boy, does Stoppard run with it.
There's plenty of research gone into the two and a half hour play, much verbal dexterity and interrogation of malleable language and meaning. That is the sense one gets on first acquaintance with it—a young man, assailed by his uncanny ability, taking pleasure in it. Or as Tom Hollander in a recent interview put much more succinctly, "the dick-swinging bravura of it…"
What Patrick Marber has done in directing this revival—which sold out before the first preview and broke box office records at Menier Chocolate Factory last year—is make it more accessible by slowing it down and redistributing some of the longer speeches, now less the studied lectures they were. But in the process, for me, he has lost some of that runaway horse quality.
Tom Hollander's Carr is a diffident, dim soul, writing his memoirs in his dotage. Variations on a scene serve to remind us of the unreliability of his memory. The final scene confirms it, as his wife Cecily corrects him (a trace of Lerner and Loewe's "I Remember It Well"). One thing is certain he was there. "It will all come out in the wash." Here he gets the girl, the bilingual Lenin-admiring librarian who translates Dada as yes yes.
Out he comes in front of the safety curtain waving and smiling at us, this old man in dressing gown, tatty straw boater and slippers; knocks on the safety curtain and is eventually let in into Tom Hatley's sepia, strewn with paper, brown library set, where there are some lovely visual puns—stuffed beaver anyone... Keep your eyes, ears and wits about you.
Joyce is dictating Ulysses to Gwendolen, Henry's sister wouldn't you know. Bourgeois baiting Tristan Tzara is in love with her. Lenin hears from Russia that the tsar has abdicated, and plots to get back into the country as a deaf mute Swede. And Carr gets muddled up about which class is rebelling against which. His butler Bennett spouting Marxist dialectic (as does Cecily) puts him straight, though it falls on uncomprehending ears.
Exiles and artists talk about the purpose of art, the superiority of the artist and more: there is much sparring between Tzara and Joyce. Joyce's white rabbit in hat trick beats Tzara's cut-up Shakespeare's Sonnet 18 hands down. Lenin's wife expounds on her husband's conservative taste in the arts, on Tolstoy and Beethoven. Carr worries about his costume. Now when it comes to attire he remembers that in great detail.
There's a lot of detail to excavate for those who are interested in digging deeper. The interview in the programme between Stoppard, now impossibly in his eightieth year, and Marber helps, as does the note that Henry Carr's second wife wrote to Stoppard in 1962 filling in some gaps.
But the pleasure lies in the exuberant mix of serious study and theatrical burlesque, not least in the song Cecily and Gwendolen sing at tea together, or Cecily's stripper-ish dance under the disco ball, or Joyce playing guitar (in truth he was a musical man). Improbable facts and fiction meld: one of Joyce's (Deidre etc another running gag) middle names was registered incorrectly as Augusta—Lady Bracknell was an Augusta, too.
Tom Hollander in a feat of memory (can't avoid that word) makes a better dapper Algernon than a bug-eyed old Carr, Freddie Fox is a delightfully wicked Tzara, Peter McDonald a quietly confident Joyce, Clare Foster is a vivacious Cecily, Amy Morgan an ironic Gwendolen, Tim Wallers as Bennett steals every scene he is in and Forbes Masson (Lenin) and Sarah Quist as his wife Nadya (Nadezhda Krupskaya) seem to have less to do than I remember, though both are excellent.
To end the theme of memory on an anecdote of my own: I met Frank Windsor, Lenin in the original cast, many years ago when we were both working on the same play, and he asked if he could test me with his remembered phonetically learned Russian lines from Travesties. He told me Nureyev did better than I… Well, he would, wouldn't he?
Reviewer: Vera Liber