Treats
Christopher Hampton
Garrick Theatre
(2007)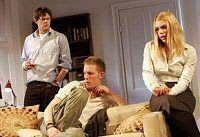 Some professor must have done the research but plays for trios were probably great rarities in the past. Now they are so common that two opened in different parts of London on Thursday night, Treats and Things of Dry Hours.
The master of the art must be Harold Pinter: think of Betrayal and The Caretaker. These days, the experts have seen the possibilities for low cost star vehicles with Art and The Vagina Monologues leading the field with rotating casts of soap and comic actors. When you are only casting three people, the budget stretches that much further.
Laurence Boswell has chosen three big TV names to head the cast of this updated (but still dated) version of a comedy that opened at the Royal Court just over thirty years ago starring Jane Asher, James Bolam and Stephen Moore.
All of the hype has centred on whether Billie Piper would finally make it on to the stage at all. The blonde actress is certainly a big draw having been voted Most Popular Actress in the National TV Awards for the last two years but has never previously acted before a real audience.
Alongside her are Kris Marshall from My Family and numerous adverts for BT and Laurence Fox who has made his name in Lewis and Miss Marple.
The opening of this production flatters to deceive, ranking with almost any other, even Hampton's own The Philanthropist. Jeremy Herbert's attractive gift box set opens up to reveal a stylish living room whose staginess is only given away by the wonkiness of the walls when the door is slammed, which happens frequently as tempers fray.
Kris Marshall, playing Dave, makes a striking (in every sense of the word) entrance, leaving Fox's Patrick dazed and confused to the extent that it takes some time to realise that his apparent aimlessness is part of the character's persona rather than mere punch-drunkenness.
Soon enough, we begin to realise that caveman Dave, who has just returned from a life-threatening stint as a journalist in Basra, has been usurped in the arms of Ann (Miss Piper) by the unbelievably dim Patrick.
What she sees in an inarticulate bore who is completely unable to make a decision, to the extent that it apparently takes him 45 minutes to leave the flat every morning, is beyond both Dave and his audience.
By comparison, the big, violent man with whom Ann has lived for the last two-and-a-half years seems a real charmer, aided by the best lines and the best acting of the evening. The fact that he randomly beats up on her seems a small price to pay to escape from three weeks of intense tedium with a chinless wonder who could surely never have fought his way into the affections of a sassy, attractive interpreter with a plummy accent.
Ann is herself something of an enigma, with her desires for two men at polar extremes of any scale that one could create. It does not help that the actress fails to give her any real life or humanity, nor that Patrick is quite such a pathetic wimp and Dave a lunatic.
Treats last a mere 90 minutes plus interval but even so, requires a great deal of padding to sustain that short duration. For example, there is a two minute long scene in which Ann does nothing but cry, following a botched sex scene that ends horrifically.
From this production, it is very hard to see how Treats succeeded at the Royal Court, nor why it ended up in the West End first time around let alone with this limp revival. The characterisation barely makes it to surface deep and the jokes are too few and far between to satisfy demanding audiences paying up to 50 pence per minute.
It must have seemed like a good idea to give Doctor Who's favourite little helper a stage debut, but one can certainly understand why she had cold feet and delayed the opening night. This schematic play rests entirely on the relationships between a not very interesting woman and two stage chaps who seems to have little to offer either her or the rest of us.
While the best trio plays delight, when they go wrong there is nowhere to turn. That is certainly the case with Threats (sorry, that was a typo but my computer may just have received Freudian slip training).
Visit our sponsor 1st 4 London Theatre to book tickets for Treats
Reviewer: Philip Fisher