Tristan and Yseult
Carl Grose and Anna Maria Murphy
A collaboration between the National Theatre and Kneehigh Theatre
RNT Cottesloe
(2005)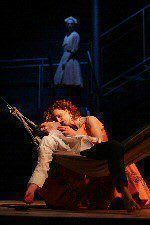 Director Emma Rice, who conceived this project, describes the ancient tale of Tristan and Yseult as "Cornwall's oldest and greatest story".
Local company Kneehigh were perfectly placed to bring to life a drama that has attracted writers through the ages. Poets Mallory and Tennyson, novelists Hardy and Updike and even Richard Wagner on the operatic stage have taken this Cornish tale and made it their own.
This production started life in the open air in its home county, playing, inter alia, at Restormel Castle and the Eden Project. Now, they have hit the big time and, following their appearance at the National Theatre, will be touring Britain with what must be their most ambitious show to date.
Kneehigh have built their reputation on physical-based Theatre reproducing ancient tales either from the classics or folk sources. For Tristan and Yseult, designer Bill Mitchell has put together an elaborate if mechanically-operated set that is more like the centre of a circus ring than a normal stage space. The circus analogy is appropriate since many of the skills demonstrated by the performers have their source in that art.
The plot is simple enough and will be most familiar to those who know of the problems that King Arthur had with his wife Guinevere and his champion Lancelot.
Mike Shepherd's King Mark of Kernow (Cornwall), generally speaking in rhyming couplets, has everything that a monarch could want except for good looks and a wife. After a battle with the invading Irish, led by Morholt (played by the excellent Craig Johnson), he sets his heart on marrying the mysterious Yseult from across the seas.
To achieve this, he sends Tristan Sturrock as his mysterious new French knight Tristan, in search of his prospective Queen. Inevitably, on discovering this red-headed Hungarian beauty played with passion by Éva Magyar, Tristan falls in love and it is immediately reciprocated, much to the distress of her handmaid Brangian, represented on stage by the not very feminine but extremely funny Craig Johnson.
This tale of love and betrayal then follows its traditional course, causing far more distress than happiness.
The staging is quite extraordinary. The classical tale is set within the world of the unloved, a group of trainspotter types in anoraks, balaclavas and the worst kind of NHS specs. They form a band, drift amongst the audience and have a nasty habit of staring at people through binoculars.
This means that at any point, even the most passionate, a series of not very attractive voyeurs will be pretty close to centre-stage. They also have their own sub-plot about the vicissitudes of life as a member of their singular, very unfashionable set.
The acting and circus tricks are supported by music of every type imaginable from Wagner to heavy metal, much of it delivered by in-house jazz band, Martin and the Misfits, who also come into their own both before the metaphorical curtain comes up and during the interval.
Tristan and Yseult presents an evening of varied fun based on a classic tale and drew not only applause but foot stamping from a normally staid National Theatre audience. While the mix of heated passion and its soggy opposite can struggle to fit together on occasion, it is so well recognised on these shores that Kneehigh have obviously tapped deep into the British Psyche and will play to packed houses around the land.
J.D. Atkinson reviewed this production at the West Yorkshire Playouse, Leeds, and David Chadderton also did so at the Lowry, Salford.
Reviewer: Philip Fisher