Trocks Tour: Les Sylphides / Patterns in Space / Go for Barocco / Dying Swan / Don Quixote

Les Ballets Trockadero de Monte Carlo UK Tour 2015 - programme 2
Sadler's Wells Peacock Theatre
–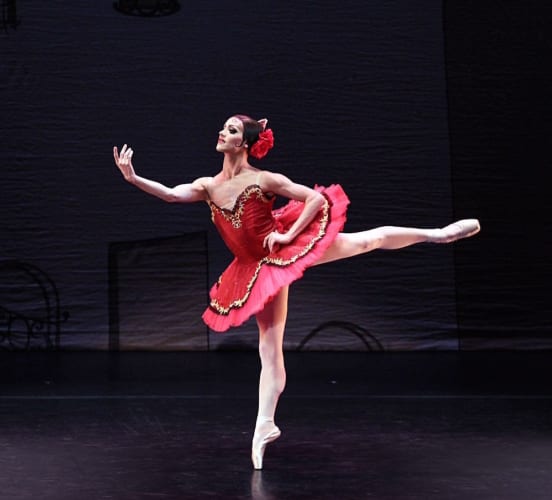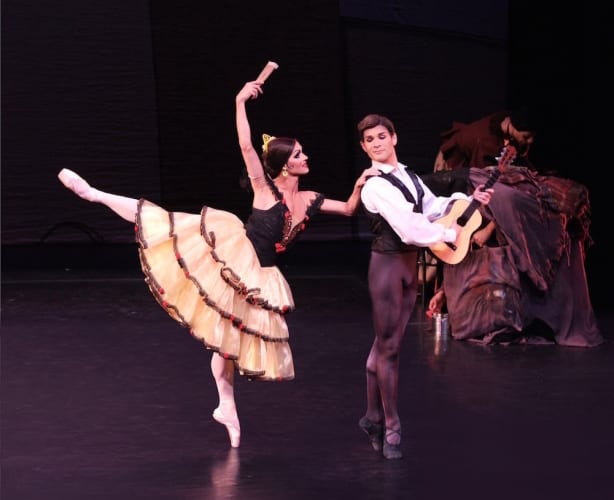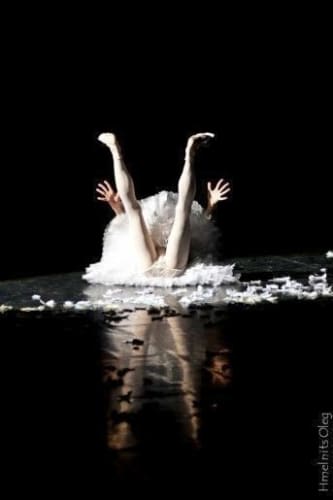 Friday night, anticipation is high. The audience is raring to go, knows what follows will be a hoot, but what it probably doesn't know, if new to their en travesti homage to ballet, is how good and faithful on the whole the Trocks repertoire is to classical ballet.
Echt classical—and modern in programme two—ballet is lovingly slipped in amongst the goofing and the hoofing. Not only is the standard of performance very high, but you do get value for money. The Dying Swan from programme one is a surprise unbilled extra tonight.
Coming after the 'post-modern' Patterns in Space ('after Merce Cunningham') and 'the new (neo) neo new classical dance' of Go for Barocco (Balanchine's 1941 Concerto Barocco, which the Ballets Russes de Monte Carlo premièred in 1945 in New York—now you know who the Trocks honour with their cod Russian ballerina names) the Dying Swan is a great belly-laughing relief for many.
Classical ballet with its tradition and fanciful fairy tales comes off best in the burlesque parodies and pastiches. The ever-popular Dying Swan continues to moult and play to the crowd for appreciation and applause; Les Sylphides takes reverie to new extremes and Don Quixote seems to have invited characters from other ballets to the inn.
Sergey Legupski (Giovanni Goffredo), Les Sylphides delightful poet, is so deep in trance he is obviously tripping—over the ballerinas. A bottle of sparkling is probably not the best curtain call bouquet. Or are his eyelashes obstructing his vision perhaps?
The Sylphides do the best they can in the circumstances, and their best is very good, though holding position long can be trying. Ignoring rude gestures, sleepwalking ballerinas, keeping above the fray whilst all else around collapses, Nina Immobilashvili (Alberto Pretto), Alla Snizova (Carlos Hopuy) and Lariska Dumbchenko (Raffaele Morra), dizzy spells aside, soldier on whatever the disaster.
Dangerous and at times dirty dancing, ducking a flying foot, a bit of sabotage here, a bit of inattention there, but remarkably they survive it. Well done, another excuse for a loud cheer. Oh, they do play on our sympathies.
Patterns in Space, however, is on another planet altogether. If you know your Cunningham, you'll know he worked with John Cage, and that the choreography and music were written separately. Here the attention is all on the two musicians, Lariska Dumbchenko (Raffaele Morra) in solemn black and Yuri Smirnov (Robert Carter) in high-waisted trousers.
Dancers Minnie van Driver (Matthew Van), Guzella Verbitskaya (Jack Furlong, Jr) and Marat Legupski (Christopher Ouellette) in velvet unitards flit about in random planetary fashion, sink into deep pliés, but all eyes are on the serious antics of the avant-garde musicians playing paper bags, children's xylophones, party horns, scissors, nail files, cooking pots, popping bubble wrap, the disconnect between sound and movement deliciously apposite.
Balanchine favoured long-legged ballerinas and the Trocks can easily field those. Six of the tallest ballerinas in the company in black simple practice leotards (Balanchine's Concerto Barocco was originally made for students) have the master off to a T.
Fast moves, wriggle walks, jazzy hips, flex feet, propeller arms, deep splits, daisy-chain links that come awry, a bit of American folk, Russian Imperial ballet meets the new country, ballerina gazelles, performing ponies, keep perfect timing to Bach's stringent strings.
Don Quixote is the irresistible pièce de résistance. As in Paquita, their star ballerina is the astounding 32-fouettées-spinning Yakaterina Verbosovich (Chase Johnsey), partnered by Vyacheslav Legupski (Paolo Cervellera), whose own grands jetés en manège are not bad.
As well as gypsies and waitresses (borrowed from Pina Bausch), there is Lorenza (Kitri's mother very like Giselle's and La Fille mal gardée's Widow Simone), Amour 'who neatly ties together all the loose ends', the mysterious hag who could be Old Madge from La Sylphide, and six lilac fairies. Don Quixote and Sancho Panza 'have been eliminated', and quite right too.
What has not been eliminated is a joie de vivre, a generosity of spirit, ageless comedy, and classy sassy dancing—Chase Johnsey's balance in attitude on point is something. As are his cartwheels… Plenty of gussets on show.
Cheers meet just about every variation, every prank, every roll of the eyes, and a standing ovation is a certainty. Good-humoured skilful silliness triumphs very time. If only for a live orchestra—that would be the cherry on the cake.
The audience roar with appreciation, we applaud, they applaud, a happy time is had by all. That is not easy to pull off. And a Michael Flatley encore, again: there's flattery for you.
Reviewer: Vera Liber