Twelfth Night
William Shakespeare
The Watermill Theatre
York Theatre Royal
–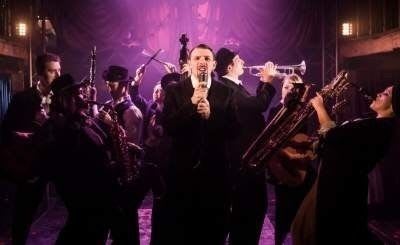 Shakespeare's plays are filled with music and have provided inspiration for a rich assortment of operas, musicals and pop hits, from Verdi's Otello (1887) to Bernstein and Sondheim's West Side Story (1957) to Elvis Costello's "Miss Macbeth". In this vibrant production of Twelfth Night, director Paul Hart has chosen to embrace the musical side of Shakespeare by setting the action in a 1920s jazz club.
Whereas Hart's current production of Romeo + Juliet is propelled by the indie rock of The Hives, Mumford and Sons and The Vaccines, his Twelfth Night harks back to the musical stylings of Duke Ellington, Ella Fitzgerald and Louis Armstrong. Performed by a talented ensemble of actor-musicians, these songs sit well within a play that begins with an immortal plea for music: "if music be the food of love, play on".
Separated from her twin brother Sebastian (Stuart Wilde) during a storm, Viola (Rebecca Lee) finds herself shipwrecked on the shore of Illyria. After grieving for her missing sibling, Viola disguises herself as a young man named Cesario and becomes the servant of Duke Orsino (James Satterthwaite).
Viola falls in love with her dashing employer, but Orsino only has eyes for the Countess Olivia (Aruhan Galieva), who is sadly immune to his charms. To further complicate matters, when Viola visits Olivia whilst dressed as Cesario, the countess finds herself irresistibly drawn to Orsino's newest employee.
I shan't synopsise any further, except to say that Twelfth Night offers up a delightful web of mistaken identities, gender confusion and unexpected love matches.
The issue of gender-blind casting has been much in the news recently with Tasmin Greig giving a superlative performance as Malvolia at the National. Sir Toby Belch—Olivia's drunken, good-for-nothing uncle—is usually played by an older male actor (preferably with a beer gut), but here the part is assailed by Lauryn Redding, who generates all the bluster and mischief you could hope for. The casting of Emma MacDonald as Antonia (surprisingly touching) proves to be a shrewd decision because it explains the character's deep attachment to Sebastian.
Overall, the ensemble cast manage to hit all the right notes. Rebecca Lee makes a bright, thoughtful Viola, and James Satterthwaite is a virile, charismatic Orsino. Aruhan Galievan impresses as Olivia, particularly when she turns her considerable charms on the appalled Viola/Cesario. Sebastian is a rather thankless role, but Stuart Wilde acquits himself well.
Redding's Sir Toby is ably supported by Offue Okegbe's Feste (calm and sinister), Victoria Blunt's Maria (brisk and domineering) and Mike Slader's Aguecheek (dim-witted and spineless). Finally, Peter Dukes gives a jaw-dropping performance as Malvolio. In the early scenes, he is the epitome of buttoned-up priggishness, but after he's hoodwinked into believing that Olivia loves him he becomes an almost Dionysian figure—albeit one with strange overtones of Michael McIntyre!
Kate Lias's set design—a jazz club flanked by lamplit tables—achieves the right level of Gatsbyesque glitz, and Tom White's dynamic lighting adds to the visual excitement.
Although I enjoyed Hart's Romeo + Juliet, I much prefer his Twelfth Night. The production is filled with striking moments of visual storytelling (Viola's separation from Sebastian, for example) and witty comic set pieces. I also admire the way he emphasises the dark side of Shakespeare's most golden comedy, namely the torture of Malvolio at the hands of Sir Toby and his crew. When the wronged steward swears vengeance on his tormentors at the end of the play, his threat carries real weight.
The Watermill Theatre has earned a reputation for staging first-rate productions of Shakespeare, and this tradition continues with Hart's toe-tapping, jazz-inflected take on Twelfth Night.
Reviewer: James Ballands