Twelve Cabins Twelve Vacancies
Chris Durnall
Company of Sirens / Chapter
Chapter, Cardiff
–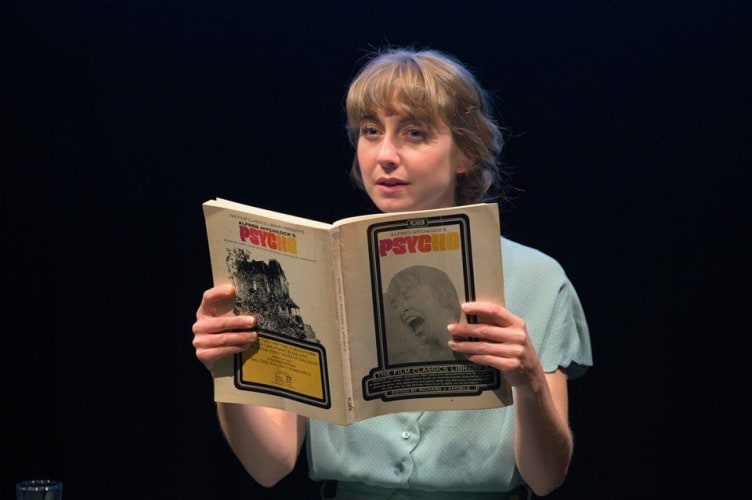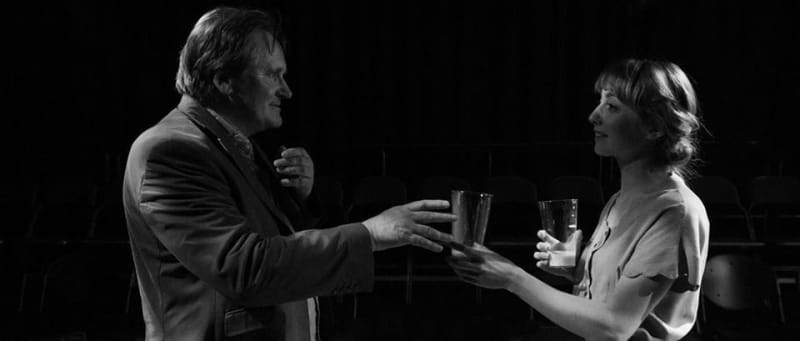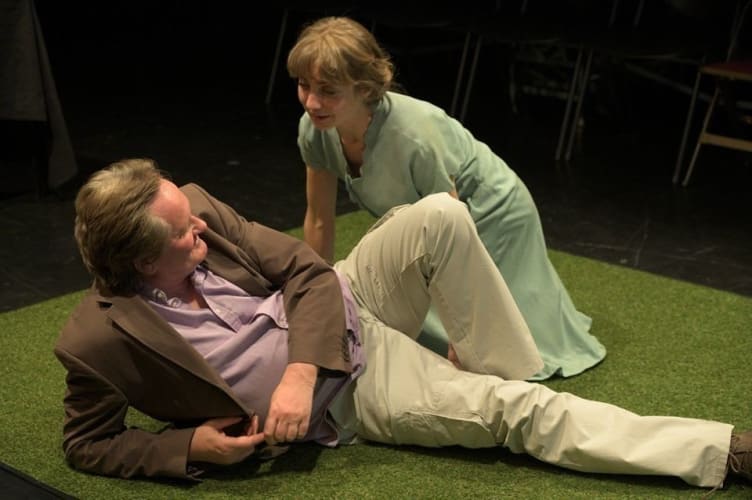 In the past few years, director Chris Durnall has brought us challenging plays such as Anthony Neilson's Stitching, Jennifer Haley's The Nether, and a number of pieces by Philip Ridley, as well as championing the autism-themed work of Tim Rhys. In this new piece, he tells something of his own story.
In the programme notes, Durnall informs us that his father died during the first UK television broadcast of Alfred Hitchcock's Psycho in 1968; and therefore that the two events have been linked in his consciousness from the age of 12 onwards. Twelve Cabins Twelve Vacancies is an attempt to explore this connection and, perhaps, to exorcise some ghosts.
The first thing we see as we enter the performance area is a young woman, lounging in vintage lingerie on a grass-pattered rug, leafing casually through a book of stills from the Hitchcock film. As the action begins, Bernard Herrmann's theme music plays and Durnall is discovered watching Psycho on a small television. The set—designed by Angharad Matthews who also plays the female role—is minimal: a table on top of which sits a 1950s-style bottle of milk, and a large video screen.
Presently, the professorial Durnall starts to sing "Autumn Leaves", before commencing his story, with the aid of old family photographs which he projects onto the screen. He intersperses a summary of the events of the first half of the film—Marion Crane indulging in an illicit tryst, stealing a large amount of money from her workplace and seeking refuge in an isolated and almost empty (as referenced in the play's title) motel, inhabited by a likeable young man and his unseen but controlling mother.
We also learn of Durnall's discovery, after his mother's death, six years on from that of his father, that she left a number of poetic notes scribbled on the backs of empty cigarette packets, reflecting on life and love, and revealing a philosophical profundity of which he was apparently unaware.
The two strands come together in Matthews's character, who is a conflation of Marion and the notes' authoress, coming across as a haunting romantic fantasy. Durnall's character looks on, apparently entranced, and the two only directly interact when she disturbs him by detailing the symptoms of a brain aneurysm. Her interpretation of the famous "stabbing" scene is beautifully choreographed and equally disturbing.
The action is sound-tracked, live, by Rhys Anderson on guitar with occasional disruptive electronic effects. His highly evocative score brings to mind desert-inflected films such as Paris, Texas and Bagdad Café.
Durnall's exegesis of Hitchcock's classic foregrounds its creepiness, but he eschews the showing of extracts on the the large screen, prompting us to use our imaginations. The precise link between the film and his life remains equally opaque, although those familiar with his work will know that he seems to be drawn to dark themes. We learn little of his relationship with his parents, other than a hint of friction with his mother, which is introduced just as the piece ends, less than an hour in.
We are left, therefore, intrigued and tantalised, if not entirely satisfied. As an illustration of the impact of a work of art on a life, it is powerfully suggestive. Perhaps for entirely understandable personal reasons, however, it does not dig quite as deeply as it might.
Reviewer: Othniel Smith