Unfaithfully Yours
Miles Malleson
Mint Theater
Mint Theater at the Beckett Theater at Theater Row, New York
–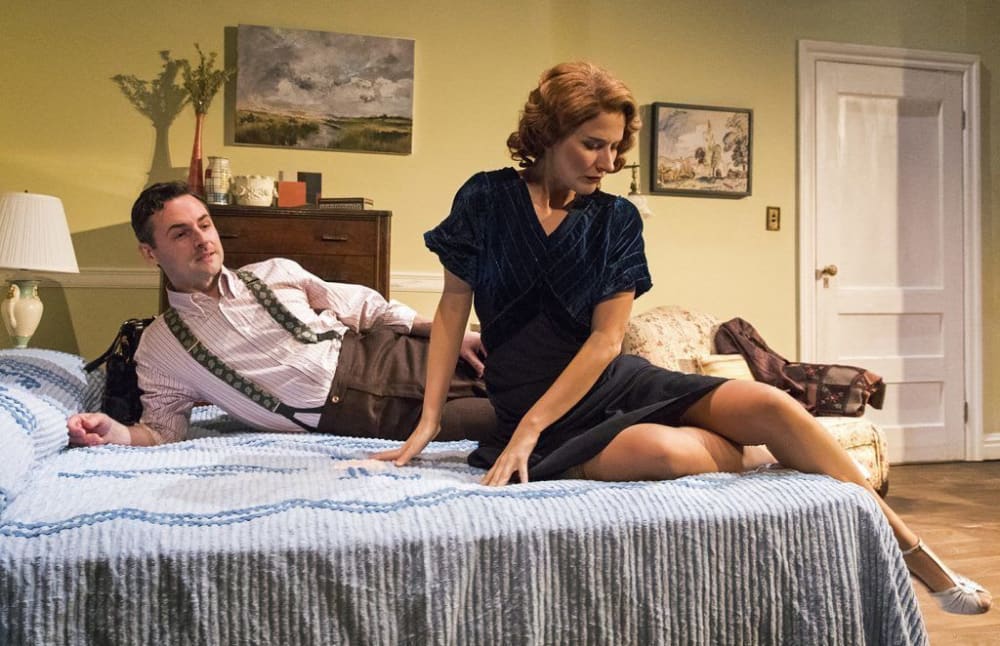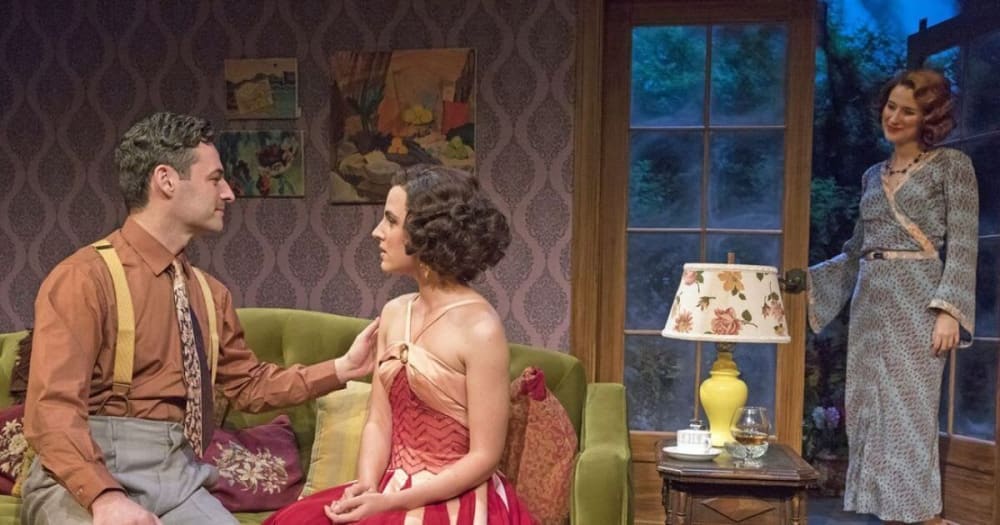 Mint Theatre is to be congratulated on resurrecting the hitherto forgotten oeuvre of Miles Malleson, following up the excellent Conflict with this tantalising trauma of relationships, which was directed on stage by Artistic Director Jonathan Bank and recorded in 2017.
Much about this revival of the work set in 1933 is contradictory, as signalled by the design decisions made by set and costume designers Carolyn Mraz and Hunter Kaczorowski. They have gone out of their way to select contrasting colours for the living room of Stephen and Anne Meredith, respectively played by Max von Essen and Elisabeth Gray.
A lime green sofa is paired with a bright orange armchair, both clashing horribly with the tasteful, purple wallpaper and colourful artworks. As if this were not enough, the costumes worn by the comfortably-off inhabitants would fill a spectrum nicely. The accents also take some getting used to, since hearing Americans earnestly discussing cricket matches and the like requires viewers to suspend a healthy degree of disbelief.
The couple, eight years into an open marriage as befits their advanced views, are respectively a well-respected novelist suffering from writer's block and an inspirational schoolmistress, making enough money to keep them both in the style to which they are accustomed.
Their opening act guests are an intriguing group. Mikaela Izquieredo is glamorous widow Diana Streatfield, just returned from a year's mourning following her daredevil husband's death in an air crash. Stephen's father, with whom he incessantly argues, is a moralising church canon and cricketing star portrayed by Stephen Schnetzer. Finally, Dr Alan Kirby played by Todd Cerveris has an understanding of psychology that seems necessary to assist Stephen to overcome a Churchillian black dog of a depression.
In the second of the three acts, apparently encouraged by his wife's blasé acceptance, Alan embarks on an affair with Diana. In doing so, he somehow manages to rouse most of the key figures to develop contradictory theories about the world and each other, his own bordering on the edges of credibility at times but useful for plot development.
Crises of confidence occur for the married couple and also the Padre, as Alan's behaviour generates a debate on values, which must have been deeply shocking to many theatregoers close to 90 years ago. This sets up the 1¾ hours evening nicely for the final act. Then, rather than opting for predictability, Miles Malleson allows his characters to test out possible futures, before bringing the evening to a close with an intriguing climax.
Whether it is the writing, directing or acting, at times it can be hard to take Stephen Meredith seriously but his unpredictable behaviour brings out a superb performance from Elisabeth Gray as his long-suffering wife.
Mint Theater has been a consistent star performer during these trying times with an exciting programme lined up for the first half of 2021. However, in order to continue, the company needs support so if you get a chance to watch yet another worthy revival, do think about making a contribution to what is a very worthy cause.
Reviewer: Philip Fisher