Unite for Ukraine
Director Viviana Durante
Central School of Ballet, Elmhurst Ballet School, English National Ballet School, Northern Ballet School, Rambert School of Ballet and Contemporary Dance, The Royal Ballet School
Sadler's Wells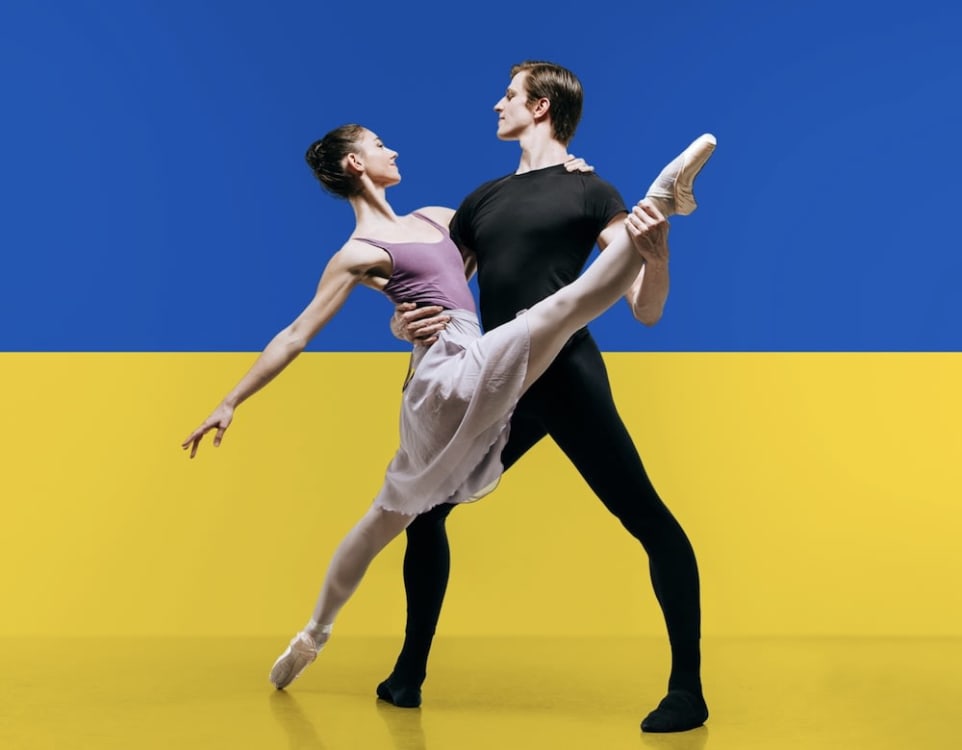 Another fundraising gala for Ukraine, this time by students from our prestigious ballets schools: six schools present a total of fifteen dance extracts, classical and contemporary, quite a few I've not seen before. The theatre ought to be sold out but sadly it is not. It's a Sunday.
Everyone is giving their time and skills for free, and I forget that these young dancers are not professionals yet, so good is their stage presence and performance. Barring a few inevitable nerves and slips, they and their teachers should be very proud of themselves.
No doubt spurred on not only by the heinous war in Ukraine, but maybe by Ivan Putrov and Alina Cojocaru's Dance for Ukraine Gala in March, tonight's Unite for Ukraine is initiated and directed by Viviana Durante, artistic director of English National Ballet School. At the March gala, I chanced to sit next to Durante; at this, I'm seated next to Putrov—let's hope chance is also on the side of the victims of a senseless war.
It's a poignant evening that opens with Royal Opera Principal baritone, Ukrainian Yuriy Yurchuk, singing his country's anthem, his deep voice sending shivers through the body. And closes with him singing Gérard's aria "Nemico della patria" from Andrea Chénier, falsely accusing Chénier of being an enemy of his country. A pointed choice: "it is a fable that people blissfully drink". Realising his own falsehood, he sings, "I hate the core of hatred in me and those who made me so".
Poignancy also lies in the hopefulness of the young bringing their hard work and dedication to the audience. Impossible to do justice to all fifteen pieces in this space, but suffice to say I am impressed. The Royal Ballet School fields four pieces; Northern Ballet and English National Ballet three apiece; Central and Elmhurst two; and Rambert one, but what a one that wraps up the fifteen.
There are, naturally, several large ensemble pieces: ENBS's Grace & Gravity in five classical movements by Andrew McNichol to Bach, for nine females and eight males, all in white, is calmly hypnotic. Central's modernist Twice Removed by Ashley Page is for ten females and four males, and their epic Bolero by Sherrill Wexler, 31 dancers credited, fills the stage with vibrancy and colour.
Rambert's dramatic Being, choreographed by Darren Ellis, has seventeen defiant supple dancers in unisex long and wide folk skirts. A smoky atmosphere, is this a battle—several fall and rise... Animalistic, too, they crouch low—have they crossed the river Styx? To Erik Truffaz and Murcof's funky jazzy beats mixed with Middle Eastern sounds, Being reminds me of Hofesh Shechter, Sharon Eyal and Crystal Pite in one—if you can imagine that—in its shoal-like moves. It is a reworking of Being Human Being (2018) and was to be restaged in 2020 but COVID had other plans. I hope I get to see it again soon.
Confusingly, Elmhurst also has a contemporary ballet called Being (by Peter Leung to Dvořák) for a dozen dancers in casual wear—it is lovely. Elmhurst has the nerve-wracking honour of opening the evening with six dancers in David Bintley's Four Scottish Dances—an excellent first number full of Bournonville buoyancy and wit.
Northern Ballet's barefoot pas de quatre Sonata (Elgar) by Joanne Pirrie inspired by Robert Cohan is interesting, beautiful and moving, especially when a boy bends and touches the ground with his hand. Both its nine-strong Rise by Sarah Dickinson and Ryan Upton and Upton's energetic Mantle (dancers silhouetted against the lit backcloth like chess pieces) are danced by the same troupe of youngsters—good to start fixing faces for future reference.
ENBS ambitiously presents the "Act III Pas de Deux" from Sleeping Beauty and Kaho Masumoto exhibits an assured range in her demanding role. But it's the solos that are the most exposing, and the chosen rise to the occasion. RBS's precise Takumi Miyake leaps his way through Franz's act III solo from Coppélia; the tall Milda Luckute, also from RBS, is an elegant firecracker in her very brief but showy Don Quixote Bridesmaid solo.
RBS not only excels in its pristine classical training in Petipa and Ivanov's (additional choreography by Ashton) masterpiece with its Swan Lake Pas de Douze waltz, but also shows off its choreographic opportunities for students in Jack Easton's acrobatic Fremd solo (electronic music Olaf Bender, German vocals Jan Kummer) choreographed on himself. Fremd is something else: barefoot and bare-chested in tiny shorts Easton's body takes on hip hop's pops and locks in classical elegant style but what control, what timing. He is electrifying, a current running though him.
ENBS also presents a solo danced and choreographed by Lana Klemen—Dead Game of Time—acrobatic, gymnastic modern moves to Rimsky-Korsakov's exotic classical melodies, an interesting mix... a great showcase for her… and in fact for all of them tonight.
Dance, music, art, theatre keep me living in the hope that life is still beautiful, especially in our difficult times. But think of those whose careers have stalled through no fault of their own. Proceeds from the event will go to the Disasters Emergency Committee, Ukraine Humanitarian Appeal.
Viviana Durante said, "we have all seen the shocking images and been moved by the harrowing stories coming out of Ukraine. By coming together with six of the UK's leading ballet schools, we hope to use our art form to raise awareness of young people who have been adversely effected by the war and much needed funds for the DEC Ukraine Appeal to help provide essential support for those in Ukraine and neighbouring countries."
Reviewer: Vera Liber