Dance for Ukraine

Inspiration in Motion
London Coliseum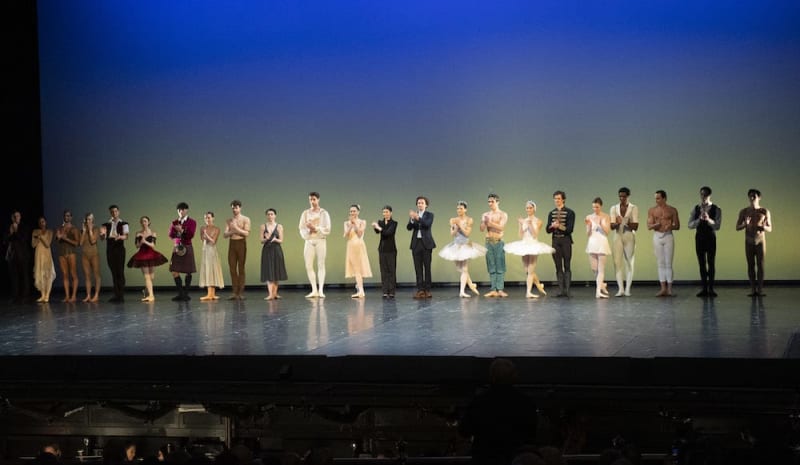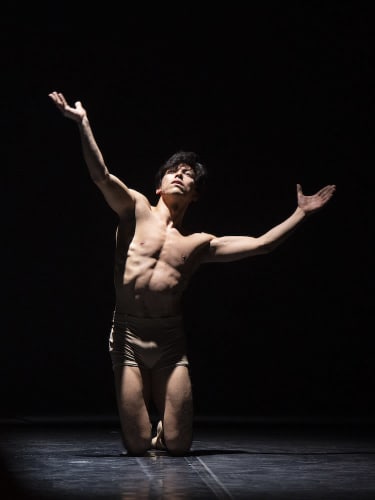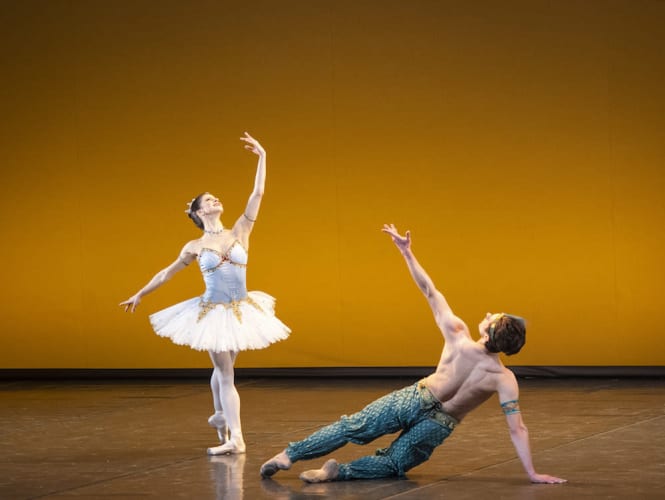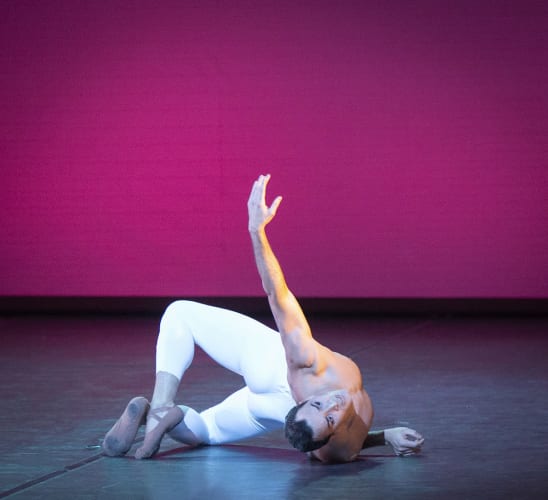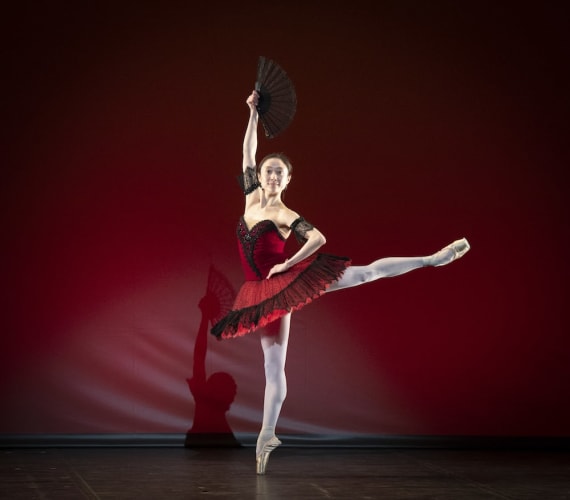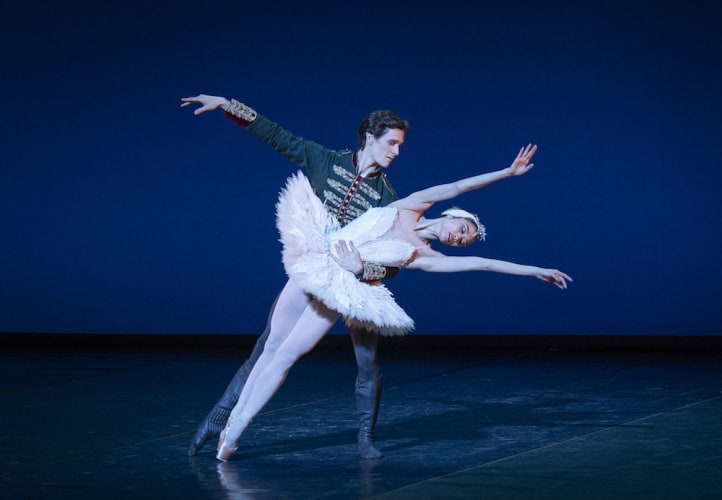 The world of dance is famously international, and tonight an international cast of ballet dancers from our most famous ballet companies have come together with others, with the ENO orchestra and chorus, all giving freely of their time, talents and skills. Brought together—with just two weeks to organise an event of such calibre, astonishing in itself—by Romanian Alina Cojocura and Ukrainian Ivan Putrov, who met as children studying ballet at the Kyiv Ballet.
I'm going to list the dancers—Brazilians Junor Souza (ENB) and Mayara Magri (Royal Ballet), Argentinian Marianela Nuñez (Royal Ballet), Italian Gabriele Francesco Frola (ENB), Japanese Fumi Kaneko (Royal Ballet) and Miki Mizutani (BRB), Japanese-Italian Luca Acri (Royal Ballet), Russian Natalia Osipova (Royal Ballet), French Mathieu Ganio (Paris Opera Ballet), Ukrainian Katja Khaniukova (ENB) and Marianna Tsembenhoi (Royal Ballet), Americans Mathias Dingman (BRB) and Emma Hawes (ENB), Cuban Javier Torres (Northern Ballet), British Reece Clarke and William Bracewell (both Royal Ballet), Spanish Aitor Arrieta (ENB), and Australian Alison McWhinney (ENB)—to illustrate the above point.
The programme of fifteen pieces has been thoughtfully wrought and structured, music at its emotional heart. Some are your traditional gala fare, La Sylphide, Le Corsaire, Swan Lake, Don Quixote, but within this context, a benefit for war-torn Ukraine, one brings new perspectives even to these old warhorses.
Opening with the Ukrainian anthem sung by mezzo Ksenia Nikolaieva with the ENO chorus lined up dramatically behind her, it is followed by Liam Scarlett's No Man's Land, choreographed in 2014 to commemorate WWI. What could be more apt—a woman (Khaniukova) dances with her lost love (Arrieta), a remembered vision, so tender and so heartbreaking. Lives lost and torn apart and for what… Torres follows dancing the late Michel Descombey's The Dying Swan to the sound of Saint-Saëns and howling wind. He ends curled up in a foetal position—the wind is blowing again. Listen.
McWhinney and Coloma delight in La Sylphide, as do Magri and Frola in Le Corsaire. Frola brings back memories of the fiery Nureyev and technically exact Baryshnikov, as he flies in his second variation. Kaneko and Bracewell as Odette and Siegfried, and Cojocaru and Ganio in John Neumeier's Lady of Camellias remind us that love is always tested: we are witnessing that in the partings between men and their families on the borders of Ukraine. And of course Tchaikovsky and Chopin's music is sublime.
But it's the second half of the programme that cranks up the empathy and emotion. Mozart's sorrowful Lacrimosa from his Requiem makes one choke up. So beautiful, and beautifully sung by the chorus positioned in the lower boxes either side of the stage, as Luca Acri dances a man alone in the universe (choreography Edward Stierle). It makes me think of William Blake's poem On Another's Sorrow.
But the biggest punch of the lot is Osipova dancing Ashes, which speaks for itself. Choreography by Jason Kittelberger, this feels personal. A poor home, a mat and a kicked-over wooden stool, moves folk-inflected, stamped feet and slapped hands, dressed in widow black, Osipova acts her heart out, practically obliterating herself.
This astonishing piece is sandwiched between Rachmaninoff's Three Preludes, Ben Stevenson's choreography performed by Hawes and Souza, and Don Quixote in which Mizutani displays her incredible balances. Balanchine's Tchaikovsky Pas de Deux brings back some equilibrium after Osipova's blow to the heart. Nuñez is partnered by Clarke, and it is wonderful to see such sustaining beauty in a time of grief.
Then the final piece, Kenneth MacMillan's Requiem to Fauré (sung by Ukrainian soprano Inna Husieva from Donetsk)—what else will do? I remember Leanne Benjamin dancing this in 2011. She is coaching now and I wonder if she coached Tsembenhoi, who joined the Royal Ballet's Aud Jebsen Young Dancers Programme at the start of the 2020/21 season. Alone on the stage, a slip of a girl, so vulnerable and young...
The curtain call is taken by all involved, including pianists Julia Richter and Sasha Grynyuk, and Italian Salvatore de Simone and Canadian Rebecca Bassett-Graham of Company Wayne McGregor in his FAR (music Vivaldi), to the orchestra playing The Triumph of Love, the Apotheosis from act three of Raymonda by Alexander Glazunov. As Putrov says in his brief opening speech, "life is fragile but we are strong".
I'll second the Ukrainian ambassador Vadym Prystaiko: "Ukraine is proud of Ivan and Alina, who both studied at the Kyiv State Ballet School and have gathered their friends, international ballet stars, to help Ukrainian families affected by the brutal invasion. This event also highlights the unity of the world in its desire for peace. I firmly believe that one day we will welcome all performers of Dance for Ukraine to share their art on the best stages of Kyiv, Kharkiv, Kherson, Mariupol and other free and peaceful Ukrainian cities."
As you know, the Disasters Emergency Committee are collecting monies, but so is Cojocaru for her Hospices of Hope.
Reviewer: Vera Liber