Unspoken
Gareth Ford-Elliot, Katie Ryde
Eno Theatre
Atrium, University of South Wales
–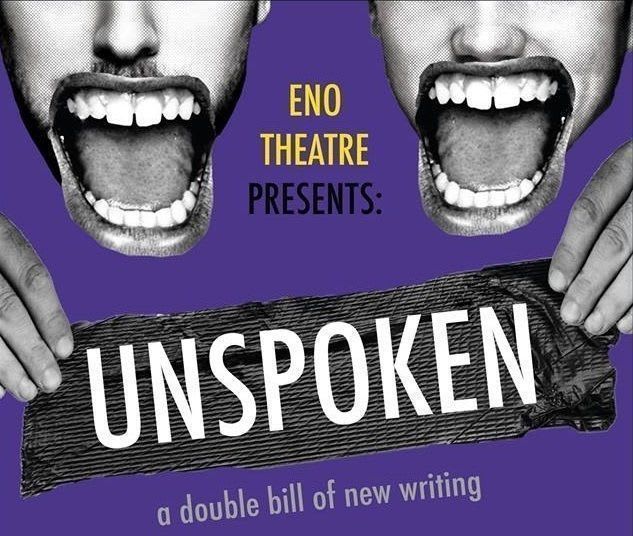 Until recently, the prevailing narrative in respect of the future of theatre, in these parts at least, was that it was bleak. Ageing audiences, a paucity of small venues and straitened financial circumstances seemed to be conspiring to kill off anything but the most populist work (not that there's anything wrong with populism, in the arts, at least).
The success of small companies such as Dirty Protest, however, as well as the establishment of adventurous, year-round pub theatre at The Other Room, seems to have revived hopes—although funding remains a troubling issue.
Another aspect of this revival is the fact that students on scriptwriting and performing arts courses at the University of South Wales, as well as the Royal Welsh College of Music and Drama, are being encouraged to take their work out into Cardiff's wider theatrical community (cf recent productions Flowers and Where Do Little Birds Go).
Thus we have Eno Theatre, a company founded by Gareth Ford-Elliot, still a student at USW (and with whom, in the interests of full disclosure, I worked at the recent Young Artists Festival at The Other Room). Their first full production is a double bill of short plays on the theme of family, communication and mental health, aiming to raise money for the charity Time To Change Wales.
First up is Leeches, directed by Ford-Elliot, written by fellow student Katie Ryde.
This commences with the downcast Jordan (Joshua Phillips) sitting amongst the detritus of a party. He is soon joined by his younger sister, the vivacious Pippa (Susan Monkton), who is home from university, and has taken advantage of their parents' brief absence to invite a few friends round.
As the pair clean up in the aftermath, it emerges that their father has barely spoken a word to Jordan for a decade, and feelings of failure have precipitated a depression in the young man which no amount of teasing banter can alleviate.
The sibling relationship is convincingly drawn, and the central set-piece, an awkward four-way phone conversation between parents and children, is cleverly written and handled. Overall believability is enhanced by focus being on everyday messiness rather than melodramatic trauma.
The same can be said of the second play in the programme—Writing To Reach You, written by Ford-Elliot, and directed by Nerida Bradley.
This monologue sees William Craig's Travis alone in his room on his 21st birthday, reflecting on his suicidal ideation. Rather than a self-indulgent whine, however, it is a measured walk through a life which, as he acknowledges, would not appear abnormally catastrophic to the outside observer.
This guilt, however, combined with an emotional constipation which seems to affect his whole family, contributes to his unhappiness. There is also the suggestion that the anger which he frequently displayed as a child has been turned inwards. Not to mention that tempting bottle of bourbon which he's been given by his estranged father.
On a technical level, Travis's use of social media is well handled, and Craig is all too credible as a tentative, non-hysterical and ostensibly "normal" victim of mental ill-health.
Both plays would probably benefit from a little editing. Still, the writing is incisive, heartfelt and frequently funny, and the performances excellent. The tales may be pessimistic, but their existence provides grounds for optimism.
Reviewer: Othniel Smith