Us / Them
Carly Wijs
BRONKS
Dorfman Theatre (National Theatre)
–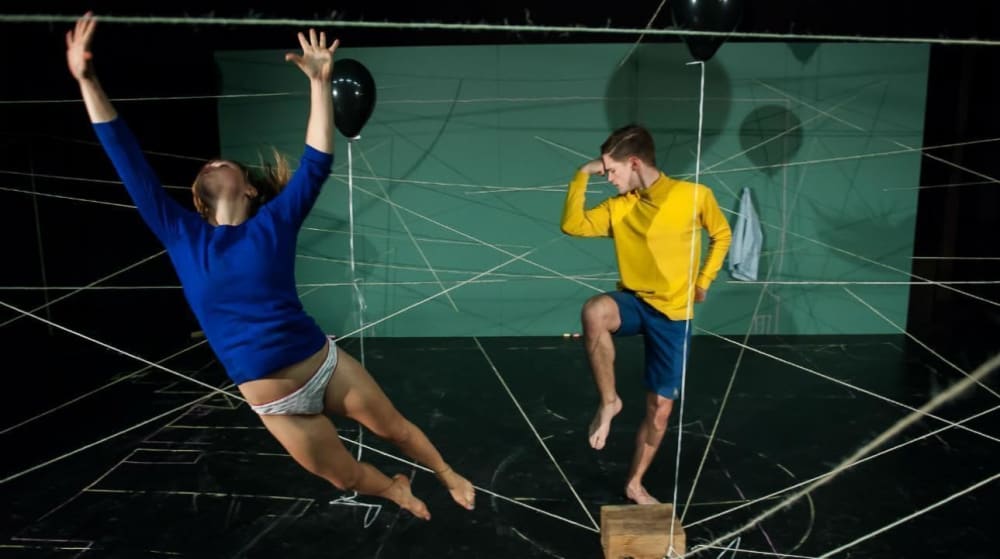 One of the pleasures of Rufus Norris's tenure as artistic director at the National has been his willingness to experiment, first in the Temporary Theatre and then, after its closure, in the Dorfman.
Inevitably, invitations to young companies can backfire but, in the case of BRONKS from Ghent in Belgium, the word-of-mouth from Summerhall during the Edinburgh Festival Fringe should have provided sufficient assurance to bring this play to London.
On the face of it, Us/Them sounds like a recipe for disaster. Take two inexperienced young actors, whose first language is presumably Flemish, then ask them to clown around and, at the same time, relate the story of the Beslan school siege in which Chechnyan terrorists held over 1,000 teachers, parents and children hostage with tragedy the only realistic outcome.
In fact, thanks to the vision of playwright/director Carly Wijs and the enthusiasm and acting skills of young stars Gytha Parmentier and Roman Van Houtven, this production which lasts little longer than an hour becomes an all-encompassing, immersive experience that is deeply moving.
The early moments feature the actors marking out borders in chalk and gradually creating a map of the school, whilst childishly bickering.
Having done this, they begin singing traditional songs which suddenly break down into a serial chaos adorned with movement and dance. When the confusion slowly clears, they reveal that terrorists have barricaded themselves in the school's gymnasium with 777 children plus 300 parents and teachers.
Rather than telling the story mechanically, this company believes in physical theatre and beautiful, often impressionistic depictions.
Therefore, the actors at various times portray worrying fathers, terrified but typically irrational children and the terrorists who are willing to sacrifice young lives to further their political cause, which ironically is a bid for freedom.
The claustrophobic gymnasium is represented by numerous strings that create a complex cat's cradle through which the various individuals are forced to pick their way.
At its centre is a revolving team of terrorists who must at all times keep one foot on a detonator attached to a bomb (in this world, black balloons equal bombs), swapping over every two hours.
Clinical calculations appear on the back wall, every reduction in the total number representing death.
Rather than a simple closure, this play offers three different denouements, probably none of which accurately explains what happened after a bomb exploded and security forces invaded the gymnasium in their attempts to free those who by then had been trapped for days.
By the end of a gripping evening, viewers will have found themselves drawn into a terrifying story, watched it from a series of different viewpoints and, in the final moments, understood their own voyeurism but also the way in which it might potentially memorialise those lost in a seemingly inexplicable tragedy of the kind that is repeated far too often around our uncertain world today.
Make no mistake, this is a special theatrical experience that fully deserves to be in the National Theatre's programme and is a credit to all involved.
Reviewer: Philip Fisher