Vincent River
Philip Ridley
No Boundaries Theatre
Jacobs Antiques Market
–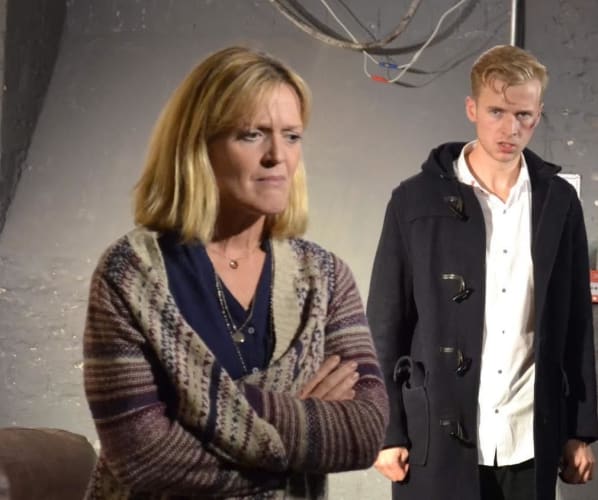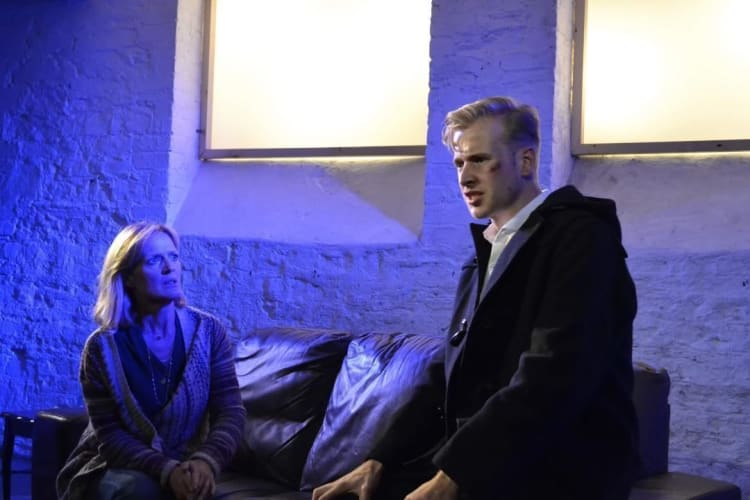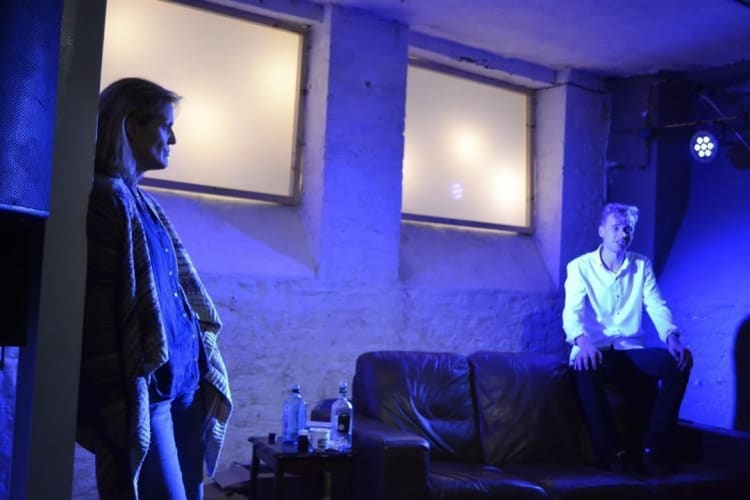 Philip Ridley is known for plays which deal in a surreal, elliptical manner with issues such as sexual exploitation (Dark Vanilla Jungle) and feral urban youth (Mercury Fur). Vincent River, however, first produced in London in 2000, is somewhat more conventional in tone.
No Boundaries Theatre has financed this production via crowd-funding and received express permission from the author to replace his original geographical references with Cardiff ones in order to foreground the universality of the theme: violence against members of the LGBT community.
The theatre space is the basement café of an antiques emporium in the middle of town—a mere stone's throw from a number of gay bars. The point which the piece makes, however, is that aggressively unenlightened attitudes remain prevalent.
The set design is stark—a leather sofa, and a number of cardboard boxes, signifying a recent house-move. The new resident is Victoria Pugh's Anita, who has felt the need to relocate following media coverage of her son's murder a few months previously, which focuses on his sexuality.
We meet her as she receives a visitor, a young man with a fresh cut on his face—Davy, played by Aly Cruickshank. He introduces himself as the person who discovered Vincent's body in a secluded area—a known gay haunt. Davy has been unsubtly stalking Anita for a while, uncertain of how to approach her.
She welcomes him in, both eager to learn more and full of trepidation, since she discerns that Davy's story is more complex than he is willing to admit. Over the next hour and a half, drink is taken, substances smoked, unhappy pasts discussed and tragic truths uncovered.
It becomes evident that Anita, though a loving mother, was in denial about her son's personal life. Pugh, a familiar face on Welsh-language television, is suitably combative and hard-bitten, Anita having brought Vincent up alone in less than ideal circumstances.
Cruickshank's Davy is initially nervy and defensive. Gradually, though, he opens up, and as he unburdens himself of his many issues—a mother whose recent death followed a long illness, an unsupportive father, an unwanted girlfriend—he begins to display an inner light as the truth about his liberating association with Vincent becomes clear.
Garrin Clarke's lighting design makes the most of the stark décor, and Josh Bowles's electronic underscoring is suitably sensitive, though angry when appropriate—and occasionally distractingly loud.
If there is an issue, it is with Ridley's emotionally raw text, which, despite the working-class accents, profanity and sexual references, seems strangely dated; almost a 1950s-style melodrama. Or perhaps we have simply grown too used to theatre which takes for granted the gains made by metropolitan LGBT communities, whilst disregarding those individuals who still live in fear and desperation.
This, then, is a story of pain and loss—but one in which, under Luke Hereford's sympathetic direction, two stranded souls believably form a meaningful connection.
Reviewer: Othniel Smith