Vollmond (Full Moon)
Pina Bausch
Tanztheater Wuppertal Pina Bausch
Sadler's Wells
–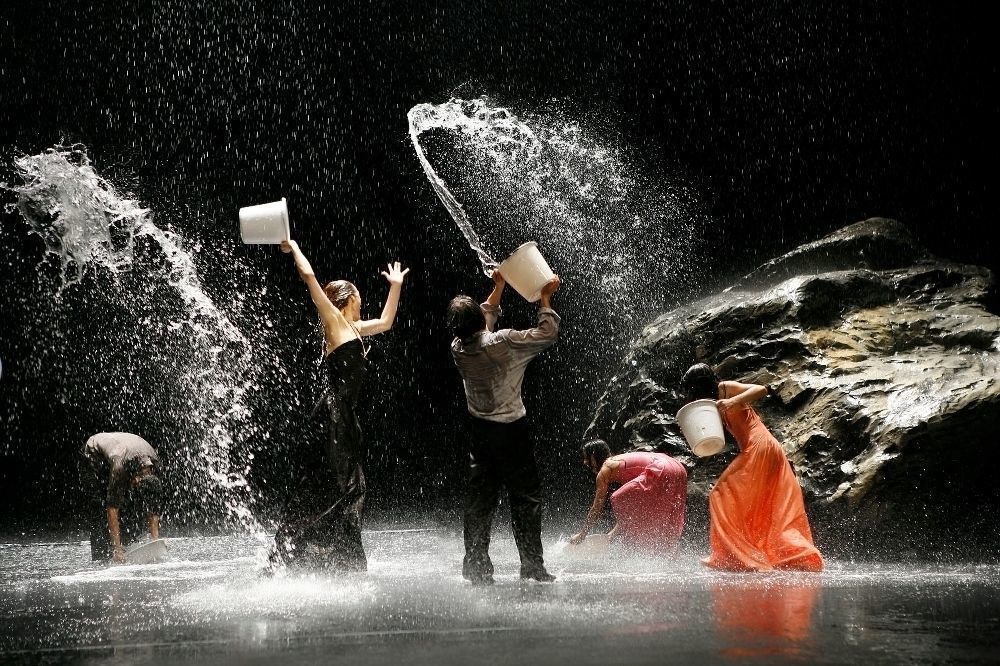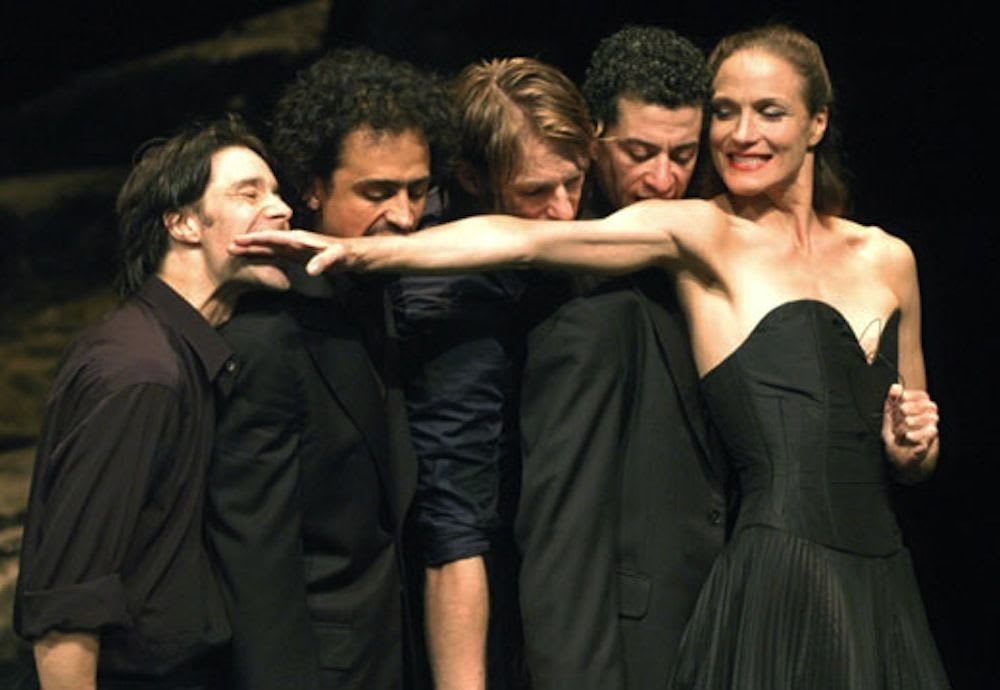 Unlike the mixed reactions to Two Cigarettes in the Dark, Vollmond has the entire audience on its feet, loud cheers, and endless curtain calls, but the company can barely raise a smile after their exhausting two-and-a-half-hour, tour-de-force performance.
"Tighten your seat belts, it's going to be a stormy night"; "this is wicked", damn right it is. Hysterical laughter rather than shrill screams, happier times in 2006 than 1985 obviously, if still mad, still uninhibited Bedlam with us the enthralled voyeurs. If only…
This is Pina letting her hair down, splashing in childlike and childish water play pleasure. The essence of life celebrated under a full moon on a monochrome landscape—lunar perhaps—a huge black boulder, a shallow stream, the river of life, and torrential downpours.
Dancing in the rain. Skating across the stage. Lilos and buckets, bottles of water filling overflowing glasses, bowls of the stuff hurled at each other, water in abundance. Long hair dipped in water swishing arcs of glittering jewels.
One pities Marion Cito's wardrobe department. The wear and tear on her gown creations must be terrible, but what glorious recklessness. Men in black and grey appear out of the dark of Peter Pabst's set lit by Fernando Jacon in sepulchral tones, and reappear in swift succession to attend to the women's demands.
Yes, it's about relationships, it's always about relationships, but with a self-mockery this time rather than self-laceration: compatibility, size, dominance, hunger, demands, possessiveness, and practice in undoing a woman's bra with speed—timed to the second—gets laughs of recognition from the audience.
"What is better, a big love, or a teeny weeny bit each day?" "Do you know where I learnt all these languages? In bed." "Kiss me anywhere". There's rivalry, juvenile competitiveness and chase, incredible energy and stamina. Tumbles, daredevil leaps, rolls, delirious conflict, men fishing and fighting with sticks.
And unforgettable images: cascading black hair (Ditta Miranda Jasjfi's and Silvia Farias Heredia's), sassy women in great dresses (Nazareth Pandero, Julia Anne Stanzak, and Azusa Seyama), dogged men enfolding and devouring them, four (Rainer Behr, Jorge Puerta Armenta, Michael Strecker, Fernando Suels Mendoza) chomp on stick thin Stanzak's arm.
"I'm a little bit sour", Helena Pikon, who seems to have cornered the depressive roles, says dead-eyed, as she squeezes lemon juice over her arms. Some women "cry and wait, wait and cry"… But what her carrot and wooden coat hanger is about one can only speculate.
The cycle that repeats, as do Pina's metaphorical sequences: in this treadmill of life some sleepwalk, some race compulsively, others are robots lost in an incomprehensible world, directionless, spinning, running against time in manic random patterns.
Life is a mental asylum and here is the perfect excuse to go mad—the full moon. "It's a full moon, don't get drunk." Catharsis and joyful release, maddening obsessive kisses, kisses that propel a man across the stage with their ferocity, couples in tight ballroom dance clinches, and expressive dance solos that go deep into their souls.
Silly and profound, throwaway gestures, eloquent arms and intense moments, the dancers slip, slide, glide, and dance in formation, rhythmic, inviting, in states of ecstasy which we absorb by osmosis. The music sucks us in with its mood-changing emotional content.
Those of you who saw Wim Wenders's film Pina will recognise Jun Miyake's and Amon Tobin's compositions, René Aubry's ambient sounds, the Balanescu Quartet. There's also a rich mix of Leftfield, Cat Power, Carl Craig, Nenad Jeli, and Magyar Posse.
Sex and love, yin and yang, music that inflames the sense—funky electronica, pulsating beats, romantic cello, and Tom Waits's songs—the company's fortieth anniversary is celebrated in anarchic style.
Pina Bausch's style looks deceptively improvisatory, but the preparation is intense. She always dug deep. The personal becomes universal with Pina, and that's why she captivates audiences wherever her company goes. After last year's engrossing sold-out World Cities productions, they are old friends it's good to see again.
They are always welcome, warts and all, irritating mannerisms, coy eye contact, complicit glances, offerings of food (a grapefruit—"I'm so hungry…"), which charisma, generosity and talent make us overlook. Different bodies, different strokes, real people.
We never grow up just grow old—the young and old not so very different, Pablo Aran Gimeno and Dominique Mercy. And that begs the question—what will become of Pina Bausch's repertoire of forty-two pieces, created over a period of thirty-six years, when the dancers who knew her and her way of working are spent.
Reviewer: Vera Liber